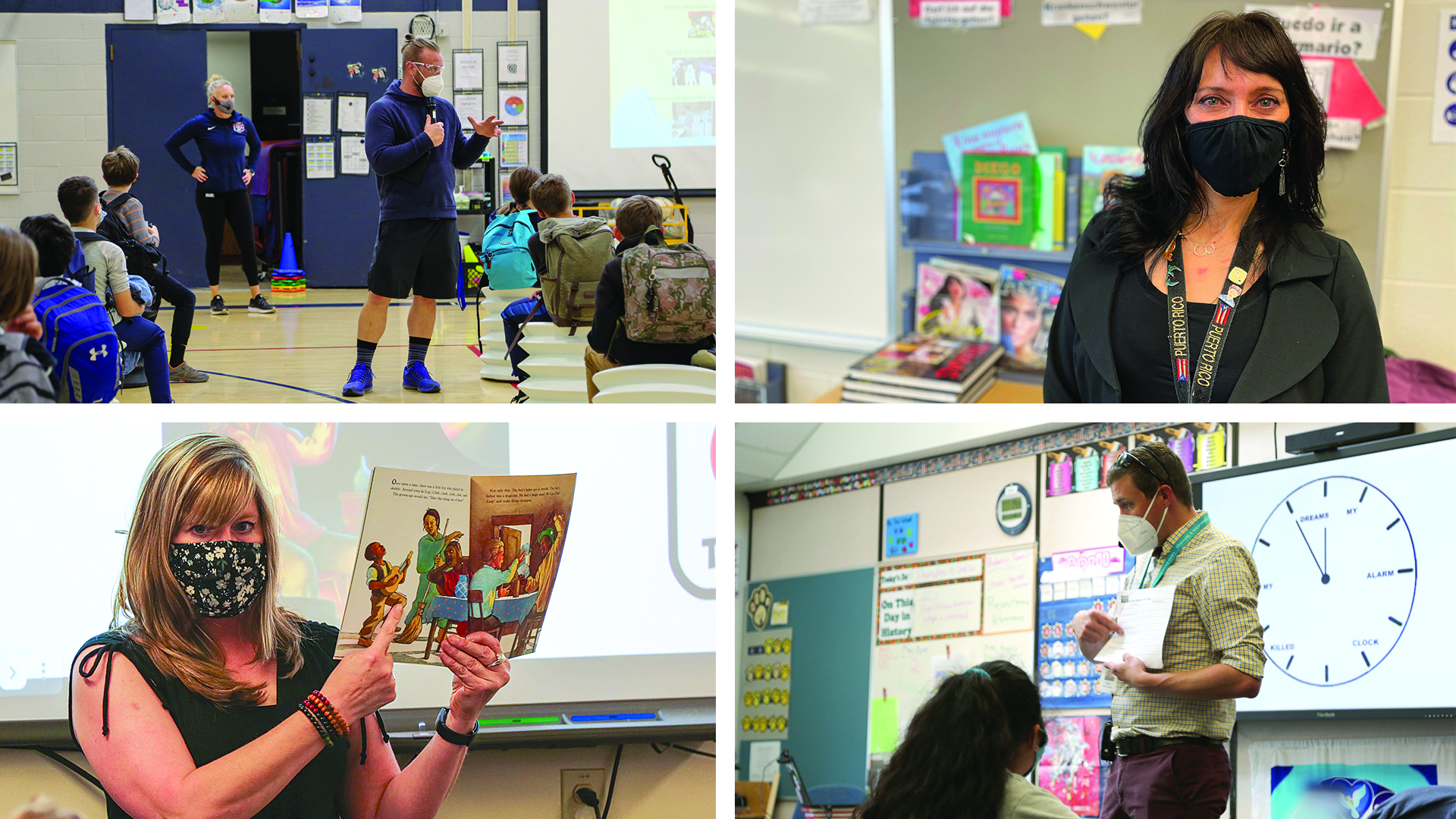 During Teacher Appreciation Week, May 3-7, PSD celebrates the 1,784 teachers who educate and care for our students. PSD appreciates educators for everything they do and for their compassion, determination, patience, adaptability and perseverance. Thank you, teachers, for helping our students succeed and for your contributions to your school and the district. 
To recognize this special week, PSD Interim Superintendent Todd Lambert thanks district educators in this PSD TV Teacher Appreciation video.
We've akso featured stories showcasing these PSD teachers at the preschool, elementary, middle and high school levels: Matt Moehler, Jo Dixon, Norma Arroyo, Sondra Lee and Alex Pecilunas. Enjoy getting to know them below!
Physical education teachers team teach, exemplifying collaboration at its best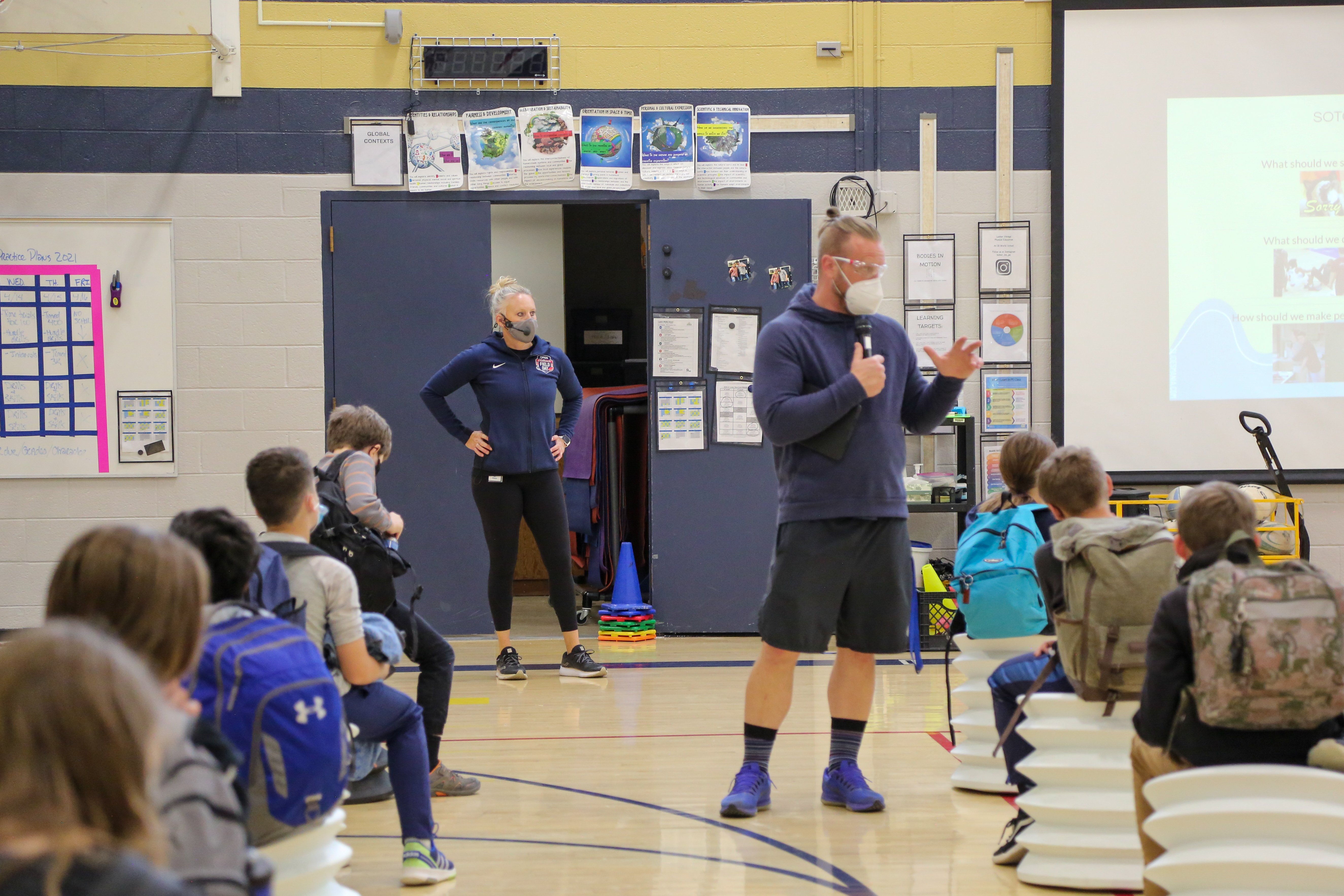 Matt Moeller and Jo Dixon are a dynamic duo at Lesher Middle School. They teach Physical Education and Health.  
Between Moeller and Dixon, they have taught in over six states. Dixon has taught for 23 years, 12 of those years have been in PSD and 10 years of those have been at Lesher. Moeller has taught for 19 years; this is his fourth year at PSD. 
"I love who I teach with – we share the same philosophy and sometimes it seems we have one brain," said Dixon. Moeller conveyed that as a co-teacher it boils down to having a strongly shared vision. As a team, Dixon and Moeller each have different attributes and skills that help each other reach that vision. 
"The best part of my day is building relationships with students and seeing the joy in their faces," said Dixon. She loves to share the joy of movement with students - teaching young men and women that they can be strong and beautiful and tough while moving around. 
At Lesher the teachers have a unique way of presenting activities to their students. Nothing is traditional. The students are learning something new every day. Thomson Hess, a 6th grade student said, "I love that Lesher's P.E. and Health class it is a lot different than other schools." Justice Emery, another 6th grade student said, "My favorite thing in P.E. and Health is how the teachers expand the variety of sports, here we do dance, rugby, etc."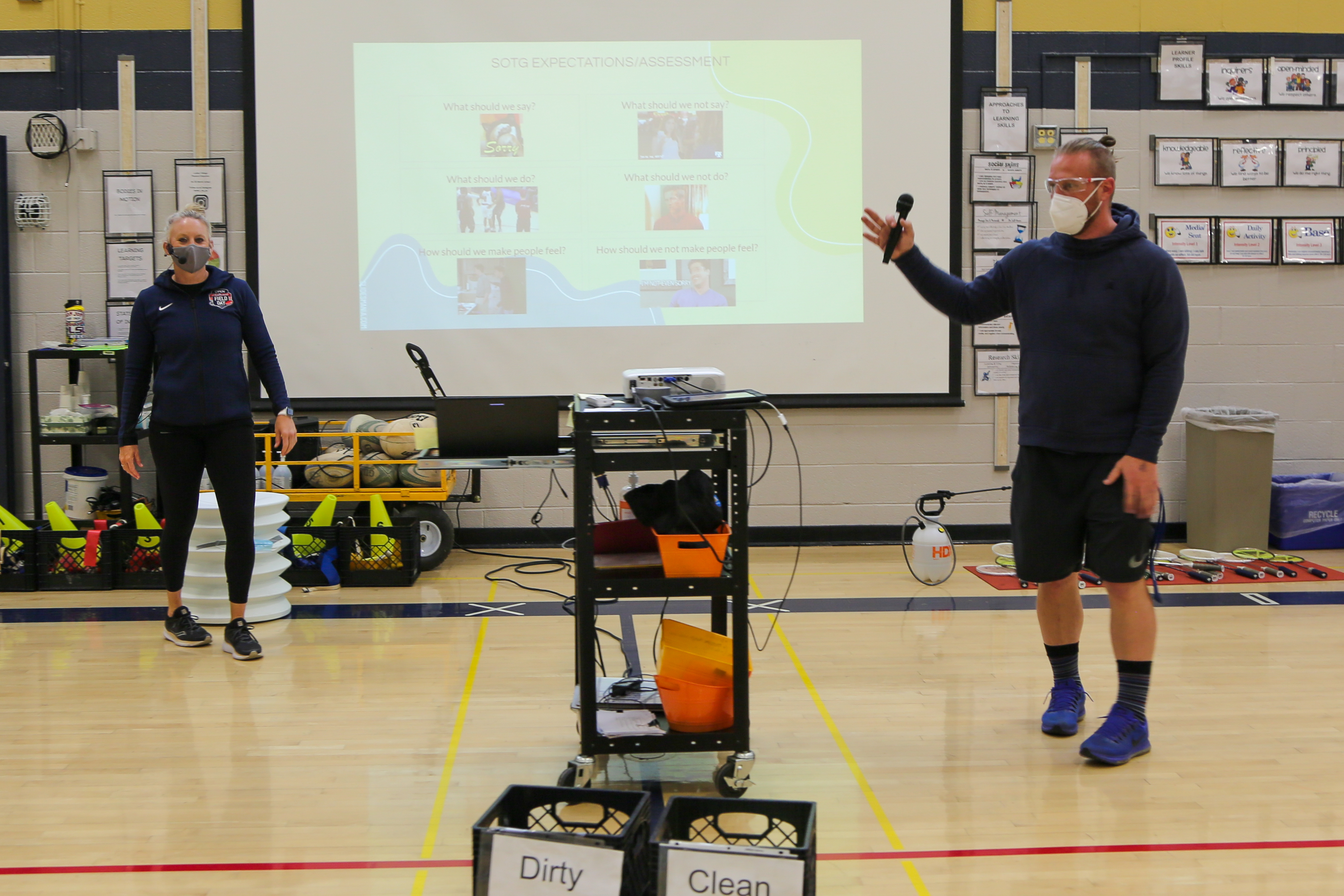 Tom Dodd, principal of Lesher, said this about his fitness team, "They teach the strengths of team-based sports without playing team-based sports. When you talk about innovation and cutting-edge, that is our team, the teachers make learning fun and active," he said. "They teach fitness for life." 
"It's the people, that is what I love about my job," Moeller said. "What drives me is getting through to the kids that are on the fringe, or felt lost in the cracks. Relating and building connections to these students drives me each and every day." Moeller is excited that they get to see the same students every year because they can continue to build relationships with their students.  
Evan Dirvonas, a 6th grade student said, "Both, Dixon and Moeller care about us outside of school, outside of physical education, and I think that is pretty important."  
Emery added, "I love that the teachers love to have fun. They are super encouraging and honest with you all the time." 

Spanish teacher knows firsthand that learning a new language is difficult; engages students with personal stories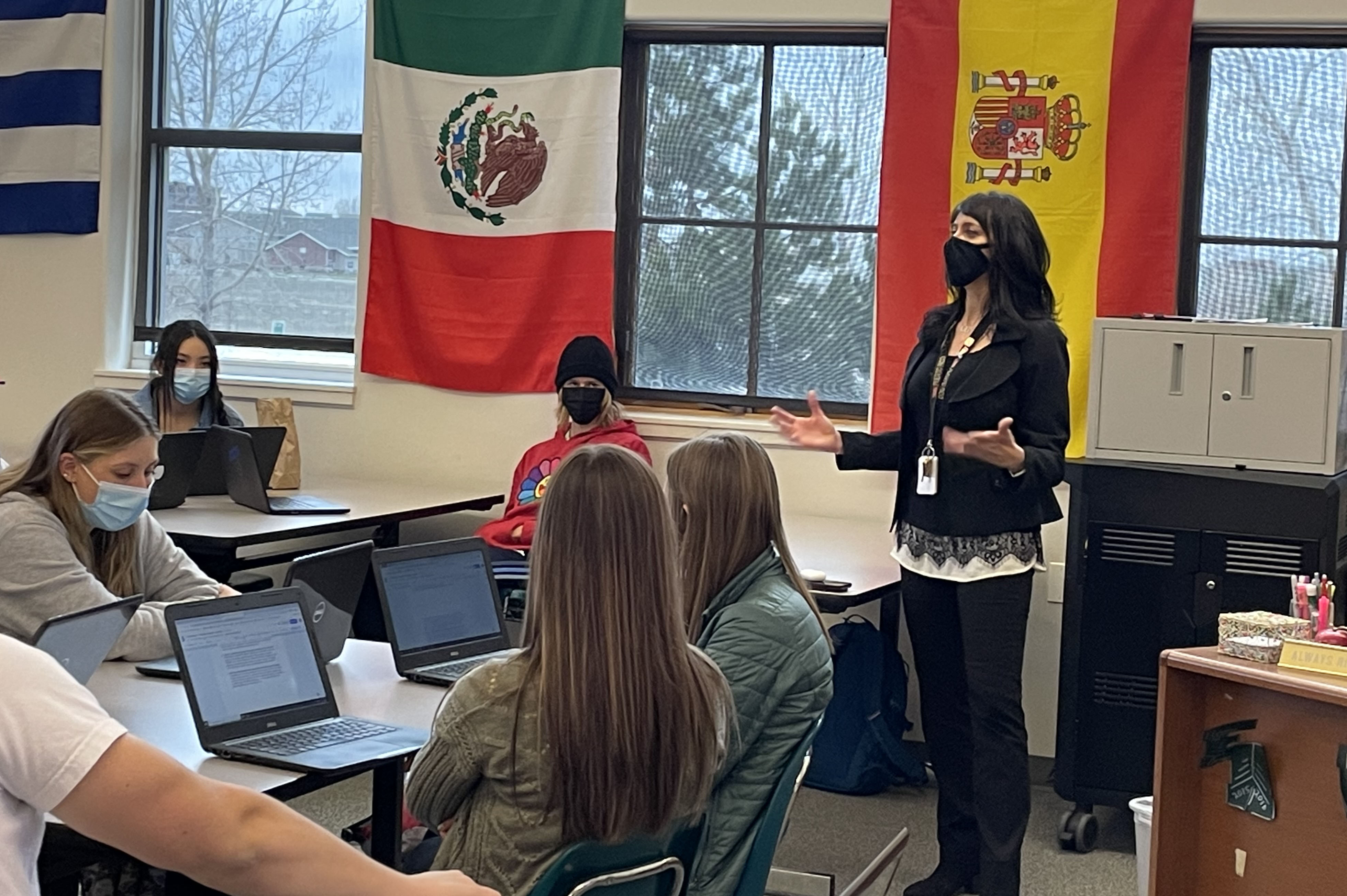 With the Advanced Placement Spanish exam two weeks away, Fossil Ridge High School teacher Norma Arroyo gestures as enthusiastically as she speaks, facilitating a class discussion about beauty and how it relates to the community. Two dozen students are in the classroom with another half dozen online. She makes sure to be in front of her laptop camera to engage everyone. She not only wants her students to be prepared for the exam, she wants all her students to feel connected. 
"My relationships with my students are just as important to me as the content that I teach. I love to talk to them and tell them stories about my life," said Arroyo. "Our jobs as teachers are built around building relationships with students to help them succeed." 
Arroyo, who has 30 years of teaching experience, has been a world language teacher at Fossil Ridge since 2005. Her personal experience adds to her understanding of the challenges students face learning a different language and culture. 
When Arroyo moved to the United States from Puerto Rico, she was 10 years old and spoke only Spanish. She was the only Hispanic student at her school and was often bullied because she looked different and was learning to speak English.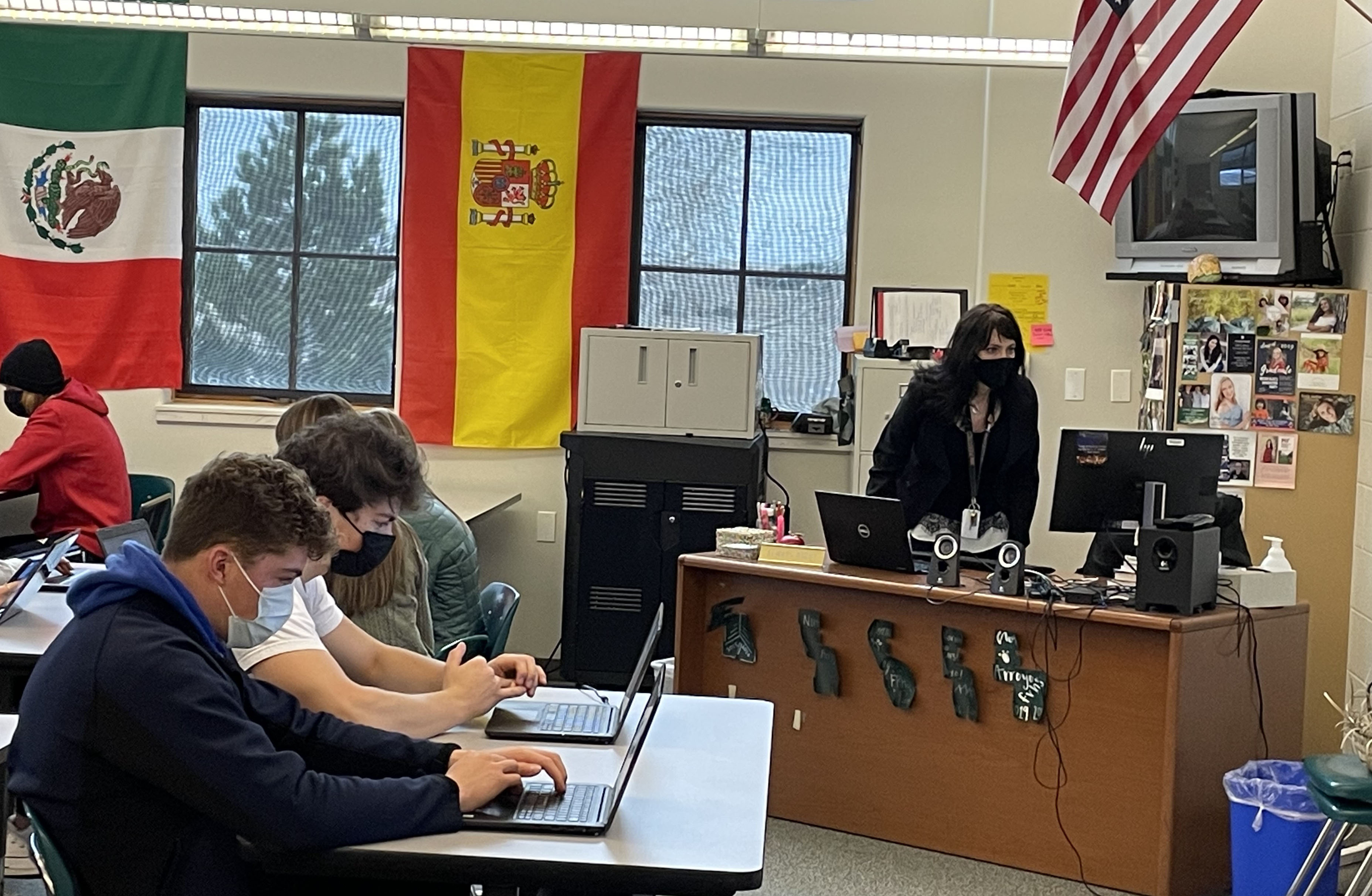 "I learned how to understand English a lot faster than I could produce it. Some students think because they can't speak Spanish, then they can't do Spanish. Producing [speaking] it is a whole other level that takes time," said Arroyo, explaining that students can often hear and understand Spanish before they can speak it. 
Fossil senior and AP Spanish student Connor Tyree says Arroyo's personable discussions make the class fun. 
"When she tells stories in Spanish you don't realize you're learning because it's so interesting," he said. "She cares that everyone is participating. You get closer to your classmates because she asks for stories about us. I always leave class feeling energized and engaged." 
Arroyo says she didn't set out to become a teacher. She wanted to be a lawyer, but quickly decided she didn't like routine office work. At her mother's suggestion, she tried teaching and found she liked being with high school students. 
"In the classroom, every day is different and that's an incentive. I like interacting with young people, seeing them grow and building relationships with them," she said, adding that she often keeps connections going with students after they've left school. "I love seeing how what I have taught them transfers to their real life and knowing that what I do helps them." 
She recalled one relationship with a student who had a rough start at school. 
"It was challenging in the beginning. We sat down and talked, and we turned it around. She ended up graduating. That connection was a success story," said Arroyo, who stays in touch with her. "I'll carry that with me forever. I feel I had an impact with her." 
Integrated Services teacher reflects on preschoolers' candor, learning potential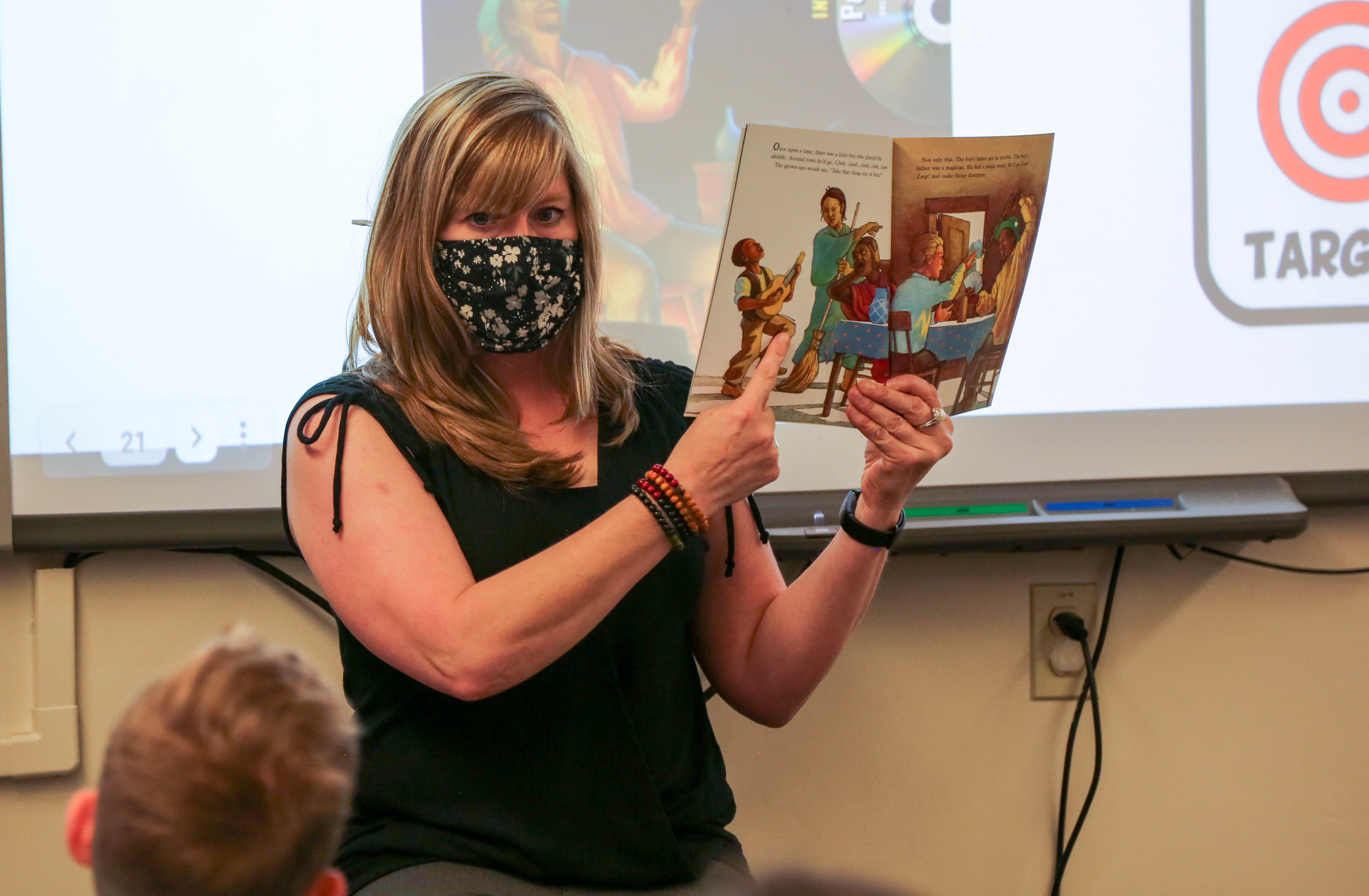 On a rainy April day in a Bacon Elementary School classroom buzzing with 3 and 4 year olds, Sondra Lee was a masterclass in redirecting energy.  
As the youngsters filed in for the afternoon session, hanging tiny backpacks in tiny cubbies, she removed jackets, soothed anxious minds and encouraged them to find seats on a colorful semicircle rug. 
Under an arboreal theme, Lee led the class through songs, posed their "Question of the Day" about which item – cereal, a carrot or syrup – comes from trees, and read a story about an always-hungry giant who is taller than a tree. 
"Remember, we're not going to get nervous because these are pretend stories," she said, assuring the class as she read "Abiyoyo."  
After graduating from the University of Northern Colorado, Lee worked with Larimer County youth as a social worker. Then she pursued a second career in teaching and has been at Bacon for seven years as an Integrated Services preschool teacher. She has one center-based autism class and one integrated class; more than half of her students have disabilities, autism being the most prevalent. 
Together, Lee and paraprofessionals Kelly Trupkiewicz and Wilma Nina take on the challenging but rewarding work to support their students. In her 27 years, Lee said it has been important to build trust and strong relationships with parents, giving them confidence regardless of their child's disability, medical condition or other concerns.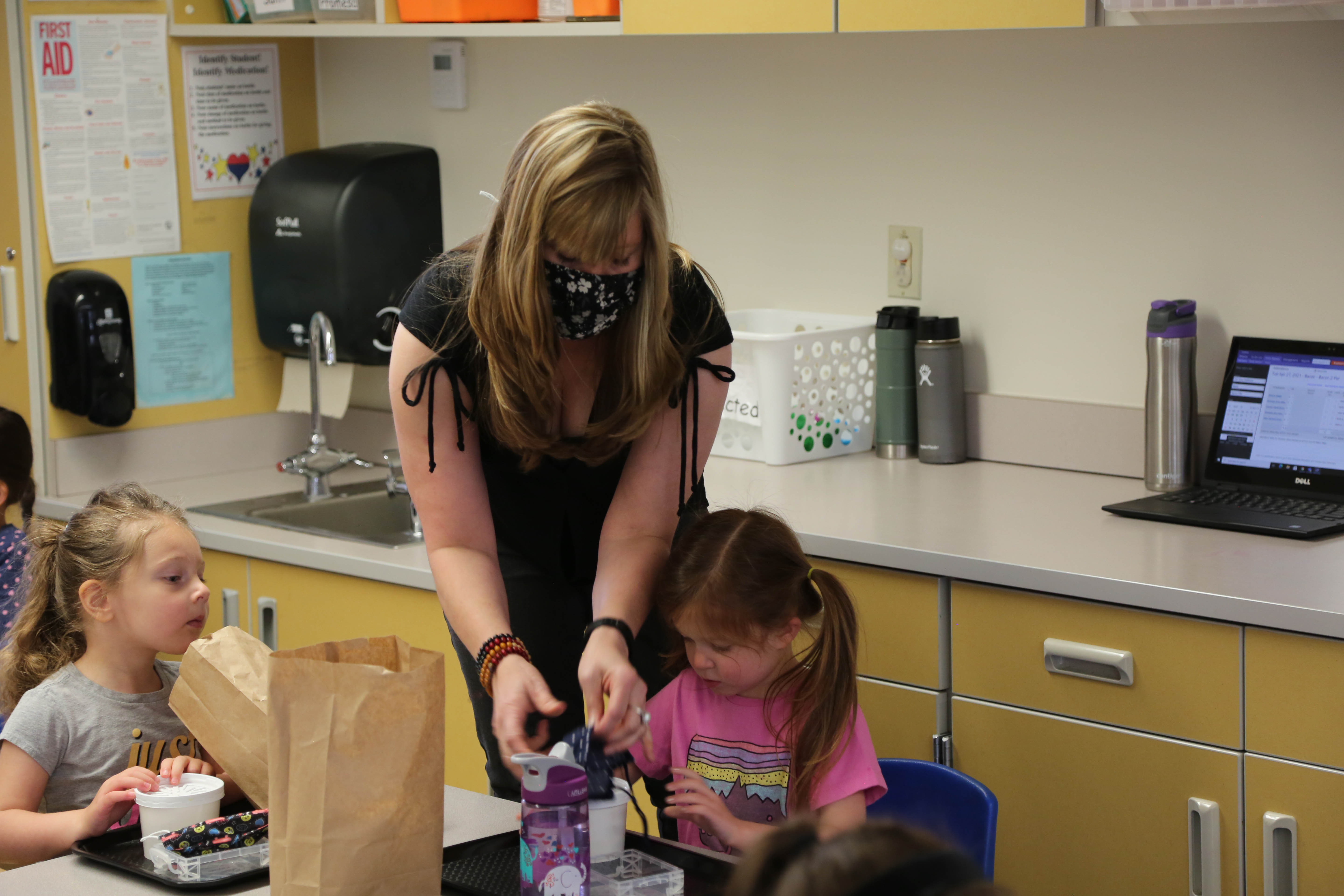 To them she says: "Your preschooler can be successful in the district and welcome in the district." 
Preschoolers are "very honest," Lee said, laughing at memories of their frank commentary. It's also great to watch them master new numbers or letters but seeing them gain critical language skills – the "key to all learning" – is what drives her. 
"The real exciting thing is when their communication skills come to fruition," she said. 
One of her students on the autism spectrum hardly spoke this fall. Then, around Spring Break, they started answering more complex how-and-why questions. This gave them a way to express themselves and their previously unknown love of polk-a-dots. Now, her classmates wear them to make her happy. 
Bacon Principal Joe Horky said Lee is always thoughtful and thinking ahead; things that appear to be in-the-moment adjustments for her kids are planned well in advance. He praised her dedication to teaching students with significant needs in the center-based program – splitting her time between two amazing classes with children who have very different needs. Horky also admires that she empowers preschoolers to grow through things like learning targets, whether doing so while they're lined up for recess or sitting on the floor for a story. 
"She does everything in her power to make her kiddos part of the Bacon school community," he said. 
Teaching in-person since August, Lee has sometimes felt discouraged and exhausted by this school year. Yet, she found moments of joy and growth – reminders of why she does what she does.  
Looking ahead, she is excited to join the Bamford Elementary School team. She will open the new school's preschool classes when it opens in fall 2021, furthering learning for PSD's youngest students. 
Awesome. Brave. Creative. Delightful:' Laurel teacher goes the extra mile during pandemic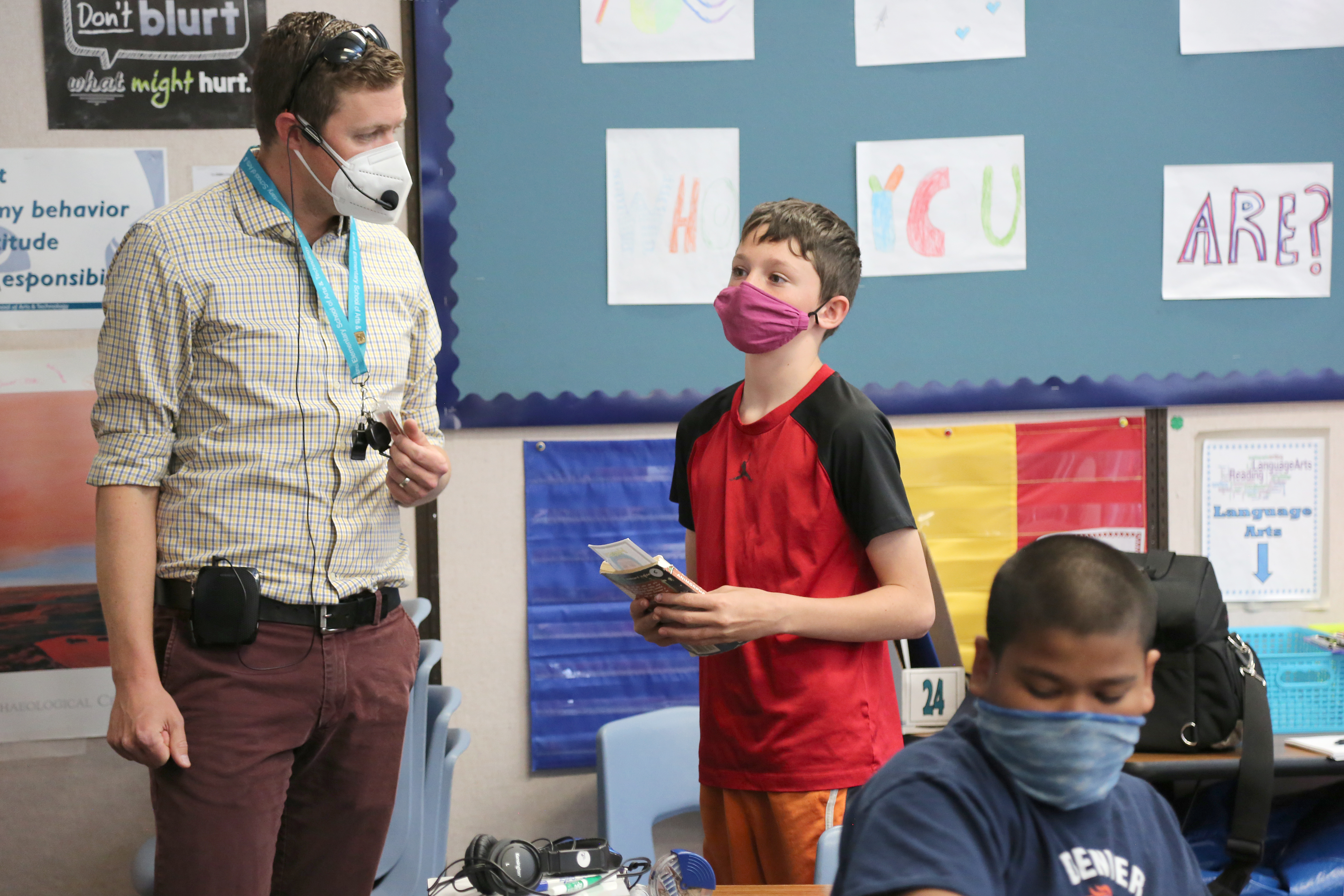 To say it's been a rough year for educators is an understatement, and Alex Pecilunas is no exception. 
Besides balancing teaching with pandemic protocols, the Laurel Elementary School fifth-grade teacher has weighed a lot of inner conflict.  
"I'm trying to help kids while dealing with my own trauma and still trying to prepare them for a state test or for the academic challenges of middle school, while also meeting social and emotional needs," he said. 
"Some days I come home and just lie on the floor for 10 minutes before I can do anything else." 
You wouldn't know that, though, from the vibe in his classroom. Pecilunas exudes a calm demeanor as he strolls between evenly spaced desks. His soothing voice is amplified through a headset, a pandemic-specific addition. 
"I try to help them become more independent," he said of his students. "It can be a difficult transition in the beginning. Some kids' behaviors that are expected in an elementary setting do not work in middle school."  
"I tell them it's a time to get involved. Middle school is what you make it." Principal Tommi Sue Cox values Pecilunas for the connections he makes and considers him a "highly effective teacher in all respects."  
"He has caring, respectful relationships with his students, holds high expectations for them and supports each one to success," she said.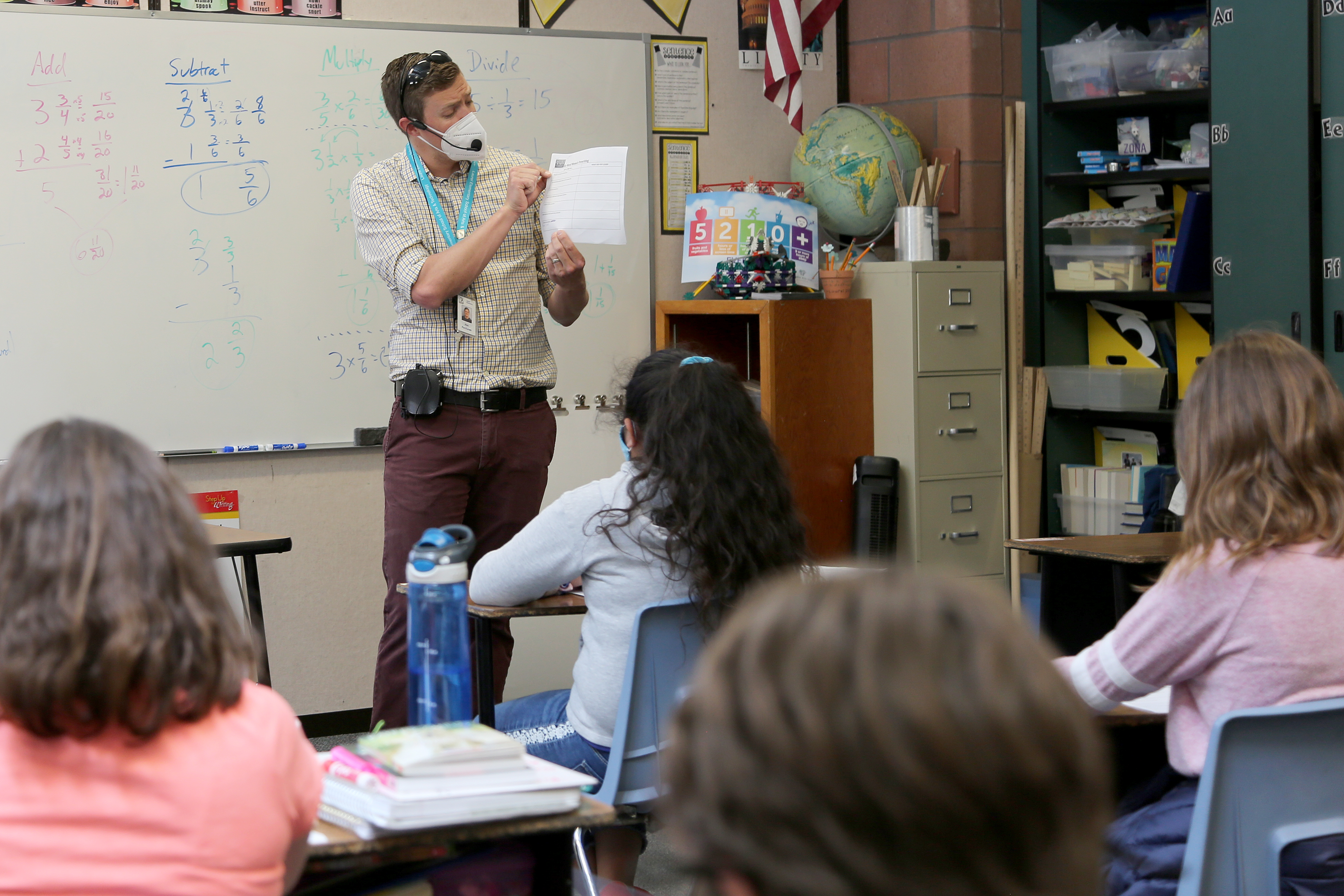 Pecilunas graduated from the University of Arizona in 2011 and began teaching. After moving to Colorado in 2015 and working as a PSD substitute teacher, he found a home at Laurel in 2017, where the economic, racial and social diversity are among his "favorite things about it here." 
"We have such an amazingly talented staff, Alex included," said Catherine Thomsen, fifth-grade teacher. "Alex has gone out of his way to make sure we are a strong and well-functioning team." 
Pecilunas has also found ways outside of school to stay strong through his love of running.  
"Running stays the same throughout the pandemic," he said. "It's the thing that I can look forward to feel good about and have control over." 
In 2019, Pecilunas resolved to run at least 1 mile every day. After meeting his goal, he stepped it up. 500 days? No problem. He admits he's become a little obsessive – running in sun, rain, 2 feet of snow or in the wee hours of the morning.  
Back in his classroom, writing has begun, and students lean over their worksheets. One girl finishes up early and quietly passes Pecilunas a paper, but it's not her lesson. She has written an unprompted poem, titled "Mr. Pecilunas, A to Z." 
She reads: "Mr. Pecilunas, A for awesome. B for brave. C for creative. D for delightful ..." and so on. The poem is signed, "We are so lucky to have you as a teacher!" 
He posts it high above his desk, next to a canvas of Laural lynx paw prints. "That was unexpected," he said with a hint of a smile. 
Pecilunas' students start to fidget in anticipation of getting outdoors on a sunny, warm spring day. "Ten more minutes of focus, then you have recess," he reminds them. 
It's that focus that keeps Pecilunas moving forward, whether keeping his students engaged or running his own race, now 849 days in a row.