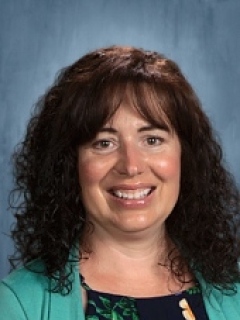 Tricia Kearns has learned a lot over the past few months while in remote education during the pandemic. She has learned to quickly adjust to new ways of teaching and sees how important school is to her students through the high attendance rate in her virtual classes. Now more than ever, she understands the value of connecting and supporting each other.
"I have learned that we all need each other. Getting through this pandemic is better with my students. I need them," said Kearns, a health and science teacher at Webber Middle School. "They inspire me, they make me laugh, they provide encouragement, and I am grateful to connect with them. I think we give each other purpose."
Kearns was recently named a Colorado Department of Education 2021 Colorado Teacher of the Year finalist.  She has taught for 17 years, 10 of which have been in PSD and is a fourth-generation educator. She is a National Geographic Certified Educator and serves as a teacher advisor for Scholastic's Science World Magazine. 
In this Q&A interview, Kearns shares her thoughts about her inspirations, what she's learned from the pandemic and the past year, and advice for those interested in teaching.

Q. What inspired you to become a teacher? 
A. I come from a long line of teachers in my family but honestly never thought I would be a teacher. I knew from a very early age that science was my passion. I had ambitions of being a geologist, a paleontologist, a photographer for "National Geographic," a biochemist, a field researcher, a pediatrician, and an infectious disease doctor. My mom was a career elementary art teacher; her mom was a career first-grade teacher. My great-grandmother also taught for a time, as did my father, who spent the first part of his career as a high school tech and drivers-ed teacher. 
While I was an undergraduate student pursuing a biology, pre-med degree, my family kept encouraging me to take secondary education courses to get my teaching certification along with my biology degree. As a part of those classes, observing others teaching in action was a requirement. I first started observing and assisting in a third-grade classroom and truly enjoyed it. Then I student taught middle school and high school while preparing my field research ornithology honors thesis and studying for the Medical College Admission Test, better known as the MCAT. During my senior year, my boyfriend, now-husband, proposed to me and I had to make a choice about what I would pursue for our future. I decided to try teaching instead of medical school or research – the rest is history. 

Q. How has your role as a teacher evolved over the last year? 
A. Over the last school year, I was fortunate to have many exciting professional opportunities come together for me. I am grateful to have administrator leaders who encourage me to explore opportunities and encourage me to take risks when developing and creating new material for students. I am also evolving a new skill set as a remote teacher, and soon to be, hybrid teacher along with the other teachers in our district.
After being a career classroom teacher for so many years, it has been exciting to connect with many different organizations to provide unique opportunities for my students. Some of these include:
Being a mentor teacher for Earth Force, an international nonprofit that engages youth as environmental problem-solvers
Receiving an Ecology Project International Teacher Fellowship to study marine benthic macroinvertebrates in the Sea of Cortez (Gulf of California)
Piloting programs with the Algae Foundation's Algae Academy, an organization that provides a fun Science, Technology, Engineering and Mathematics K-12 module that teaches the fundamentals of algae with hands-on activities to connect with our climate change standards. 
Collaboration with the Concord Consortium and Penn State University to test and pilot new Wildfire and Natural Disaster modules for students. 
Joining the PSD Student Experience Guild. This group has helped me think about new ways to engage and empower all students.

Q. What have you learned about your students and yourself over the last year? 

A. This pandemic has taught me how important school is to my students. Traditional in-person school days can be overstimulating and when we have a day off or snow day, everyone is usually grateful to pause. But after having too many days away from the actual building since March, I think students are realizing how lucky they were to have in-class learning and not take those days for granted. 
 I have amazing students and they are showing up! I have about a 99 to 100% participation/attendance rate every day in my classes. Connecting virtually while we cannot be together in-person is something the students keep coming back for because they miss school, their routine and friends. Humans are wired for social connection and it has been hard not being together. 
Remote teaching is not easy. Quickly adjusting to a new way of teaching has been challenging. It takes a lot of time to process activities that I used to do in the actual classroom into meaningful digital lessons. I have learned to be extremely patient with myself, my students, and technology challenges during this process.
The pandemic has allowed us to slow things down, to focus on patience, kindness and understanding. This has empowered many students to take ownership of their learning and become better at self-advocacy. I am looking forward to getting back to the classroom in-person. It is challenging to provide equitable education for all virtually, specifically in science. The best part of science are the hands-on labs, activities, and experiments with classmates and that is not something we can replicate in the home classroom remotely equitably.

Q. How does it feel to be a finalist for 2021 Colorado Teacher of the Year? 

A. I am humbled and honored to be considered as a finalist in the top seven of all educator applicants in Colorado for this school year. It is such a blessing of positivity and validation during this challenging year," said Kearns. "I am inspired by many of the wonderful teachers in my building at Webber Middle School and by teachers across the district. I am looking forward to the potential learning opportunities to grow my craft of teaching because of being a finalist.

Q. What advice would you share with people who are interested in becoming teachers? 

A. If you love sharing your passion with others, want to build relationships with students and your community, and inspire future generations of citizens, then teaching might be for you. The job is demanding, and the pay is not ideal, but if you focus on what is important and strive to achieve a work-life balance, the rewards are great.
I have reconnected with some of my former students - now adults - and I am so proud of who they have become. As a teacher, you love your students and feel deep pride when they have achievements, and that reward is sweet. You get the opportunity to make a positive difference and impact youth. We need more teachers, so if you are up for the challenge, please give it a try.

Q. What role would you like to see the community play to inspire and educate young people?  

A. We are lucky to have a wealth of community support for education in Fort Collins, one of the many factors that makes Fort Collins a great place to live. I have taught in several other communities, but none with as many strong community partnerships. 
Organizations that my students have benefitted from include Bohemian Foundation,  which has funded transportation for field trips through grants or provide free performances for school groups; Rotary International programs including the dictionary program; Rotary Clubs' Rotary Youth Leadership Awards (RYLA) and Four-Way Test presentation; Fort Collins Natural Areas educational field trips for students; Fort Collins Utilities with its  energy and watershed educational programs and Eco Week activities; the Poudre Fire Authority's fire safety programs; the Safe Routes to School Partnerships with our elementary and middle school physical education classes; Platte River Power Authority's regional Junior Solar Sprint competition; CHAMP Fort Collins character and sportsmanship in athletics programs; Rachel's Challenge, which promotes a message against violence; Colorado Youth Outdoors and its at-risk and evening programs; Equine Therapy Centers that partner with schools; UC Health and its Healthy Hearts education programs; the Fort Collins Symphony Orchestra with its free school performances and Musical Petting Zoo; and the outreach programs at Colorado State University, from the Little Shop of Physics programs, the Chemistry Department's Halloween Spooktacular Show, Engineering Day, Colorado State University Mountain Campus, Soil Science Summer Institute and STEM Friday field trips, among many others.
There are also numerous local companies that partner with our high school students for internship opportunities. Our students and schools are fortunate to have access to these programs.
We are also fortunate to have many valuable resources in town, including the Fort Collins Museum of Discovery, Gardens on Spring Creek, National Park Service, Forestry Departments, U.S. Fish & Wildlife, Woodward, and more.
I would encourage any other organization in town that wants to connect with students and education to reach out to PSD. Teachers value the strong community connections and appreciate the local partnerships that enable students to make real-world and possible career connections. These connections bring us all together.