The COVID-19 pandemic and this year's unprecedented wildfire season has impacted many Poudre School District families, displacing many from their homes or putting them at risk for homelessness and not being able to meet their basic needs. Over 900 PSD students have already been identified this school year as qualifying to receive services related to homelessness.
In response to the challenges many PSD families are experiencing this year, PSD's Department of Language, Culture and Equity and McKinney-Vento team are working to serve the rising needs of the community, increase public awareness about homelessness and also let people know how they can help. To underscore the importance of the work, the PSD Board of Education formally recognized November as Homeless Youth Awareness Month. 
During the 2019-20 school year, 1,290 PSD students experienced homelessness. As of mid-November, this school year, 955 PSD students have qualified for assistance under the McKinney-Vento Act, including:

41 students who are unsheltered and living in campgrounds, vehicles, or RV's
24 students who live in area shelters
30 who live in motels or hotels
53 students who are in substandard housing
113 unaccompanied homeless youth. 
More than 800 students who have no home of their own and have been forced to live with friends, family or are otherwise doubled up due to financial hardship and other factors.
 How PSD helps to remove educational barriers
Instability caused by homelessness and poverty is damaging to children, who suffer in ways that impact their educational development and well-being. Along with losing their home, community, friends, and their sense of stability and safety, many youth experiencing homelessness are also victims of additional trauma. 
The impact of the pandemic has also increased food insecurity, leaving many forced to choose between necessities like purchasing food, paying rent, or going to the doctor. According to the National Institute of Health, of those who lost their jobs in the first two months of the pandemic, 31% reported food insecurity and 33% reported eating less due to financial constraints.
The goal of PSD's McKinney-Vento team is to help meet students' needs so they can focus on learning. This may include giving students gas cards so they can get to school, providing clean clothes, hygiene supplies, and arranging access to shower supplies. It can also mean giving students school supplies, calculators, and covering fees for extracurricular activities.  
All students experiencing housing insecurity and homelessness are embraced and supported in PSD. 
Identified students are immediately enrolled in school, regardless of proof of residency or other paperwork. 
Students automatically qualify for the free-and-reduced lunch program and all school fees are waived. 
Students receive transportation to help them get to and from school.
Students and families are offered additional resources and supports as needed like:

Food assistance: Families are offered weekend food bags provided by the McBackpack program. 
Basic needs assistance: Families are offered hygiene kits, coats, boots, socks, laundry soap, laundry vouchers and more. 
Healthcare information/resources including options for those without insurance or who are underinsured.

What you can do to help
Refer those in need to the PSD McKinney-Vento Program
Each PSD school has a McKinney-Vento contact and very feeder has a McKinney-Vento family advocate to assist and make resources available to students in need. Here are options on how to respond if you feel someone may need housing support: 
If you have talked with the person in need of support services, suggest they contact their school's McKinney-Vento support staff. They can also call Whitney Reid, PSD McKinney-Vento Program Specialist, at 970-420-9208.
If you are not comfortable talking with them, please contact your school's Mc-Kinney-Vento support staff or Whitney Reid and alert them of your concerns. Staff will approach the student or family as soon as possible to assess their need and to offer support/resources. PSD values individual personal choice and does not force services on anyone, but works to ensure everyone is aware of services and their right to access them. 
 
Donate to the McKinney-Vento Fund

Deposit money directly into the McKinney-Vento Fund on School Pay. The number one way to help PSD families is to donate money on School Pay. Fees are waived for donations. These funds go directly to the department and are used to immediately help families. 

Write a check to the PSD McKinney-Vento Fund. These funds go directly to families in need. Send to Whitney Reid, PSD, JSSC, 2407 LaPorte Avenue, Fort Collins, CO 80521 (payable to PSD McKinney-Vento Fund).
Give time, resources and support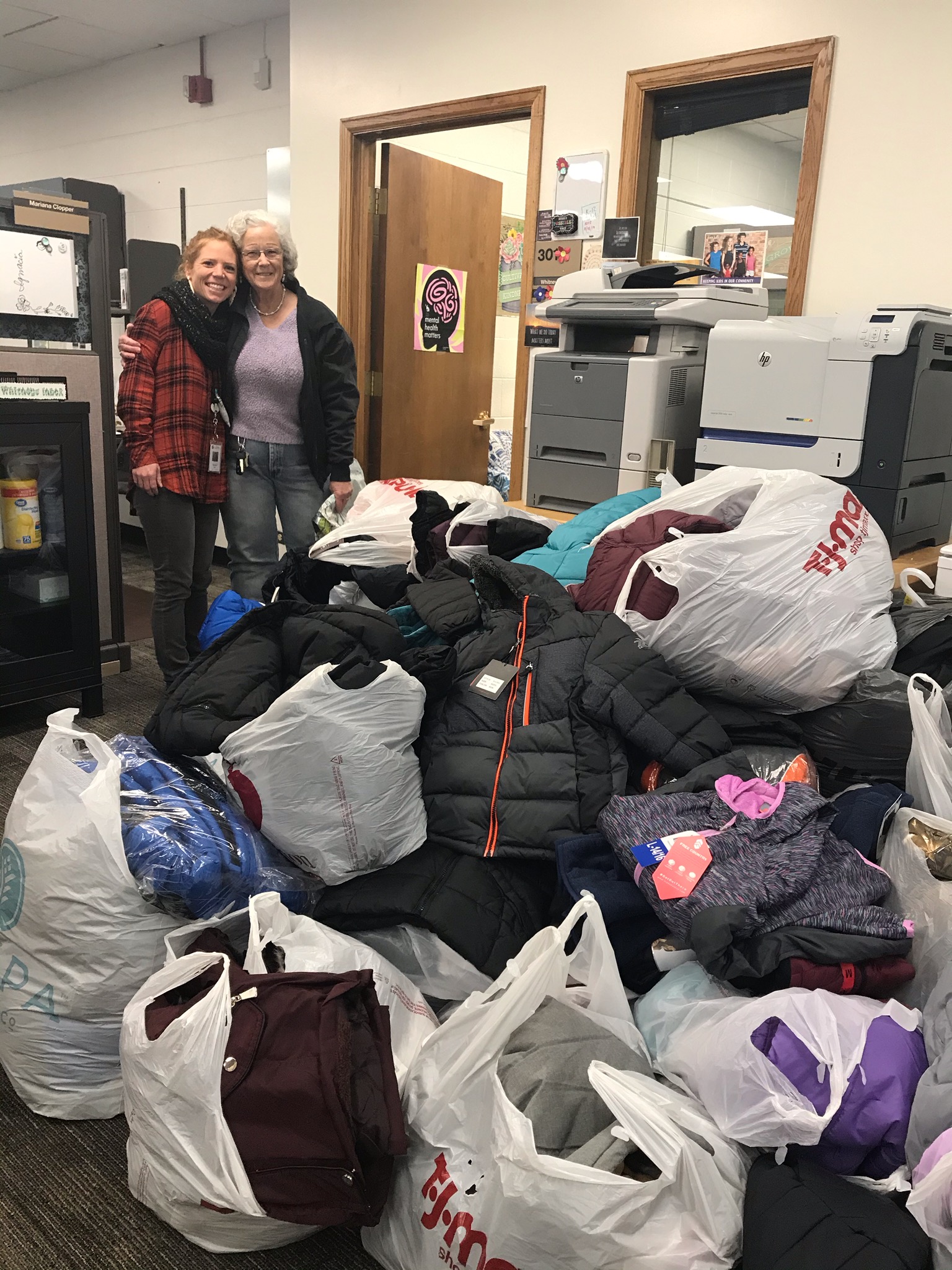 The National Coalition for the Homeless suggests the following items and services to be donated. Before donating, please contact local agencies and organizations to ask about who they serve, their needs and what is really needed. 
Clothing - New or gently-used clean clothes. 
In-kind services and materials like copying, printing, food, transportation, marketing assistance, computer equipment/tech assistance, electrical work, building materials, plumbing, and car repair.
Household goods and items such as kitchen utensils, furniture, books, toys, games, stuffed animals, dolls, diapers, and personal protective equipment.
Organize hygiene/clothing drives for items like soap, shampoo, toothpaste, toothbrushes, cosmetics, cup, pots and pans. During cold weather, solicit for blankets, coats, hats, scarves, mittens, socks, and underwear.
Hold food drives for food banks and shelters.  Focus on high nutrition items wrapped in individual portions such as energy bars, snack nuts, trail mix, and juice boxes, as well as non-perishable items such as canned goods, beans, rice, and pasta that can be easily shelved, stored and re-distributed out. 
Make job opportunities available by encouraging your company or place of worship to hire people experiencing homelessness and unemployment. Most want to work but need an employer to give them a chance.
Offer support for a homeless student or family - As people move out of a shelter or transitional housing, consider raising money to contribute for a security deposit, or assist by contributing household goods, babysitting, or moral support. 
 
For more information about students experiencing homelessness in our community, please visit the PSD McKinney-Vento Homeless Education web page.