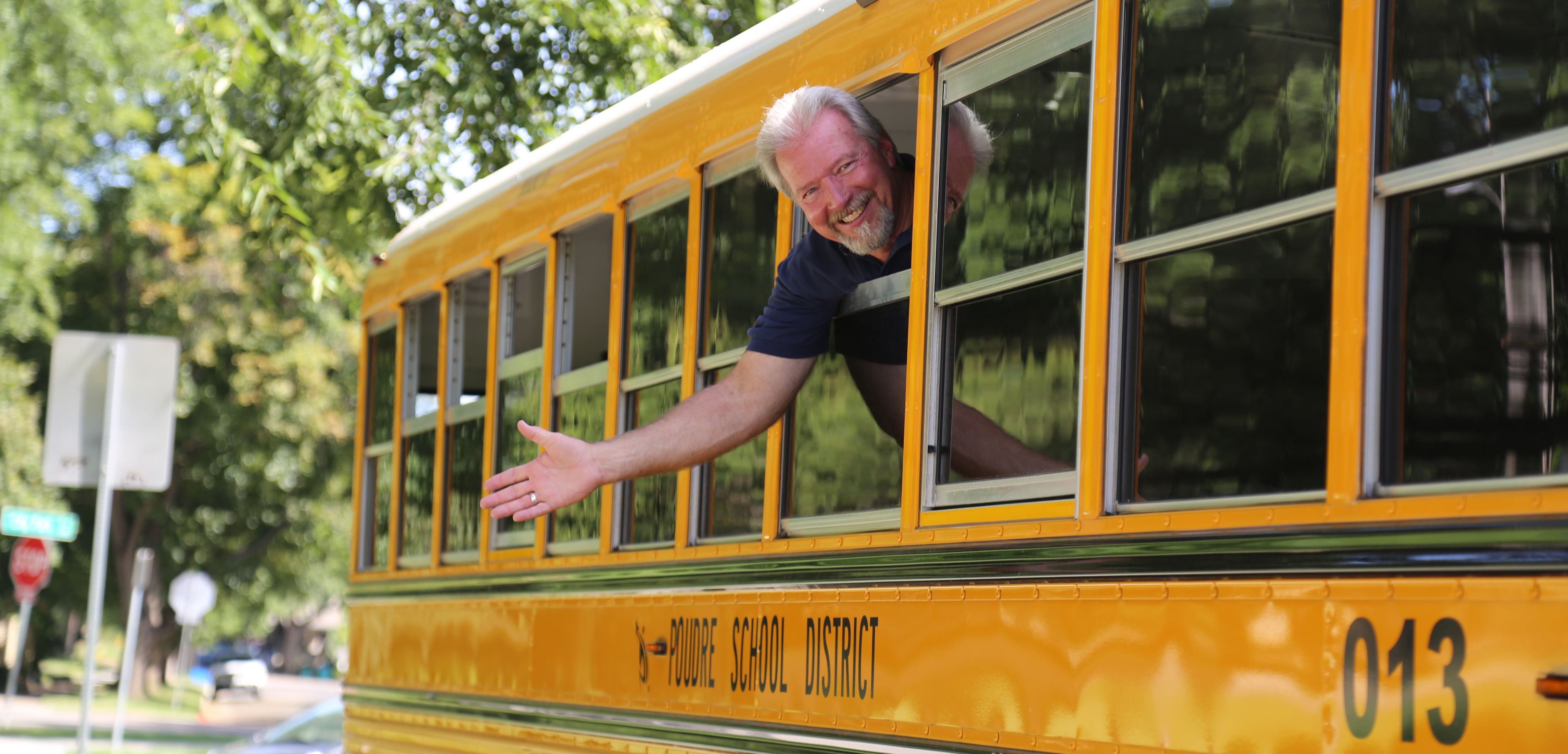 PSD needs your help getting kids to school
Like other districts across the nation, Poudre School District is struggling to recruit and retain bus drivers and needs your help to ensure all students who benefit from busing receive it. PSD still needs additional full-time bus operators to bus students.
The Transportation Department and others work in creative ways to make sure students who registered for transportation and those with significant needs (as identified last school year) receive busing. This is something to be celebrated! That said, PSD wants to offer transportation to more families who would benefit from having their student bussed to school where they can experience all our system does to collectively support them each day. 
 
Drive a bus, share your smile and make a difference with kids
Become a bus driver - a person who helps a child begin and end each day with joy - and gain:
A flexible schedule 
Competitive pay (starting at $22.05/hour) and benefits 
Paid training
Opportunities for advancement 
 


PSD 's The Bus Drive campaign is focused on recruiting new bus drivers. PSD needs you! 
Benefits: 
$3,000 hiring bonus for new bus operators with a valid Class A or B CDL with air brakes and P and S endorsements; paid after successful completion of the initial 90-day trial period (effective for new hires from the current Oct. 11 job posting)
$1,000 hiring bonus for any new bus operator hired; paid after successful completion of the 90-day trial period.  
$250 referral bonuses offered  
Complex high-quality health and dental benefits 
Paid sick leave  
Two paid holidays and four paid floating holidays during the school year 
Colorado PERA participant 
Optional 403(b), 401(k) and 457 retirement programs 
Here's what it takes to be a bus driver
Summary:
Pass a Department of Transportation physical  
Pass a drug screening  
Obtain a Class B CDL permit with air brakes, passenger, and school bus endorsements
Complete PSD's three-week, full-time paid training course 
Eight-step hiring process: 
Application and interview
Clearance
Orientation
Classroom training
Written exam
​Driver skills training and testing
CDL license
Bus route assignment!
Bus operator route schedule examples (2023-24 school year)
Flexible schedules available. Bus operators may choose from a.m., p.m. and/or midday routes.
A.M. shift - 
5:33 a.m. - 9:06 a.m.
6:18 a.m. - 9 a.m.
6:30 a.m. - 8:50 a.m.
6:50 a.m. - 9:06 a.m.
7:08 a.m. - 9 a.m.
7:25 a.m. - 8:52 a.m.
Midday shift - 
10:48 a.m. – 12:48 p.m. 
9:49 a.m. – 12:28 p.m.
10:48 a.m. – 12:58 p.m.
11:02 a.m.– 12:20 p.m. 
10:09 a.m. – 11:33 a.m.
P.M. shift -
2:34 p.m. - 5:18 p.m.
2:35 p.m. - 4:37 p.m.
1:57 p.m. - 6:31 p.m.
2:48 p.m. - 5:33 p.m.
2:48 p.m. - 4:59 p.m.
1:59 p.m. - 4:55 p.m.
PSD parent steps up for kids by driving a bus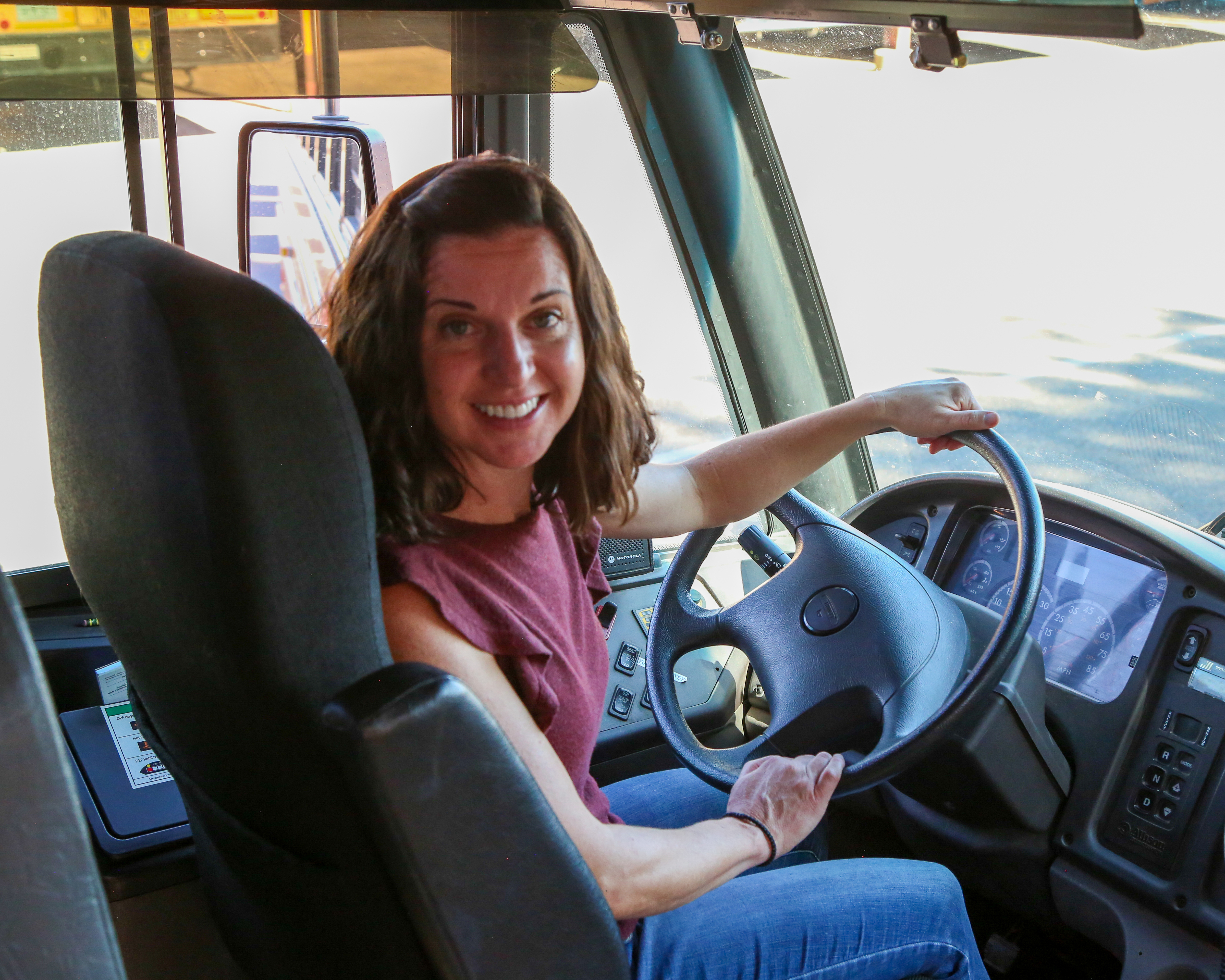 For Jessica Bard, getting behind the wheel of a big yellow school bus is as much about being a mentor as a navigator. 
The Poudre School District bus router and substitute operator has worked for the school district for five years. Promoted to the position of router last year, she is back on the bus due to the national shortage of drivers. For PSD, the shortage means about 40 fewer operators are on the roads than in previous school years, and thousands of fewer students are riding the bus to school as a result.  
The work of a driver, she said, is fulfilling because you get to know students a little bit more every time, they come through the folding doors. Bus operators become advisors and champions to their students. 
"You know their personalities, what's going on, when they get new shoes. You got hugs prior to COVID, and you develop a relationship with the kids," she said, pointing out that drivers get to spend more time with students than people may think. "You become a part of their life."  Read more about Bard's experience in this news item.