New Educator booklet, tasks and resources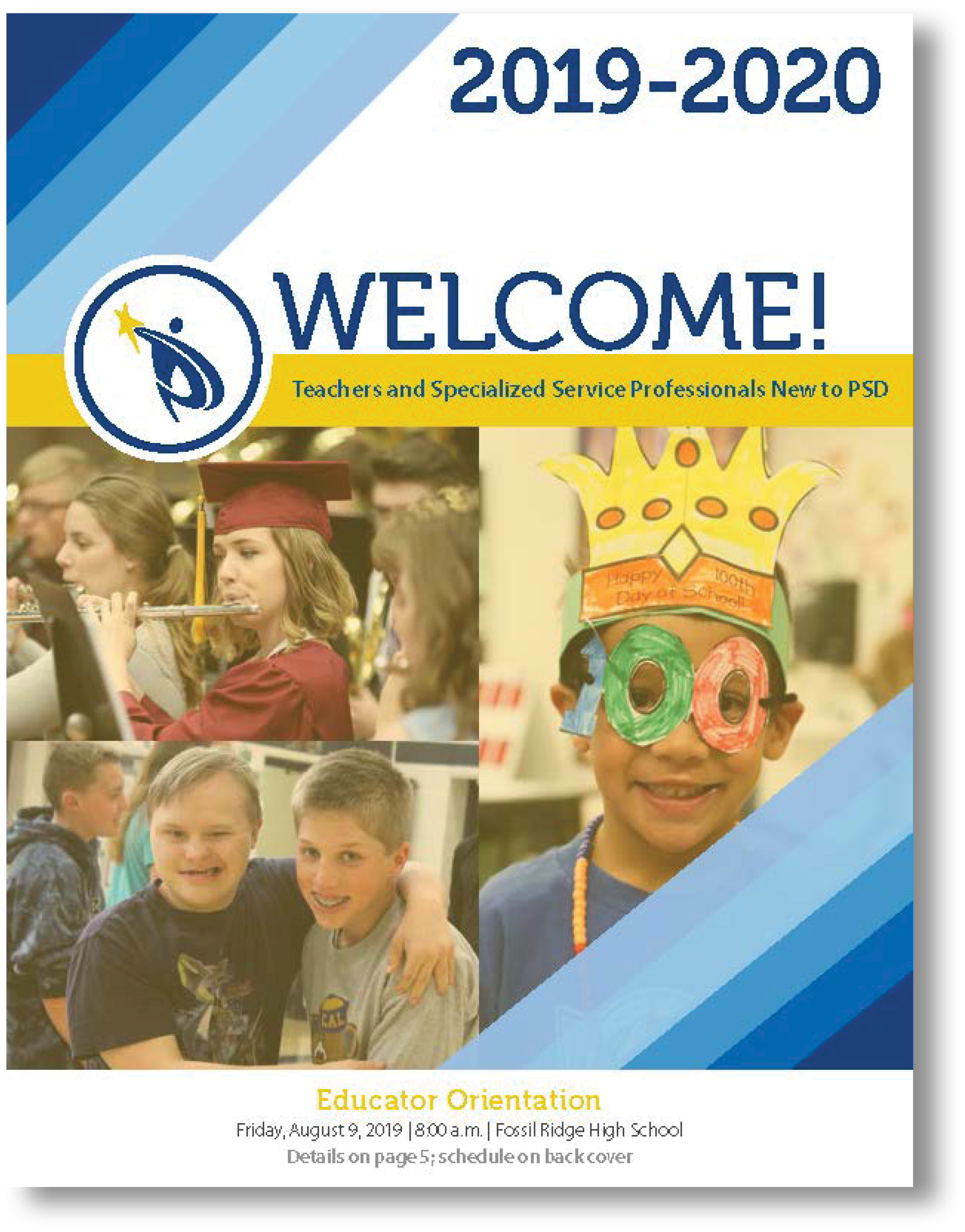 The new Educator Booklet contains critical and essential information for a successful start in PSD, including: 
Educator Orientation will be held August 9, 12, and 13 for all teachers and special service providers beginning employment with PSD in the 2019-20 school year.
Mentoring and Induction
Payroll, Benefits and Human Resources
Integrated Services (Special Education) Educator's Training
FAQ's for new hires
Mandatory steps
1. Licensed Employment: You will receive an email from Human Resources within a week of being hired that will include information about your assignment. 
 
2. Background Check:  Complete the PSD-required background check online through Sterling Background Check Company (you are responsible for the fee). You must complete this background check before submitting new hire/payroll paperwork.

3. Submit to Human Resources/Payroll:
Colorado Teaching or Special Services License - Provide a copy of your educator license or an application receipt. If you do not have a valid Colorado educator license, submit your application immediately. The process can take a month or more, so apply as quickly as you can. Visit the Colorado Department of Education website for license application and additional information. 
 
Original official transcripts: Submit original, official transcripts showing all conferred degrees to Human Resources by -
      * Securely emailing official electronic transcripts from your university to hrdocuments@psdschools.org
     * Mailing original official hard copies to Human Resources, 2407 LaPorte Ave, Fort Collins, CO     80521
*TRANSCRIPTS ARE NOT REQUIRED FOR SUMMER SCHOOL ASSIGNMENTS*
 
Content Exam Results:  Please submit copies of your content exam results (PLACE, PRAXIS, etc.)
 
New Hire/Payroll Paperwork: Submit new hire/payroll paperwork in person to the JSSC Human Resources/Payroll office located at 2407 Laporte Ave, Fort Collins, CO 80521.  
Printed packets are available at the same address. You may submit other documents listed above to start your employment at this time. To complete paperwork in the office, please arrive at least 45 minutes prior to closing. After submitting paperwork, your photo will be taken for your employee identification/access badge.  
You must bring:
     * Driver's license or state-issued photo ID card 

     * Social security card or original birth certificate (or certified copy of birth certificate) or current US passport or certificate of US citizenship

     * Voided check or savings deposit slip for mandatory direct deposit
 
4. PSD Email: After paperwork has been processed, a welcome letter with your employee ID number and new PSD email address (and link to activate it) will be sent to you at the email address listed on your new hire/payroll paperwork.
 
5. Salary Placement: Placement on the salary schedule is determined by education and experience.  
Education "Lane"- Transcripts
New PSD licensed employees are initially placed at the "lane" corresponding to the highest degree earned on original, official transcripts conferring the degree. Coursework beyond degrees may be accepted for movement on the salary schedule if taken after the conferral of the highest degree and after receipt of the initial educator license. For lane movement for additional credits beyond your highest completed degree, complete a  Lane Change-New Licensed Employees Application.  PSD's Lane Change Policy is in the 2019-2020 Employee Agreement.  
Experience "Step" - Verification of Experience
New PSD licensed employees are awarded up to 9 years of verifiable service credit for related previous  experience (except in hard-to-fill or high needs areas.)  Forward by mail or email the  Verification of Experience Form (VOE) to previous employers; upon receipt of VOE forms, appropriate experience credit  will be issued for placement on the salary schedule.  VOE forms must be received in our HR office no later than October 15 or 60 days from the date of hire, whichever is later, to receive experience credit for the current school year.  If received later than October 15 or 60 days from the date of hire, salary credit will not be awarded until the following school year and will not be retroactive to your start date.
*VERIFICATION OF EXPERIENCE IS NOT REQUIRED FOR SUMMER SCHOOL ASSIGNMENTS
6. Medical/Health Benefits: Review the Benefits website. If you are eligible to receive benefits, you will receive a notice of eligibility emailed to you.
 
7. Employment Contract: You will receive an employment contract after your employment has been approved by the Board of Education. Returning probationary employees usually receive this in July. New  employees may not receive contracts until late August. The contract is sent to your PSD email address. Immediately sign the contract and return to Human Resources.
 
Important PSD resources