Welcome to the Community ToolKit!
PSD helping students thrive socially, emotionally, physically and academically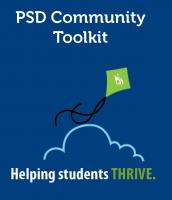 Poudre School District's mission to Educate Every Child, Every Day goes beyond the classroom. From offering breakfast to children so they won't be hungry to making connections with teenagers living on their own, PSD strives to support students in all areas of their lives, including their overall physical and emotional well-being. The district is committed to helping students succeed not only at school, but personally and in the community as well.
As part of these ongoing efforts, we've created a PSD Community Toolkit" - an informative series on issues affecting students and families today. Articles, videos and available resources are presented for each issue addressed in the Community Toolkit "Helping Students Thrive" series.
The Community Toolkit debuted with a look at PSD mental health services for students and suicide prevention. The second segment in the series highlights the importance of digital citizenship and internet safety. 
Mental Health Services and Suicide Prevention
Helping students thrive emotionally
This segment focuses on PSD mental health services for students, suicide prevention and how the district responds to students in immediate crisis. The section also lists the warning signs that a child may be struggling, as well as parent tips and community resources available. PSD TV videos, featuring the PSD Mental Health team, take an in-depth look at district and school level support. Learn more on the "Mental Health and Suicide Prevention" web page.
Digital Citizenship and Internet Safety
Helping students thrive socially
This second installment in the Community Toolkit series covers digital citizenship and internet safety. A special PSD News feature tells how technology is used in the classroom and what the district does to protect students online. In the PSD TV video, School Resource Officer Keith Maynard highlights the importance of parents being engaged with their children and aware of their online behavior. Internet safety seminars available this fall are also listed. Learn more on the " Digital Citizenship and Internet Safety" webpage.