Welcome to the Community ToolKit!
PSD helping students thrive socially, emotionally, physically and academically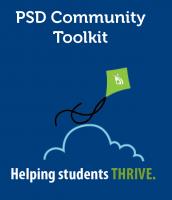 Poudre School District is committed to helping students succeed not only at school, but personally and in the community as well. To address the overall physical and emotional well-being of students, we've created a PSD Community Toolkit about issues affecting students and families today.
This installment covers digital citizenship and internet safety. 
Visit the PSD Community Toolkit "Helping Students Thrive" home page for other important topics addressed in this series. 
Digital Citizenship and Internet Safety
Helping students thrive socially
Information about internet safety and digital citizenship - etiquette for online behavior -   are posted here to offer guidance on how to navigate technology safely, as well as to provide education on responsible technology use in and outside of the classroom.
PSD TV feature:  Digital Citizenship and Internet Safety
Taking photos and sharing them with others is very different now than it was just 10 years ago. Students don't realize that posting photos online makes them vulnerable to online predators, says Keith Maynard, School Resource Officer. Hear more about this in this PSD TV feature: