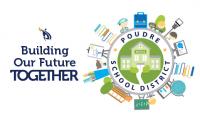 Funding for New Schools Approved
PSD's 2016 bond, which was approved by voters in November 2016, will pay for planned construction and school improvements.
PSD voters approved a $375 million bond to build three new schools — a new middle/high school in Wellington, and an elementary and middle/high school east of I-25 — as well as an athletic complex, transportation facility renovation, and addition to Zach Elementary School. The bond will also fund $40 million of improvements to every existing school. The $8 million Mill Levy Override will pay for operating costs of the new buildings.  
Litigation delayed efforts but was resolved in August 2018 (see the "PSD prevails in litigation" news release here). PSD's Board of Education will issue general obligation bonds as soon as possible to finance the capital construction.

2016 Bond
Timelines for new schools have been revised but are subject to change (see anticipated opening dates below). For more information about the revised plan, see:

New Construction: $313 million - Anticipated opening dates noted below. 
Ongoing Facilities Improvements: $40 million - to begin as soon as bonds are sold and funding is available
School-based requests: $12 million       

Critical deferred maintenance: $28 million
 All school / facility improvements requests are listed in this pdf document.

 Bond Financing Package: $375 million (no increase to current tax rate)
New Schools/Addition: $295.6 million

New Athletic Complex: $6.225 million

Renovated Transportation Facility: $11.3 million

Ongoing Facilities Improvements: $40 million

Bond Issue Expenses: $2 million

Bond Project Coordination: $7.875 million

Bond Project Reserve: $12 million
2016 Mill Levy
Operational Mill Levy: $2 million - $8 million (phased in over two years)
Start-up costs for new buildings

Centrally-funded instructional staff salaries (principals, assistant principals, Integrated Services coordinators, ELL staff, mental health staff, SROs etc.)

Facilities staff salaries (custodial, grounds workers, etc)

Materials and equipment for start up

Technology refresh costs associated with growth