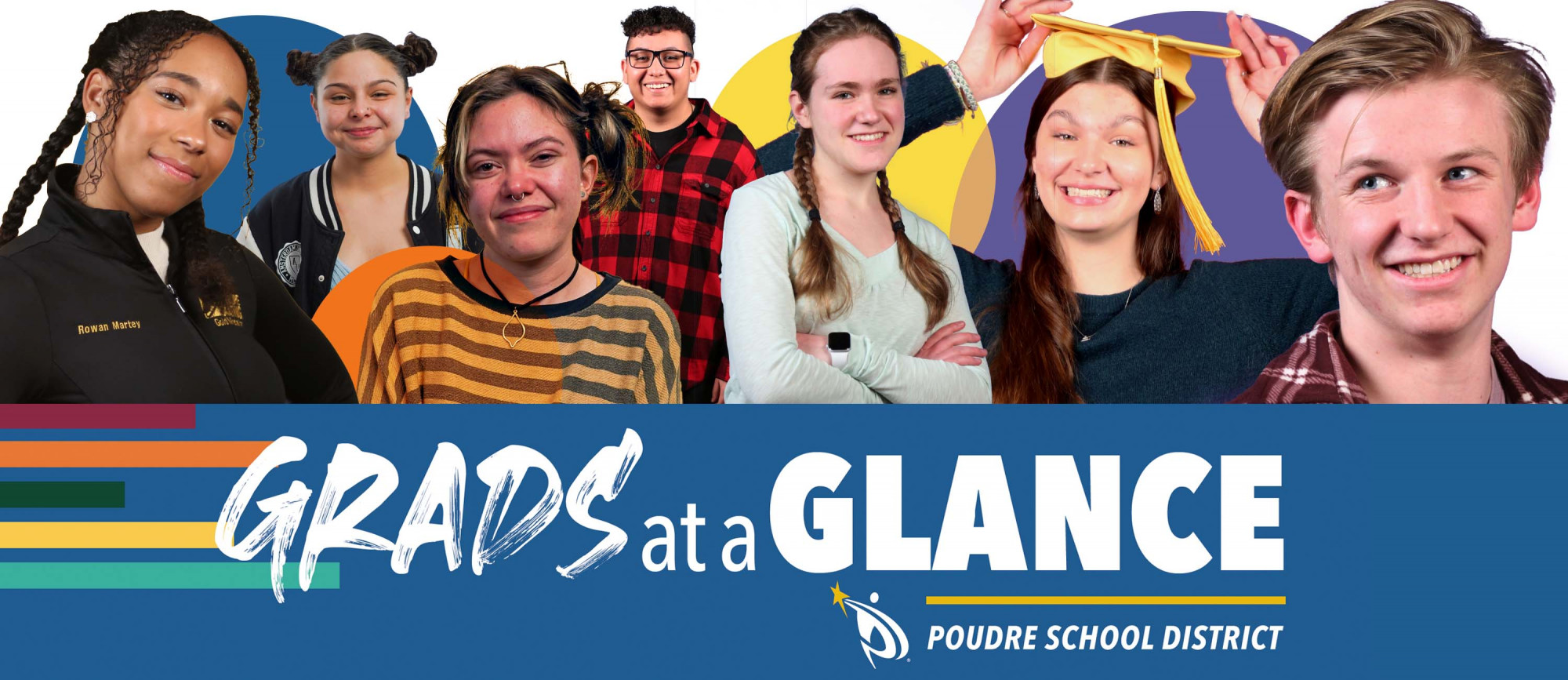 We rarely accomplish our goals alone.
That is true for Poudre School District's Class of 2022, comprised of students who have worked so hard in their journeys to graduation. As you explore this year's Grads at a Glance series, you will learn about some of our students through the voices of those who have cheered for them along the way.
See their stories on the PSD Grads at a Glance website.
Supporters of Lucas Pedemonte, Fossil Ridge, say he is curious, smart and aware.
Julia Warnock, PGA , uses music to express herself and views mistakes as a chance to grow. 
Kelly Velasquez, PHS, is brillant, empathetic and exceptional. See her and those who support her here. 
Danika Hostetler, PCA, is described as unique, extraordinary and resilent by those who care about her. Learn why here.
Luis Morales, PCA, didn't like school. With the support of his family and teachers, he's looking forward to graduation. 
Abdulaziz Yusufjanov, Rocky senior has passion, drive and is an all-around amazing person.
Neha Srikanth, Fossil Ridge, is an advocate for equity, trying to change experiences for others.
 
Rowan Martey, Polaris, is a competitive skater and community leader who excels on the rink and in school. 
Chase Nelson, PHS, uses art to deal with anxiety and is working to break the stigma related to mental health issues.
Aden Faris, FCHS, "fails forward" despite life's challenges. He turned tragedy into opportunity.
Cade Whish, FCHS, is "everything you would always want in a son" - hardworking, inspiring and full of pride. 
Ryan Woodall, Rocky, radiates kindness, and is recognized as one who gives back to everyone.
Madison Gill-Twitt, PGA, is an early graduate described as tenacious, compassionate, bubbly and more. 
Shayna Stevens, Polaris, is an independent and determined young woman - a resilient warrior.
Lelyn Lopez, CHS, is seen by his supporters as genuine, valiant and committed. See why he's incredible.



Alice Post, CHS, discovered  true self in school and is a strong advocate for the LGBTQAI+ community. 
For details about graduation ceremonies, visit the Graduation 2022 web page.