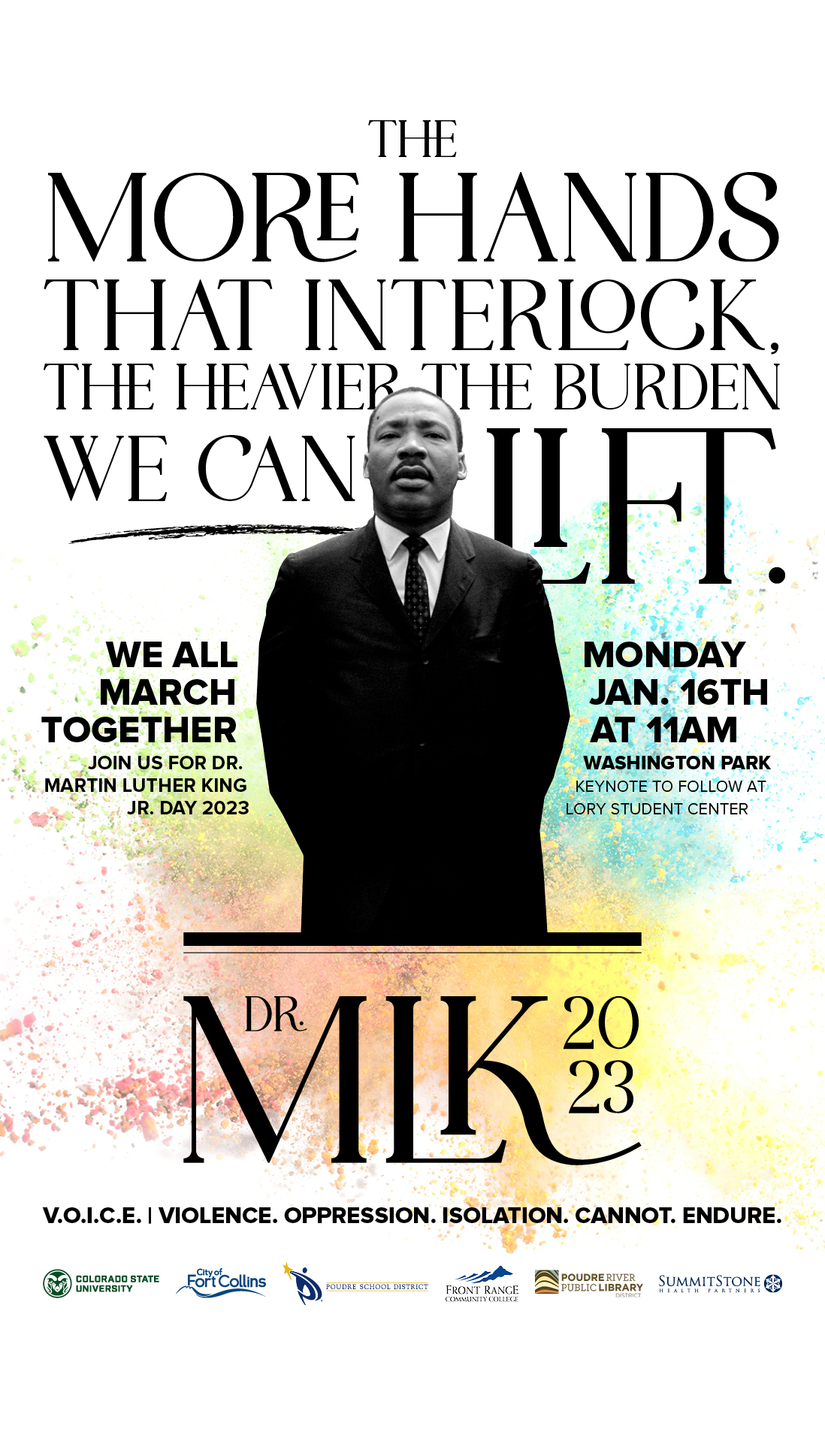 Poudre School District, Colorado State University and the Fort Collins community will come together to march and celebrate the legacy of Dr. Martin Luther King Jr. on Monday, Jan. 16. The theme of this year's MLK Day event is Violence. Oppression. Isolation. Cannot. Endure.  (V.O.I.C.E.).
The march will begin at 11 a.m. at Washington Park, 301 Maple Street, in Fort Collins. The route features a path to commemorate Black families who put down roots in northern Fort Collins in the early 1900s.  From Washington Park, participants will head north to Cherry St, west to Meldrum, and south back to the CSU campus for approximately a 1.3 miles march. Following the march, Panama Soweto, who has previously spoken at CSU and been featured on National Public radio, will present a keynote address starting at 12:45 p.m. at the CSU Lory Student Center. 
PSD Diversity, Equity and Inclusion Coordinator Delhia Mahaney said recognizing the work of Dr. King is an opportunity for the community to come together. "What I value the most about uplifting the legacy of Dr. Martin Luther King Jr. is that our community comes together, no matter our identities and lived experiences, to actualize our potential to build and live in a 'Beloved Community,' a community of justice and equity," she said. 
Each year PSD staff nominate staff members and students who best represent Dr. King's legacy and the annual theme to serve as march leaders. Those selected to lead the way as PSD representatives this year are: 
Aloha Arceo Apitz, a Family Liaison At Poudre High School
"Aloha has a long history of advocating for marginalized groups and working to create a more inclusive and equitable society," said Mahaney. "Whether through volunteering their time giving informational presentation to families who are Spanish-speaking, organizing events to raise awareness about social justice issues, or simply using their platform to speak out against injustice, Aloha has consistently demonstrated a deep commitment to Dr. King's principles of social justice and equality."
 
Rocky Mountain High School Teacher Jason Powell, Fort Collins High School Teacher Jody Snow and student facilitators of the Youth Celebrate Diversity Northern Colorado Conference held at RMHS last fall.
"Jason, Jody and our student leaders went above and beyond to learn, plan, and facilitate a day of learning for students across NOCO and parts of Wyoming. They bravely used their collective voices to help improve our system for others," said Mahaney. "This diverse group of students and staff honored Dr. King's legacy by working together, across identities, to impact their spheres of influence in a powerful and impactful way."
Student facilitators:

Olivia Bird, RMHS
Tao Britton, RMHS
Sophia Dellota, FCHS
Merrick Douglas, RMHS
Courtney Habermehl, FCHS
Myriah Lessor, RMHS
Carter Norris, RMHS
Sibohan Omwanda, RMHS
Laylah Reyes, RMHS
Citalic Sanchez Snow, Poudre High School
Laura Sanchez Unda, RMHS
Elijah Wilson, FCHS
Ash Wuu, RMHS 
 
The march was organized by CSU in partnership with PSD, the City of Fort Collins and Front Range Community College. For more information about the day and related events, visit the CSU website.