Poudre School District is pleased to announce that Josh Richey has been selected permanent principal of Boltz Middle School. 
Richey moves into the position after having served as interim principal at Boltz this school year.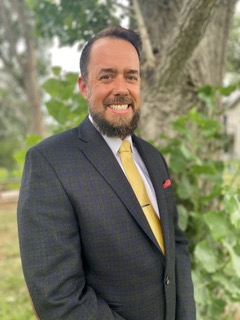 "I am excited to keep pushing Boltz into its 50th year in PSD. We have plans to continue to focus on supporting the social emotional learning of all students while continuing to develop all forms of literacy for our students," said Richey. "I am so appreciative of the work that has happened before me. I have an amazing and knowledgeable staff and I know I couldn't have done this without them." 
Richey said that serving as interim principal gave him an opportunity to learn more about the Boltz community and adds to his excitement as he looks ahead.  
"Everything I have been a part of has been a growth opportunity for me, as being a principal is such a humbling opportunity. My biggest joy is helping push a school that strives to build relationships with students while focusing on the importance of academic success and preparation for high school," he said. 
Richey has been with the PSD since 2009. Before serving as interim principal, he was an assistant principal and athletic director at Boltz.  Prior to that, he was the dean of students from 2014-2018 at Fort Collins High School where he also taught special education from 2009-2014. He was also a teacher at Turning Point's Waverly School in Fort Collins before coming to PSD.  
"I am excited about the energy that Josh brings to the Phoenix family," said Scott Nielsen, assistant superintendent of secondary schools. "He is dedicated to the social emotional health of the community and will work collaboratively to support a positive learning environment for the staff and students at Boltz!" 
Richey has bachelor's degree in English literature with an emphasis in secondary English education from Metro State University. He holds a master's degree in special education and an education specialist degree in educational leadership and special education, both from the University of Northern Colorado. 
His love of English literature and wanting to share that with high school students inspired Richey to choose a career in education.  "This evolved over the course of my career to wanting to support and advocate for underrepresented youth and help them make connections to both school and their community," he said.  
Born and raised in Colorado, Richey has skied since he was a young kid and modestly describes himself as a "mediocre fisherman and probably a worse golfer." Summers are spent in the woods as much as possible, he said, "getting away from all thing's technology." 
Richey lives in Fort Collins with his wife and 6-year-old daughter, along with their two dogs and many chickens and bees. This summer they plan to explore the northwestern part of the U.S. and beyond.