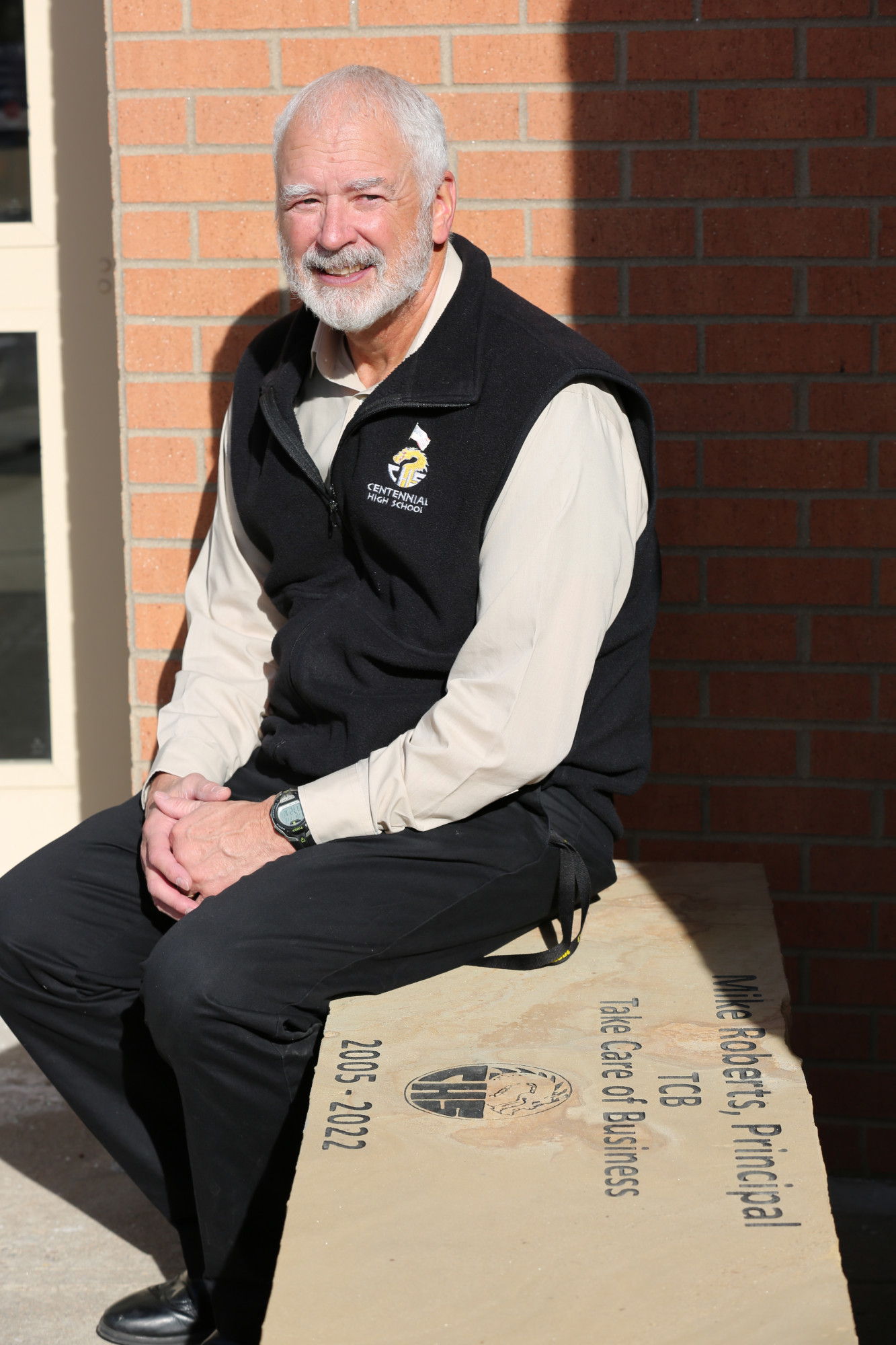 A stone bench sits in front of Centennial High School with the words "Take Care of Business" engraved on it in large letters. Those from a man who is known by many in Poudre School District.  
About 150 staff, students and local community members gathered at the flagpole in front of Centennial on Jan. 13, 2022, for a surprise ceremony at which Principal Mike Roberts was presented with a special gift: a stone bench to honor his contributions to Centennial and its students. Some staff members and community members contributed to its purchase. 
Roberts has been the principal at Centennial for 17 years and retires at the end of the 2021-22 school year after 22 years of service in PSD. 
"You will be here, even when you are not, to remind us to take care of business," Centennial Office Manager Kim Lang said at the dedication. This prompted students to cheer for their long-time principal. Some students even requested selfies with Roberts and his bench at the end of the ceremony. 
Roberts is known to be outgoing. He drives a motorcycle to school. And his students characterize him as a caring person who goes out of his way to spend time making their experiences better. Regardless of the situation, students said they can rely on Roberts to make it better. 
Megan, a senior at Centennial said, "Mike gave me the opportunity to take care of business. He impacted my life because he's like a dad to me. He's always been there for me, and even brought me food when I needed it. He has always been supportive, and we at Centennial love him." 
Domenick, a freshman at Centennial, said that Mike, "by far the best principal I've ever had," changed his life in only a few months. "He has helped me get my stuff together. When I felt like everything I did was wrong, he helped me boss up so I can go into high school ready for anything that comes my way," he said.  
Roberts is known for putting students first – always. He respects students' choices, and he challenges them to grow, taking on more responsibility. 
Roberts shared that he was surprised by the bench in his honor and appreciated the sentiment. 
"I like that the bench is made from stone, as a symbol that the foundations that guide the Centennial community will stand the test of time," Roberts said. "Building relationships, setting high bars for academics, behaviors, and attendance will foster skills that will carry students through school as well as into their future lives." 
Roberts added that observing students identify barriers in their way and making changes to be successful is a very rewarding aspect of leading Centennial. 
"Every time the community comes together, it feels like a powerful event, and this dedication was a big honor," he said.