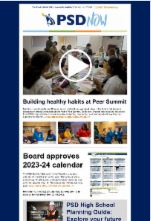 The Nov.10 PSD Now edition includes:
Peer Summit 2022 video
Superintendent's Message: Preliminary Graduation Data
High School Planning Guide
Board Approves 2023-24 Calendar
School Registration and School Choice for 2023-24
Translations: Español Nov. 10 PSD Now  |  عربي  Nov. 10 PSD Now 
Sign up for PSD Now! Get PSD Now community updates delivered to your inbox (about every two weeks). You can unsubscribe at any time. For previous newsletter editions, see the archive.