Easy access to water and heat was not always something students and staff of Stove Prairie School enjoyed. 
The one-room schoolhouse in Rist Canyon (west of Fort Collins) opened in 1896 when families had to bring water each morning to the school. Eventually water was piped to the school from a spring. For heat, Stove Prairie had a wood-burning stove. It was a "glorious day" in 1955 when a gas stove was installed, according to historical records.
Now, after much-improved access to those necessities and countless other changes over the past decades, Stove Prairie is celebrating its 125th anniversary.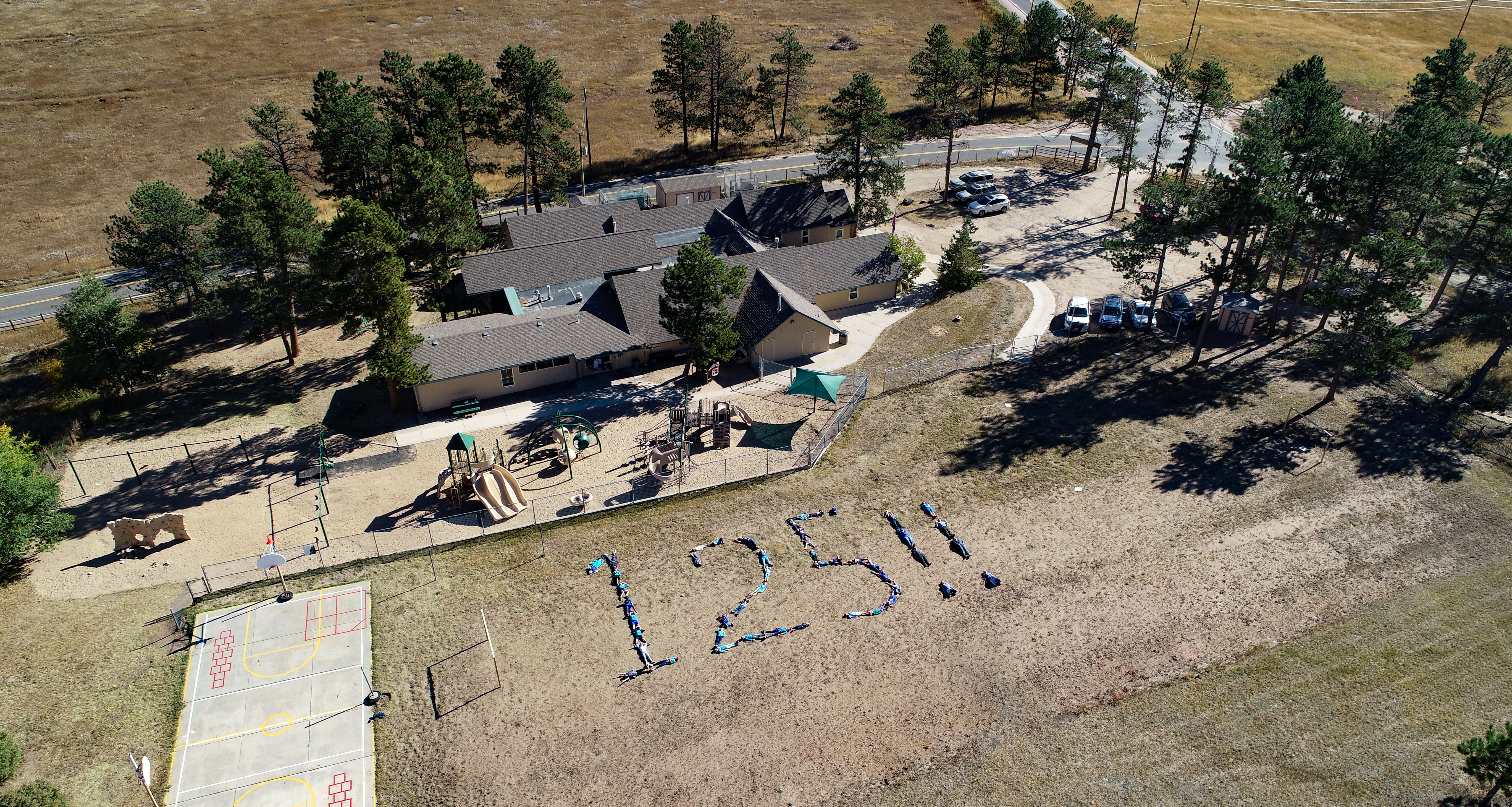 Stove Prairie School is the oldest operating "one-room" school in Colorado, according to the Fort Collins History Connection database. Now one of Poudre School District's three mountain schools, this little school "at the end of the rainbow" offers a multi-grade learning environment and is a community hub to many staff, students, and families.
"We are thrilled to be celebrating the 125th anniversary of the Stove Prairie School. Although several expansions have been added to the one-room schoolhouse, the original structure remains intact," said Tom Schachet, principal of PSD's mountain schools.
The original one-room schoolhouse was constructed in 1896 by Emanul Vannorsdel (who used his sawmill to cut the lumber) and Harlen Bosworth, along with the occasional help from neighbors. The first teacher was Belle Thompson. 
According to a PSD historical context article in the Fort Collins Museum of Discovery, the school was heated with a wood stove in the middle of the room, causing children to either freeze or bake on cold days depending on where they sat. As one of their duties, the children carried in wood for the school, which was furnished by parents, usually those serving on the school board. 
In 1904, 37 pupils attended the one-room school with one teacher. Soon after, three other schools opened in then-District 18 (prior to PSD). One was in a small log cabin on Buckhorn Mountain, known as Welch Park School. Another school was established on Kimball Hill, about three miles south of Stove Prairie School. A third opened on Buckhorn Creek. That schoolhouse still stands on the Wertz Ranch.
After the other schools opened, only two students were left to attend the Stove Prairie School and the school closed. By the time school began in the fall of next year, two new families had moved near the school. The school reopened and has remained opened since then. 
In 1960, Stove Prairie joined PSD as part of a consolidation of regional schools and school districts.
A new classroom and indoor restrooms - the first ones in the school's 67 years - were added to the school in 1964. More changes came in 1972 with additions of a multi-purpose room, another classroom and an office. Also in 1972, Robert Smith, a teacher at Livermore Elementary School, was named part-time supervisor of the mountain schools.
In 2020, Stove Prairie welcomed its first commercial kitchen and Child Nutrition staff members. Prior to installation of the kitchen, students brought their lunch to school. "The kitchen services have assisted with food insecurity, which is an issue in our mountain schools and the Child Nutrition service has been incredible," said Schachet.
Over the past 125 years, the Stove Prairie school community has remained resilient. Students often attend school with several inches of snow on the ground during the winter. Fires, floods and evacuations have impacted families and staff members at the mountain schools, which also include Livermore and Red Feather Lakes Elementary Schools. In the face of adversity, however, they have remained strong, keeping things as "normal" as possible, even amid a pandemic that meant remote learning with poor internet access.
"The mountain school families and staff continue to persevere. They powered through in the most abnormal year," said Schachet.
What began as a small, one-room schoolhouse has become the heartfelt center of a community. The school hosts monthly potlucks with families and community members - a long-standing school tradition in a community rich with history.