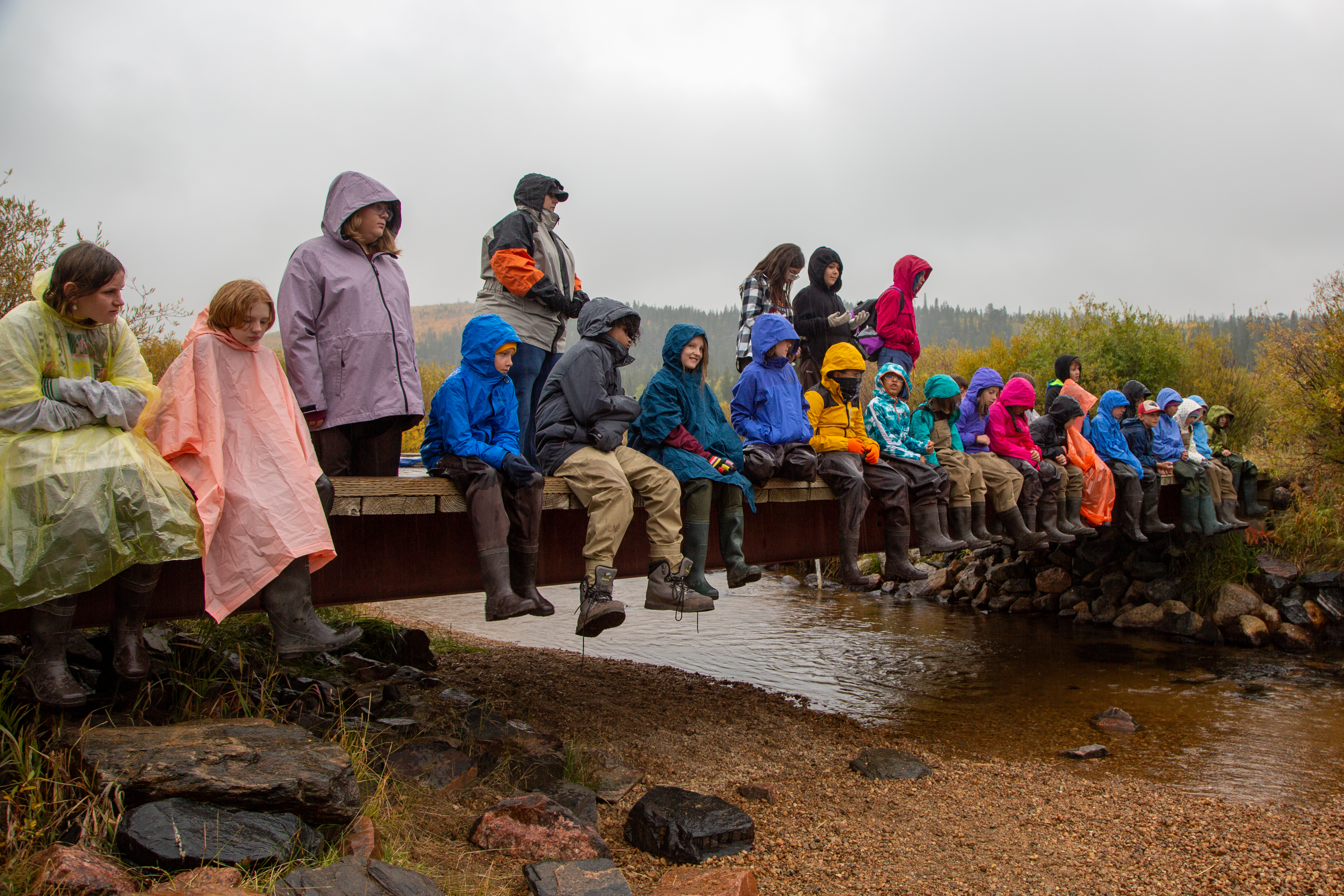 On the last official day of summer, fifth graders and teachers from O'Dea Elementary School left behind the city and made the trek to the Colorado State University Mountain Campus for Eco Week, where golden leaves spread across the mountain terrain, and everyone could feel fall rolling in with the clouds.
"The views were breathtaking!" said Cherie Maul, a fifth-grade teacher excited to attend Eco Week with her class after COVID prevented trips the past few years. "The students did many observations and illustrations of the views. The changing colors of the leaves were amazing. The students enjoyed the cooler temperatures, and we feel it got us into the 'fall mood.' Although it was rainy, our students showed grit and grace through it all."
Eco Week is almost a rite of passage for many fifth graders in Poudre School District. Classes from some elementary schools go to the CSU Mountain Campus or get outdoors in other places so students can dig into nature and build community with their classmates. For some students, this is the first time they adventure out beyond their homes and schools, experiencing independence away from parents and technology.
O'Dea's fifth graders experienced adventure right away on a recent September afternoon. Joyful cheers, yells, and shouts of "You can do it" or "We believe in you!' carried across the mountain as students explored the challenge course. Strapped into harnesses to explore the leap of faith and catwalk, the students learned risk taking, how to solve problems as a group and increased their confidence and communication skills.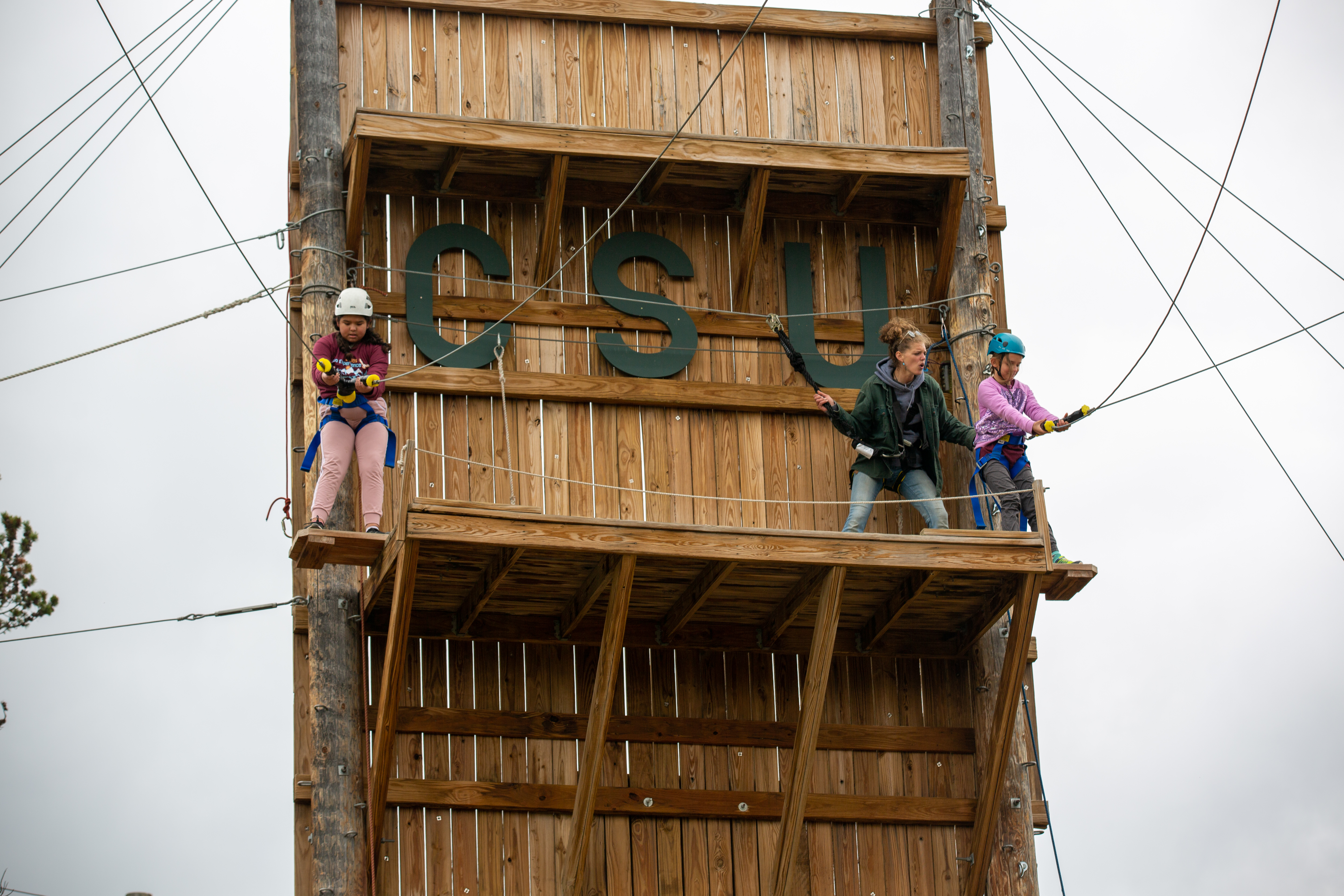 After climbing the rock wall and jumping off the platform, Dalanie Guerrero reflected on her experience while walking to the next rotation activity.
"Eco Week is fun and cold!" she said, later adding that climbing the rock wall felt scary. Even though this experience intimidated her at first, she did it with encouragement from her classmates and teacher. Guerrero realized through this experience that a person can be both brave and scared when overcoming fears and challenges.
Going from bird's-eye views on the challenge course to up-close encounters along the river, the students couldn't beat the rain before literally jumping in to learn about stream ecology.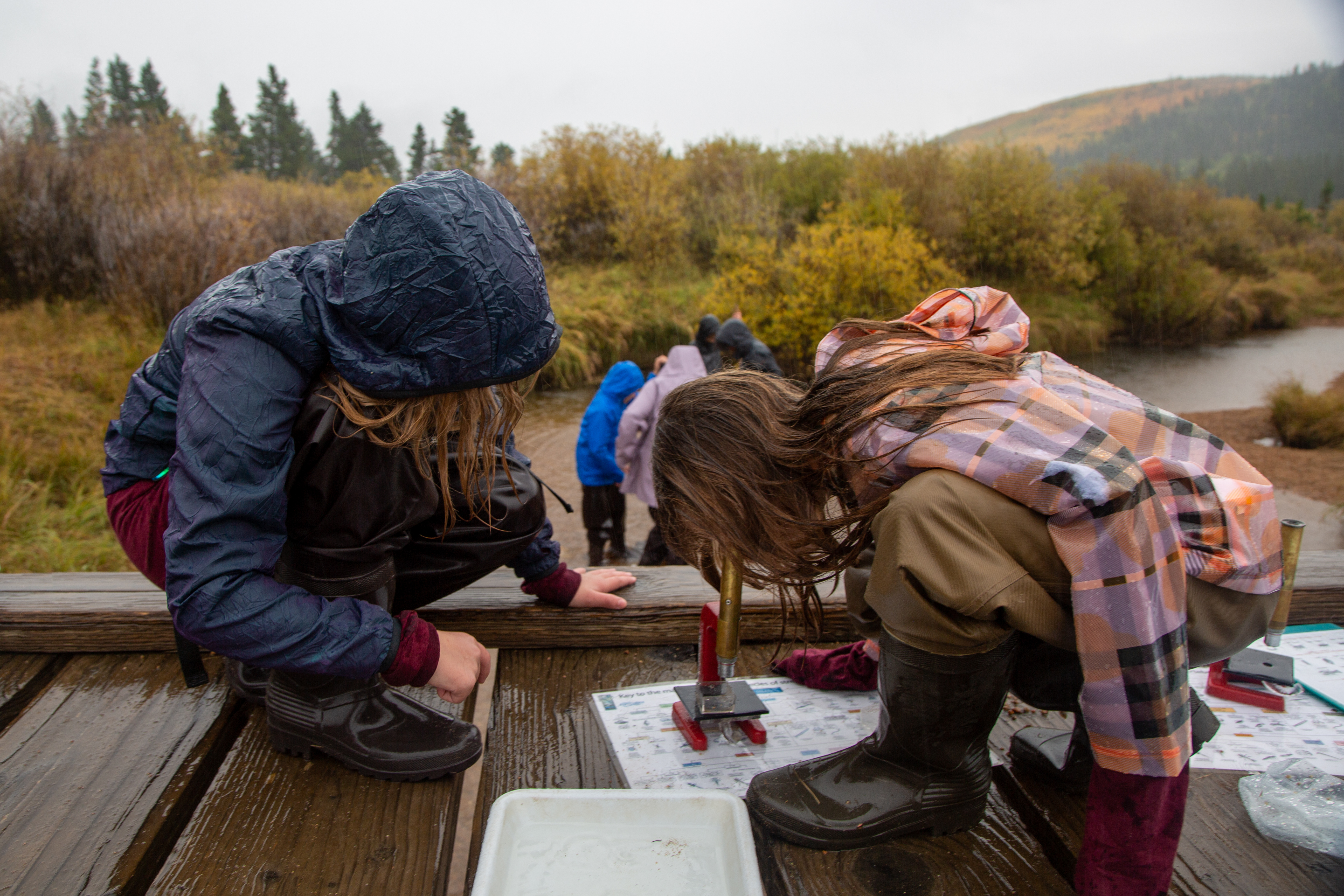 Donning their multicolored ponchos and rain jackets, nothing could stop O'Dea from continuing on their adventure. Some students felt hesitant about the rain, but a little water did not stop Ceci Broeckling from analyzing the macroinvertebrates she caught with her team of classmates.
"I like it because I've never done it before," said Broeckling of her experience of examining the stream's inhabitants under a microscope.
She said her favorite part of Eco Week was getting the chance to be in the mountains and try new things.
After the hands-on activity, students got out of the rain and returned to a classroom to finish their ecology lesson.
"You are true scientists now, rain or shine!" said Rylee Bundy, a CSU Mountain Campus Eco Week instructor.
For Bundy, life in this moment came full circle. Once a Lopez Elementary fifth grader, she remembers participating in the exact activity she now teaches.
Before wrapping up day one with dinner, ecology games, and a campfire, O'Dea students took a history hike exploring the original mountain campus homestead. Sitting in an old schoolhouse, they imagined how different the lives of students must have been decades before and reflected on their favorite lessons of the day.
Whether students' favorite part was the challenge course or wading through the stream, these memories will stick around. They agreed that lessons learned during Eco Week will serve them not only today or in middle school but for the rest of their lives.