On most school days, you'll find Nancy Hazelrigg spending her afternoons at Irish Elementary School. You may see the her helping teachers and staff by organizing offices, classrooms and student materials. She may be working with students, playing educational games with them, practicing reading and writing or assisting them with homework or scholastic book orders.
 "There is nothing better you can do than help kids be good students and learn to be good citizens," said the dedicated Poudre School District volunteer about why she shows up at Irish every day.
Hazelrigg decided to volunteer for PSD after she retired four years ago. As someone who was a Spanish major in college, she decided to take on helping at a dual-language school where English is not the primary language for many students.
"After forty years of not speaking Spanish, I was a little rusty," admitted the bilingual speaker, with a wide grin and quiet laugh. "You lose the grammar."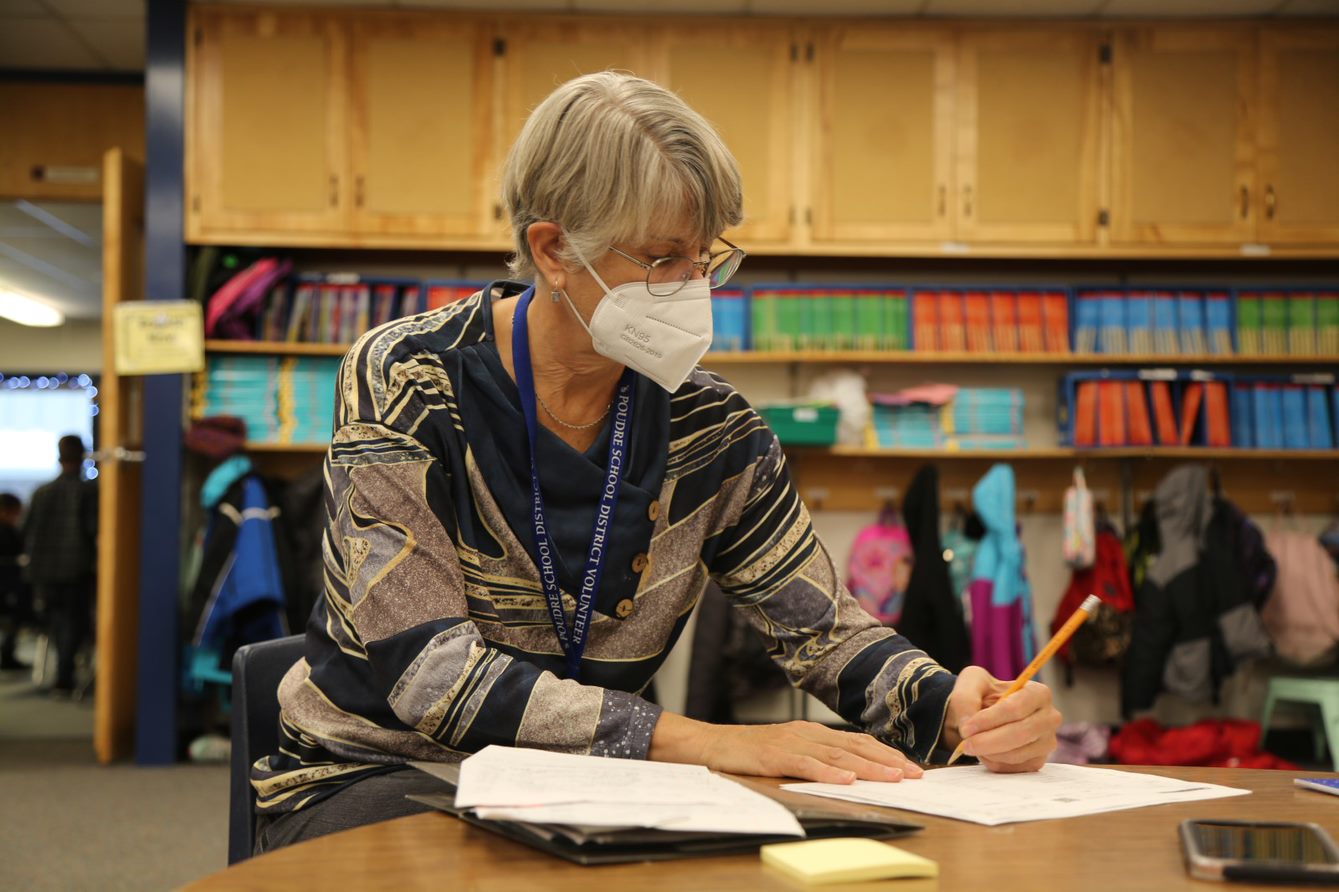 At Irish, Hazelrigg volunteered first in the younger grades, but eventually found her home in the second grade classrooms where, with her caring nature, she enjoys helping the young students and assisting the teachers.
"I was working with a little girl who had been struggling. I worked with her every day. When she first started reading, it was so special," she said.
Irish second-grade teacher Kaeli West values Hazelrigg as a volunteer and the partnership they have formed over the years.
"Nancy came to our school looking to make a difference. She functions like a teacher, and at the very least like a true paraprofessional," said West. "She does so many things, organizes, clerical work, scholastic tasks, creating systems for kids to be successful in math and reading, implementing games for math and literacy, organizing crafts and even office space. It makes a major difference for daily functions." 
Beyond that, "she is wonderful with the kids and helps to fill any gaps," West said. "She goes above and beyond to come up with solutions to meet kid's needs."
This could include researching or creating a game for students. As a committed volunteer, she assists teachers with their tasks to ensure a smooth-running system for students to learn through play and fun activities, while tracking their progress. 
Fernanda, a second-grader at Irish had many kind words to say about Hazelrigg. "She helped me learn how to write. She helps people do homework...We practice by playing games and I sometimes practice reading to Mrs. Nancy," Fernanda said, adding that she likes Mrs. Nancy's hair and pants. "She is sweet. She is smart and kind. She is happiness."
Ever, another second-grader, enjoys spending time with Hazelrigg at school. "She tells me I am a good writer. She is a great helper. She has helped me the most with reading and writing and helped me with spelling," said Ever.
A clear example of Hazelrigg's servant heart was shown when a long-term substitute was in another second-grade classroom. Hazelrigg quickly jumped in to assist the substitute. As her biggest cheerleader, West shared the impact of having Hazelrigg as a volunteer.
"Nancy, for me, is a daily hero. I do not know where I would be throughout this pandemic without her support. I am extremely grateful for her partnership," said West.  "She makes my dreams possible. I don't have the time to make all the ideas in my brain come to fruition, but with Nancy, I can dream bigger." 
Hazelrigg has fond memories of every student in every class that she has worked with over the past four year. Each year, as part of a class letter-writing activity, students write letters to Hazelrigg about how much she has helped them. She keeps all of the letters she has received in folders at her home.  
"I have some of the kids' first sentences," she said.
This year, students wrote letters in December and will likely write another one at the end of the school year. The letter-writing activity is also a way for the teachers and Hazelrigg to track the students' writing progress by comparing the letters they write.
Hazelrigg feels that no matter how much you give, you always get more in return. "The kids are so caring and loving. I walk into the classroom and the kids hug me around my waist, asking to work with me and I am able to help them in a difficult time," she said.
"I want the kids to grow up and be well educated and be able to make good decisions. The better school they have, the better it is for all of us."
 
Heartwarming letters Hazelrigg has received from students: