Poudre School District is pleased to announce that Liz Davis has been selected to be the new director of the Student Services Department. She begins Monday, July 18.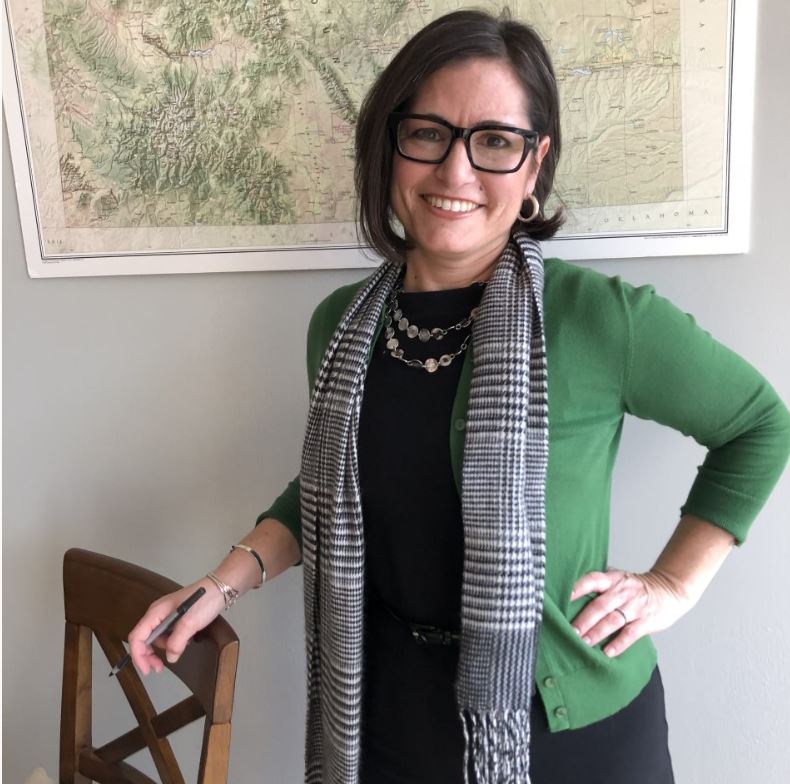 Davis will oversee support services for students including school counseling, health services, audiology, behavior support, child abuse reporting, crisis response, mental health services, safety and threat assessment and sexual assault, drug and suicide prevention. She will also act as the district compliance officer for Section 504 and the Americans with Disabilities Act, which prohibit discrimination against individuals with disabilities.
In her role, Davis is excited to continue supporting and building sustainable partnerships and systems to support mental health and wellness with PSD students. This is one of the district's three priorities.  
She is also looking forward to supporting the talented professionals working in student services, and "to support staff to help our students and our community to thrive." Davis points to the importance of supporting best practices, while listening to and learning from staff, students, families and community partners as together we support each other.  This is especially important she says "as we consider all of our needs around mental health, physical health and supporting safety within our schools and community systems."
"I plan to continue to actively engage and support diversity, equity, inclusion and social justice work every day and help support the existing equity focus here at PSD," she said. 
Davis comes to PSD from Colorado State University where she worked in the Field Education program in the School of Social Work since 2014, serving as the program's director since 2019. She managed the social work field education team, policies and processes to support all CSU social work students through their community-based field education internship experiences. This required guiding staff and field education community partners to manage the social work program requirements for over 200 students annually. She also developed a number of workforce development opportunities for students with community partners. 
Davis is no stranger to PSD, having previously worked for the district as an Integrated Services coordinator, supporting students and staff from 2008-2014. Prior to that, she gained extensive experience as a social work and mental health provider, serving with the Thompson School District, Larimer Center for Mental Health (now SummitStone Health Partners) and before coming to Colorado, with organizations in Massachusetts.
Davis has spent numerous years as part of the Mental Health Advisory Committee with the Colorado Department of Education and helped develop the Colorado School Social Work Association in Colorado, she is a member of the National Association of Social Work, supports the Colorado chapter and has advocated for school-based professionals and best practices to support students and systems our public schools. 
Throughout her career, Davis has focused on supporting meaningful, lifelong connections and growth opportunities to support others and hopes to continue to do so in this new role.
"Sometimes those connections support developing community, statewide or local projects; sometimes this means supporting someone to achieve their own personal goals," she said.
"I love working as part of a team on shared goals and am proud to have the ability to develop trust with colleagues as we work together as part of the same team."
Marlena Gross-Taylor, PSD chief equity and academic officer, is excited about having Davis on board and says students and the PSD community will benefit from her experience in and enthusiasm toward assisting and advocating for students.

"Liz is extremely talented and passionate about supporting the mental health of students and creating wrap-around services benefiting students' physical and mental health."
Davis has a master's degree in social work from Salem State College in Massachusetts. She also holds a bachelor's degree in English from The Ohio State University and an associate degree in liberal studies from Dean Jr. College in Massachusetts.
Outside of work, Davis enjoys nature, yoga, reading, writing, walking her dog and visiting the local farmers' markets. She's passionate about following local and state policies, tracking their impact and advocating where needed.  
Davis' husband Paul works for the Platte River Power Authority. They've lived in Fort Collins for 21 years, after moving from Boston, Massachusetts. They love their rescue dog Sadie and visiting with their friends, as well as music, the arts, mountain biking and the outdoors.
This summer, Davis is looking forward to spending time with family and being the best woman at her brother's wedding on Nantucket, an island off Massachusetts.