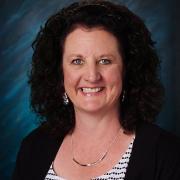 PSD is pleased to announce that Melissa Duve has been selected as the new principal of Rice Elementary School, pending approval from the Board of Education.
Duve is currently in her third year as the assistant principal at Rice Elementary. Her work at Rice has focused on strengthening student and staff learning experiences, coaching and collaborating with teachers and increasing student achievement.
Duve also has experience working as an instructional leader, teacher, coach and behavior interventionist for Weld RE-4 School District.  She will bring her strong leadership skills and commitment to supporting and sustaining the mission and vision of PSD to her new position.
"Melissa has been an integral part of the success at Rice Elementary over the past few years in her role as the assistant principal. She is a dedicated, smart administrator that builds strong relationships with staff, students and families," Todd Lambert, assistant superintendent of elementary schools said. "I know that the Rice school community will respond well to Melissa's leadership and that the level of excellence that the Rice families are accustomed to, will continue."
Duve holds a bachelor's degree from Utah State University and a master's degree in educational leadership and principal licensure from Colorado State University.
She's eager to begin this new journey with the Rice community that she already knows so well, using her passion for building strong relationships and commitment to student and staff success to continue the work that is already happening at Rice.
"As principal, I'm excited to foster a culture and climate at Rice that builds confidence, encourages risk-taking, celebrates effort, empowers students and teachers, and welcomes involvement from our parents and community," Duve said.
Duve will begin in the position at the end of the school year when current Rice principal, Dr. Karen Koehn, retires.