Jada Barry has been tinkering with engines as long as she can remember. 
"My uncle and I have worked on cars my whole life," the Poudre High School senior said from inside the automotive shop at Front Range Community College. "I just really want to know what's going on inside certain cars."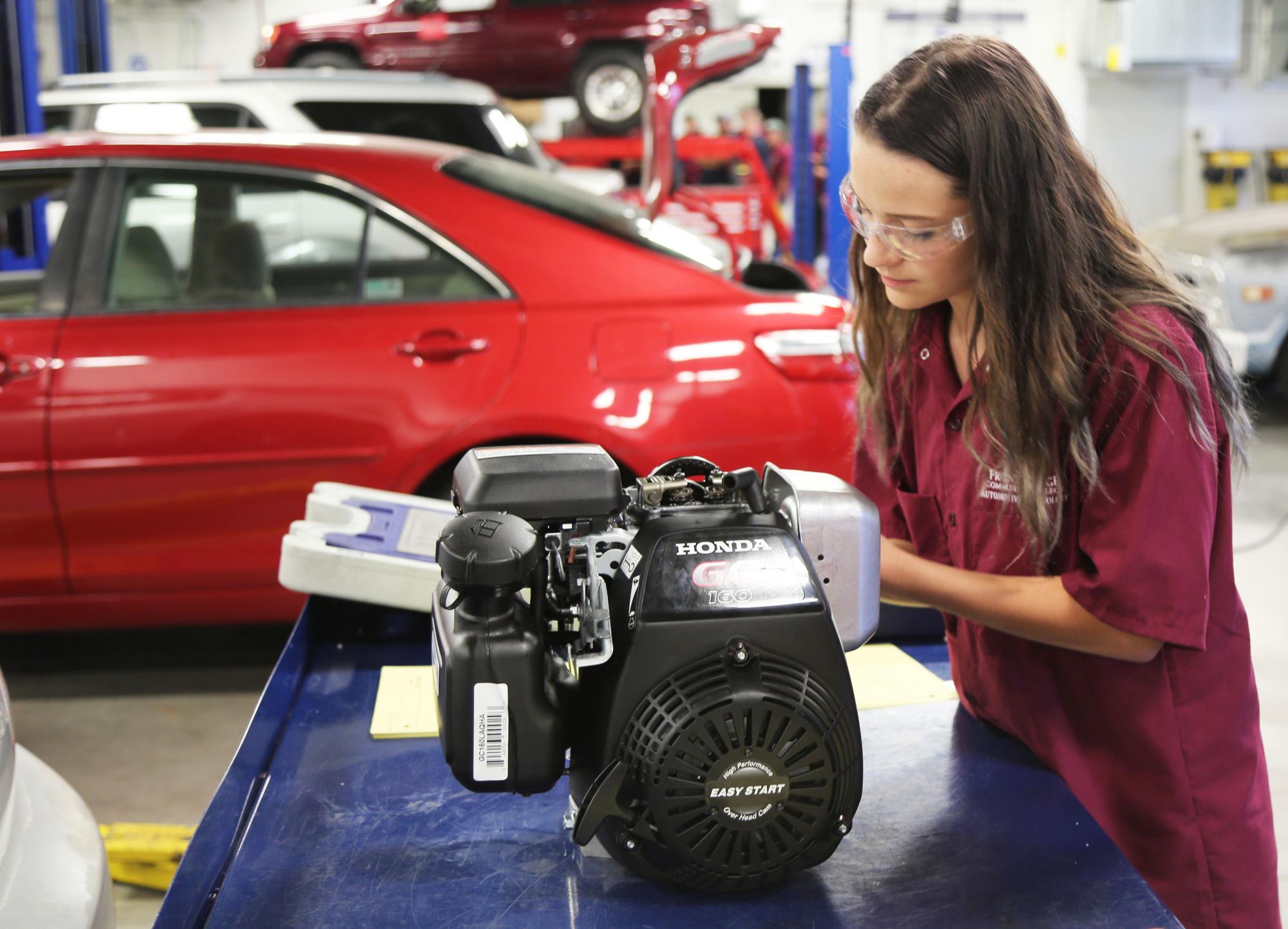 This curiosity got Jada wondering about possible careers related to her passion. She was eager to jump in and didn't want to wait until after high school to start taking a college automotive course. 
Thanks to Career Pathways, one of Poudre School District's Concurrent Enrollment programs, she didn't have to. Last spring, Jada signed up for an automotive and technology course at Front Range Community College and became one of more than 1,000 PSD high schoolers earning college credit. 
Through strong partnerships with FRCC, Colorado State University, Aims Community College, and the University of Colorado, PSD students have many opportunities to explore college-level academics before earning their high school diplomas.
"The intent of concurrent enrollment is to get students thinking about their post-secondary education, even if they've never considered it before," PSD Career and Technical Education Coordinator Kathy Hanson said. "We want to get kids on campus and see that they can be successful there."
The Concurrent Enrollment programs allow students to enroll in college courses in a way that best aligns with their interests and schedules. Students can take college classes at their high school or on a college campus. 
"We want students to discover their passions and how they can pursue them through the best educational pathways," Hanson said.
For more information about these programs and how to enroll, visit PSD's concurrent enrollment web page.

Concurrent Enrollment programs at a glance:
In high school classrooms
Aims Community College and FRCC offer concurrent enrollment courses at PSD high schools.
CU Succeed: Students can enroll in University of Colorado Denver courses. These courses are taught by high school teachers credentialed to teach college courses and are offered at a reduced tuition rate.
On a college campus
CSU Concurrent Enrollment: Students can take world language and math classes at CSU.
ASCENT: Students walk with their graduating high school class, but technically stay enrolled in PSD for a fifth year so they can continue taking college courses. The ASCENT Program increases the number of educational pathways available to students and decreases the time required for a student to complete a postsecondary credential. Some students can complete the program with an associate degree or professional certificate. 
Career Pathways: Students can take career-oriented courses at FRCC for a year. These yearlong courses are taught every weekday in two-hour blocks. Students can choose to take the course for college credits, high school elective credits, or both.