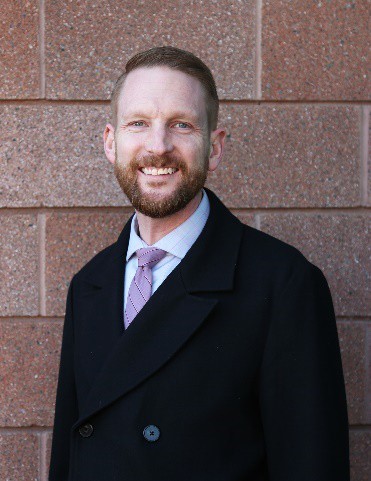 Poudre School District is pleased to announce that Kelby Benedict has been selected as the new Wellington Middle School principal, pending  approval by the Board of Education.
Benedict is currently in his sixth year as the assistant principal at Poudre High School. While at Poudre High, his work has focused on collaborating with staff to connect students to their passions –– and ultimately their time beyond the classroom –– through authentic learning experiences.
He started with PSD in 2002 at Putnam Elementary. Since then, Benedict has worked as a para-professional, math teacher, coach, curriculum facilitator, interim principal, and assistant principal. Benedict graduated from Fort Collins High School and holds a bachelor's degree from Colorado State University. He also earned a master's degree in education and human resource studies, and principal licensure from CSU.
Focused on building strength and trust within communities, Benedict believes that all individuals are capable of learning and further extending that learning by sharing their problem-solving process with others. By removing the "sage on the stage" and treating students as professionals, they begin to take ownership for their own learning and extend that learning beyond the subject at hand, Benedict said.
"Kelby brings a passion for leadership and a desire to connect with and build up the students and staff he works with," Assistant Superintendent Scott Nielsen said.
Benedict is eager to begin his new journey with the Wellington Middle School community.
"The thought of leading such a student-centered, and family-focused community into the next big chapter of their history, as a school and community, is extremely humbling and definitely a once-in-a-lifetime opportunity that I do not take lightly.

I'm grateful for the honor of continuing the great traditions of Wellington Middle School, and the opportunity to dream and live out new traditions in the coming years."
Upon current Wellington Middle School Principal Dr. Alicia Durand's retirement from a long career in PSD, Benedict will begin his transition into the position.