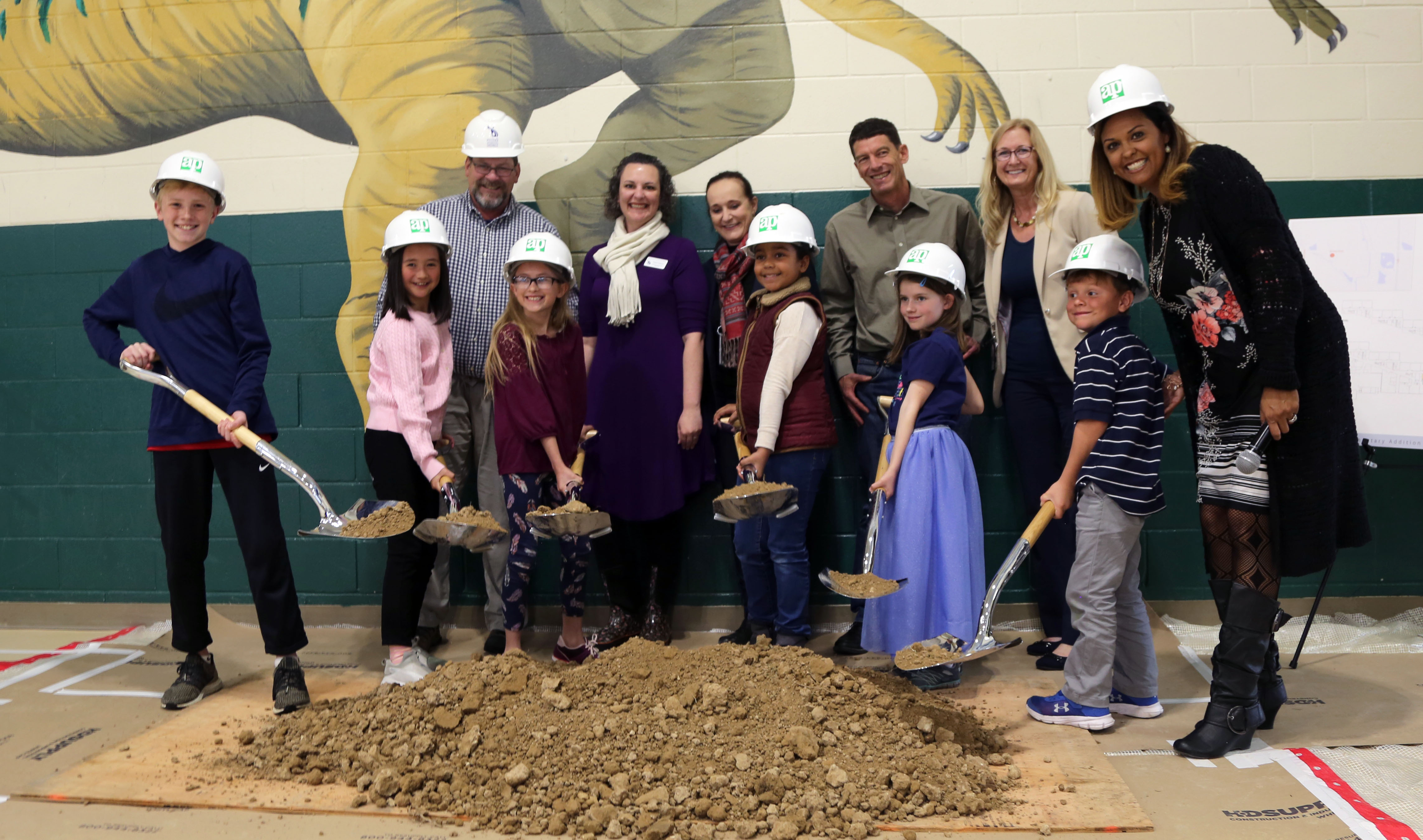 Never has there been more excitement over dirt indoors than when PSD students, staff and parents came together April 29, 2019, for a "groundbreaking" event to mark the start of construction of Zach Elementary School's new addition.
Colorado's spring snow forced the celebration from the lawn into the school's gymnasium, where six stand-out students – one representing each grade, from kindergarten to fifth-grade – dug gleaming shovels into a pile of ceremonial dirt. Moments earlier, Zach's students chanted "Cut it! Cut it! Cut it!" and cheered when PSD Superintendent Sandra Smyser snipped in half a blue ribbon, symbolic of the school's status as a National Blue Ribbon school. 
"Zach is a community," Principal Aisha Thomas told those gathered at the event, and the groundbreaking and overarching project are all part of what it means to have shared ownership in that community.
Construction recently began on the addition at Zach Elementary in southeast Fort Collins. It is the first in a long list of projects to get underway following voter approval of the 2016 bond and mill levy override. 
T
he project will increase Zach's enrollment capacity to 600 students without the use of modular classrooms. It includes construction of a fourth kindergarten classroom, two general assignment classrooms, and more bathroom and storage space. The new addition replaces Zach's modular classrooms, which will be removed in phases. Work is expected to be completed in winter 2019. 
In total, the project cost will not exceed a maximum price of $3,229,264. This is approximately $625,000 more than estimates in PSD's 2016 Long Range Plan. Most of the increase is attributed to scope changes, including the replacement of the school's boiler and rooftop unit, and its fire alarm system, as well as other life/safety upgrades due to building code changes. These were deemed necessary beyond what was originally established in the Long-Range Plan. 
When it was developed, the plan originally called for the expansion of Zach's cafeteria. Upon further analysis, it was deemed unnecessary with changes to the school's schedule. 
Voters in 2016 approved a $375 million bond and $8 million mill levy override to fund construction of three new schools — a new middle/high school in Wellington, and an elementary and middle/high school east of Interstate-25 — as well as an athletics complex, transportation maintenance facility, and the Zach Elementary addition. 
The bond will also fund $40 million of improvements to every existing school. These projects will start later in 2019 and continue over the next three to four years. The $8 million mill levy override will, among other things, pay for operating costs of the new buildings.
At the groundbreaking event, PSD staff took time to recognize the strong work of RB+B Architects, Inc. and Adolfson & Peterson Construction, the architect and general contractor for the project, respectively.