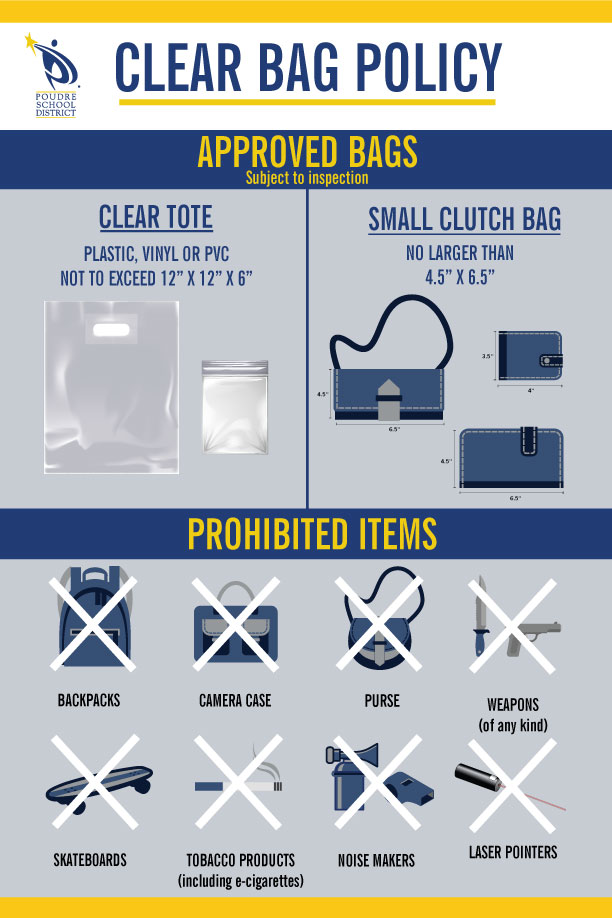 Along with pride and excitement, PSD high school sports enthusiasts should plan to start bringing their game-day necessities in a clear bag when going to French Field.
Starting immediately for the 2019-2020 school year, PSD's Athletics Department, in partnership with the Security Department, are adopting a clear-bag policy that will be in effect only for ticketed, varsity football games. The purpose is to provide a safer environment for the public and expedite fan entry into the historic Fort Collins stadium at Rocky Mountain High School. 
"We want to make sure people feel safe coming to the games and enjoy their experience," said Russ McKinstry, director of Athletics for Poudre School District.  
PSD thanks families and athletes in advance for their patience and understanding, as PSD adjusts to this safety-centric change.
Families who have attended games at Colorado State University's Moby Arena or on-campus stadium in recent years are likely familiar with the Rams' clear-bag policy.
PSD Athletics encourages fans not to bring any bags; however, the following will be permitted for those entering French Field:

One clear bag no larger than 12" x 12" x 6" OR a one-gallon clear freezer bag (Ziploc brand or similar). Bags should be made of plastic, vinyl, or PVC. 

• In addition, fans may carry a small clutch bag/purse no larger than 4.5" x 6.5", with or without a handle/strap.

• Each ticket holder, including children, may carry an approved clear bag and a clutch bag/purse.

• All other bags are prohibited when entering French Field. These include backpacks, camera cases, and purses larger than 4.5" x 6.5".

• Soft and flexible seat cushions are permitted.

• Disposable, crushable bottles, empty and without a cap, are permitted.

• Diapers and wipes may be carried in a clear bag; however, diaper bags are not permitted.

• Additional clothing, etc., are permitted if carried loosely or in an approved clear bag.

• Small cameras, binoculars and cell phones may be carried in loosely or in an approved clear bag.
Other prohibited items include weapons (of any kind), skateboards, tobacco products (including e-cigarettes), noise makers, and laser pointers.
Fans with unapproved bags or prohibited items will be asked to either take items back to their car or leave them at the field entry points. These areas will not be monitored by security. 
PSD and its Athletics Department are not responsible for items left behind, lost, stolen, or damaged. If you have questions, please contact the PSD Athletics Department at 970-490-3332.