Five eighth graders from Preston Middle School are national champions after beating top teams from across the country to win the 2020 National Science Bowl. The team had to put in the countless hours of preparation to compete at the top level while also adapting to new challenges of competing virtually to win the middle school title.
"Science bowl was extremely difficult," said Logan Bowers, a member of the team. "But winning the national competition was worth all of the studying and practicing."
Preston defeated Jonas Clarke Middle School from Massachusetts in the NSB championship round on June 5. NSB is a fast-paced question-and-answer competition that quizzes students on their knowledge of biology, chemistry, Earth science, physics, energy and math. 
 


Preston's winning team members are eighth-graders Colin Magelky, Jackson Dryg, Quentin Perez-Wahl, Logan Bowers, and Kary Fang. Their coach is Preston science teacher Logan Burke.
"We've been working so hard for the past three years just to make it to the top 16, so it felt amazing to win first place in the National Science Bowl and earn $2,500 for our coach and science department," said Colin.
Preston emerged victorious from a field of 41 middle school regional champions who competed virtually over several weeks. The NSB finals, sponsored by the U.S. Department of Energy, have been held in Washington D.C. since its creation in 1991, but this year's competition was conducted virtually for the first time because of COVID-19.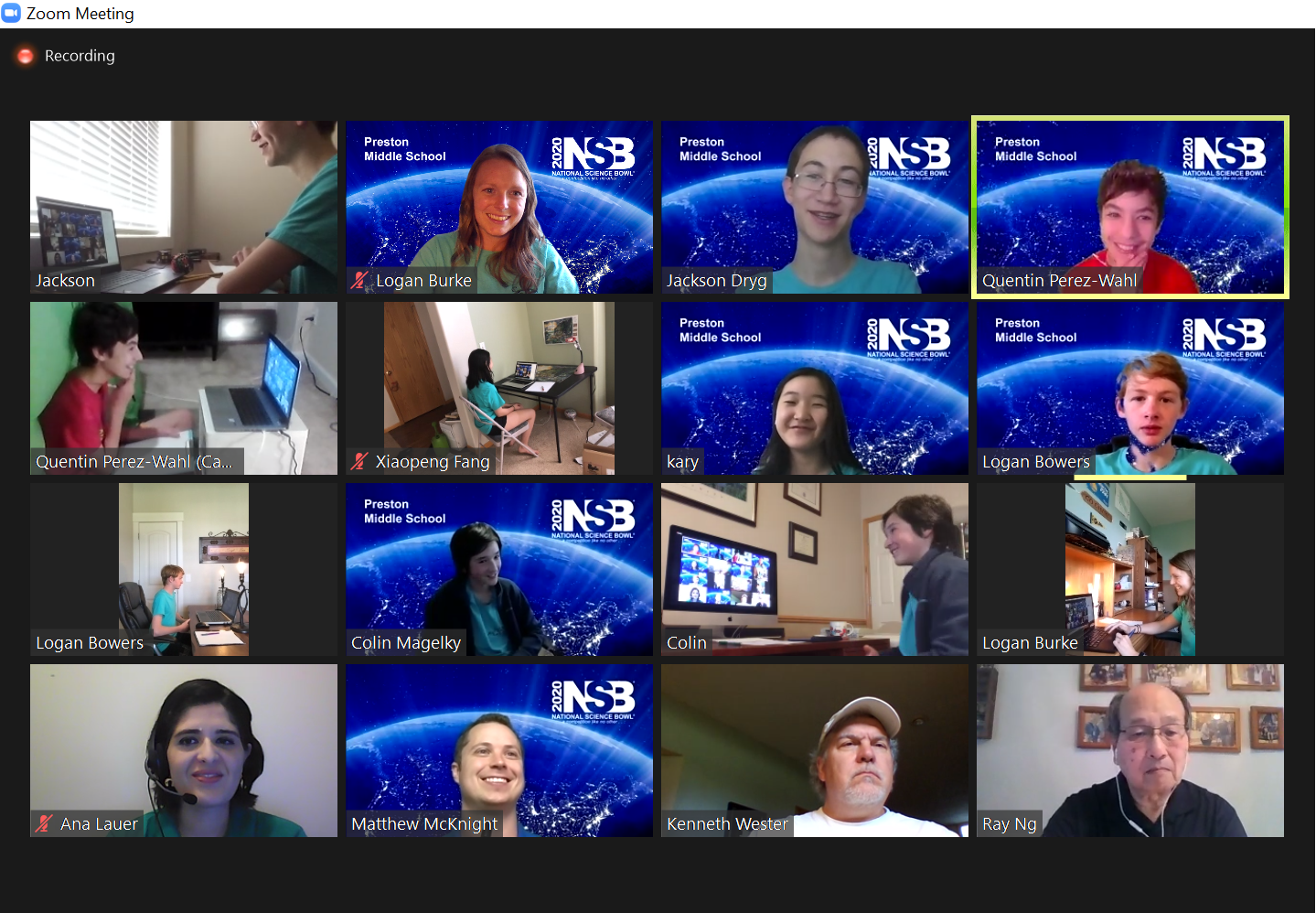 Quentin said the main challenge was the time limit. 
"There was no time to really think about the question. If you did not automatically know it, you just had to guess, otherwise there would be no way you could have any points whatsoever" he said. 
Logan Burke, who has coached the science team for six years, said the students rose to the challenge of  competing in the new virtual format. After the team won their regional championship in February, Colorado schools closed in March because of the global pandemic. But dedicated team members continued studying and practicing remotely to prepare for the national competition.
 "I could not have asked for a more hard-working, dedicated, and flexible team to take on the challenge of a new virtual competition format this year," said Burke. "They worked hard, kept having fun, and encouraged each other from start to finish!"
As the 2020 national champions, Preston team members will be invited to attend the 2021 national finals as special guests and be recognized in the 2021 Awards Ceremony. 
The DOE created the National Science Bowl® in 1991 to encourage students to excel in mathematics and science and to pursue careers in these fields. Approximately 325,000 students have participated in the National Science Bowl® since it began.