Poudre School District teacher Cathy Bowles never sees a disability as a negative. She sees them as a different way of learning.
This is why the 23-year Integrated Services educator was recently celebrated by Amber Korban, a PSD mother, who nominated Bowles for the Colorado Hands and Voices' 2021 Families First Award. The nonprofit organization recognized Bowles with this state-level recognition earlier this month at a virtual event.
"Cathy has a way of figuring out how each student of hers is gifted and uses that to help them learn and grow," said Korban. "Not only does she teach students all year, but she also works for an interpreting service during the weekends and summer break. She uses her gift of signing and knowledge to help the community all the time."
Bowles is a teacher for the deaf and hard-of-hearing community at McGraw Elementary School and has been in Colorado since 1993. She said she was honored to student teach under her role model, Dianne Goberis, and started her career in Denver Public Schools. Bowles established the center-based deaf- and-hard-of-hearing program at Castle Rock Middle School and worked at Douglas County High School before settling into her center-based and itinerant roles in PSD over the past 23 years.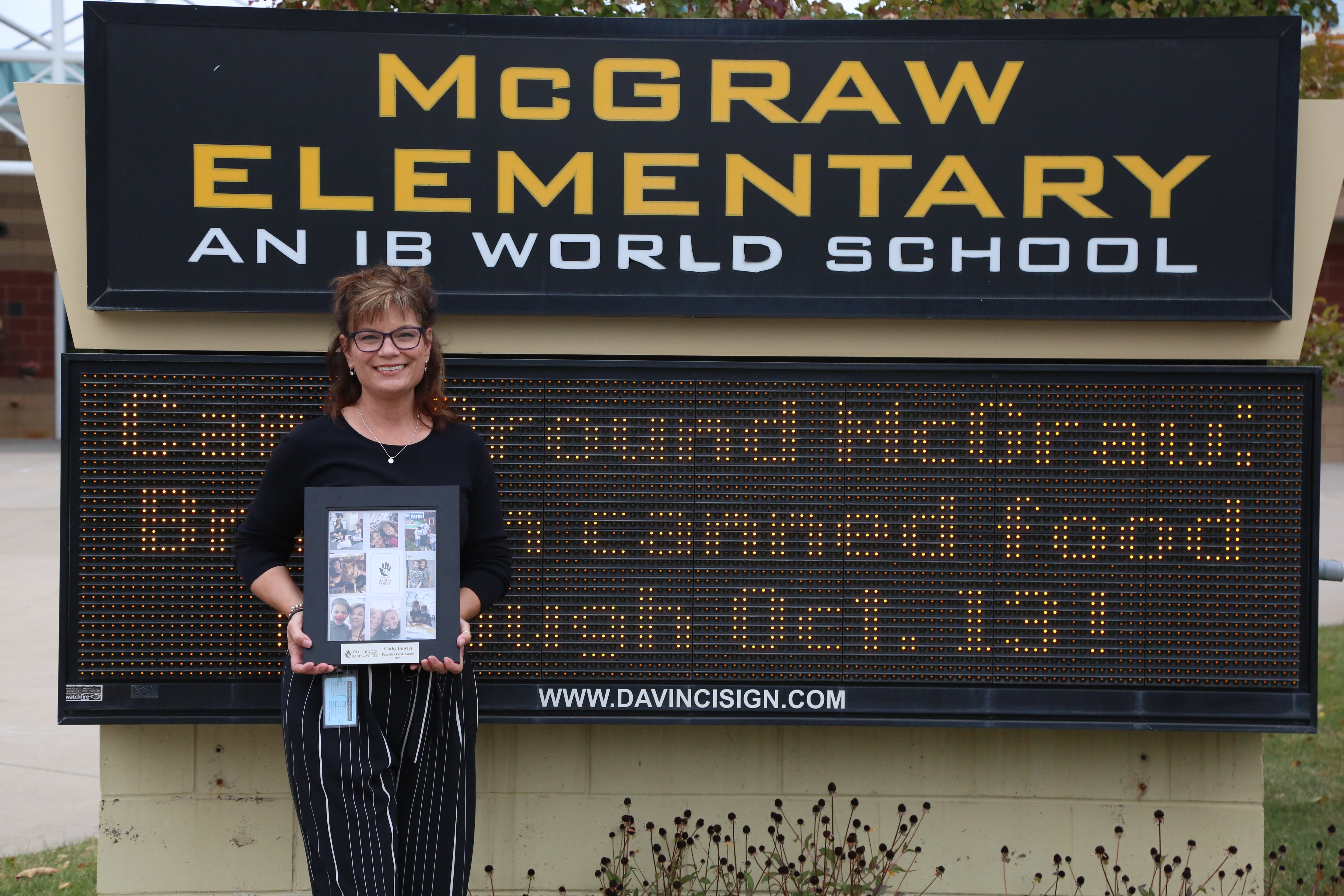 "I work with the most amazing educational sign language interpreters and fellow teachers to provide high-quality public educational services," Bowles said. She has had the pleasure of working alongside parents and families who embrace this journey of raising future, successful deaf and hard-of-hearing people who are advocating for their students' needs. 
The list of past honorees of the Family First award include her mentors and colleagues. Bowles shared that she is truly touched to be celebrated among "so many amazing human beings."
"I am so humbled to be recognized in this way by a family who embraced me as a part of their important journey of raising two children with hearing loss," Bowles said in part of her acceptance speech. "Thank you, Amber, for sharing your precious babies with me and thank you, Hands and Voices, for being in the business of fiercely supporting and loving these families."
Obviously, Bowles said, she did not get to this point alone. She listed many people with whom she wanted to share her award, including the deaf and blind communities, administrators, teachers, interpreters, audiologists, her family and friends, parents, caregivers, PSD families, and current students.
Bowles' colleagues echoed her sentiments, saying that they could not have gotten to where they are today without her impact.
Liza Claiborne, a PSD teacher, said there is no one else as supportive as Bowles.
"She makes me a better teacher and guides me to be a better human," Claiborne said. "If that's her effect on me, I can only imagine the multiplied effect she has on her kids."
Others described Bowles as a "truly amazing educator," someone who makes learning fun and has a gift for meeting the needs of each of her students.
To each of her students, Bowles said, "Thank you for leaving a permanent mark on my heart. Thank you for challenging me to grow. I love you."