could only be described as surreal: Blue Angels flew low over Valerie Embry's southeast Fort Collins home as she watched firefighters knock down a fire started by a candle in one of their bedrooms. 
That October afternoon, Embry and her three children, Kaian, 7; Kayden, 10; and Natalya, 14, had done laundry and were sitting around the table. A Disney+ movie was on in the background. Then the fire alarm went off.  
At first, Embry thought the alarm was malfunctioning – but when making a safety check, she saw the fire and the family sprang into action. Kayden found the fire extinguisher and helped his mom pull the pin. When the window broke, she knew she was outmatched.  
"It just felt so …" Embry said, pausing briefly, as she ate breakfast with her children just days before Christmas 2021. "This is a movie. This can't be real."  
In the days that followed, things didn't get easier. The family moved into a nearby hotel for about three weeks as cleaners cleared the mess. Embry suffered from the effects of smoke inhalation. Kayden tested positive for COVID-19 and was quarantined in the hotel room. Kaian started experiencing unexpected seizure-like spasms and spent two days at Children's Hospital. And Natalya struggled to process it all, keeping a brave face for her mom and brothers, before the emotions bubbled to the surface.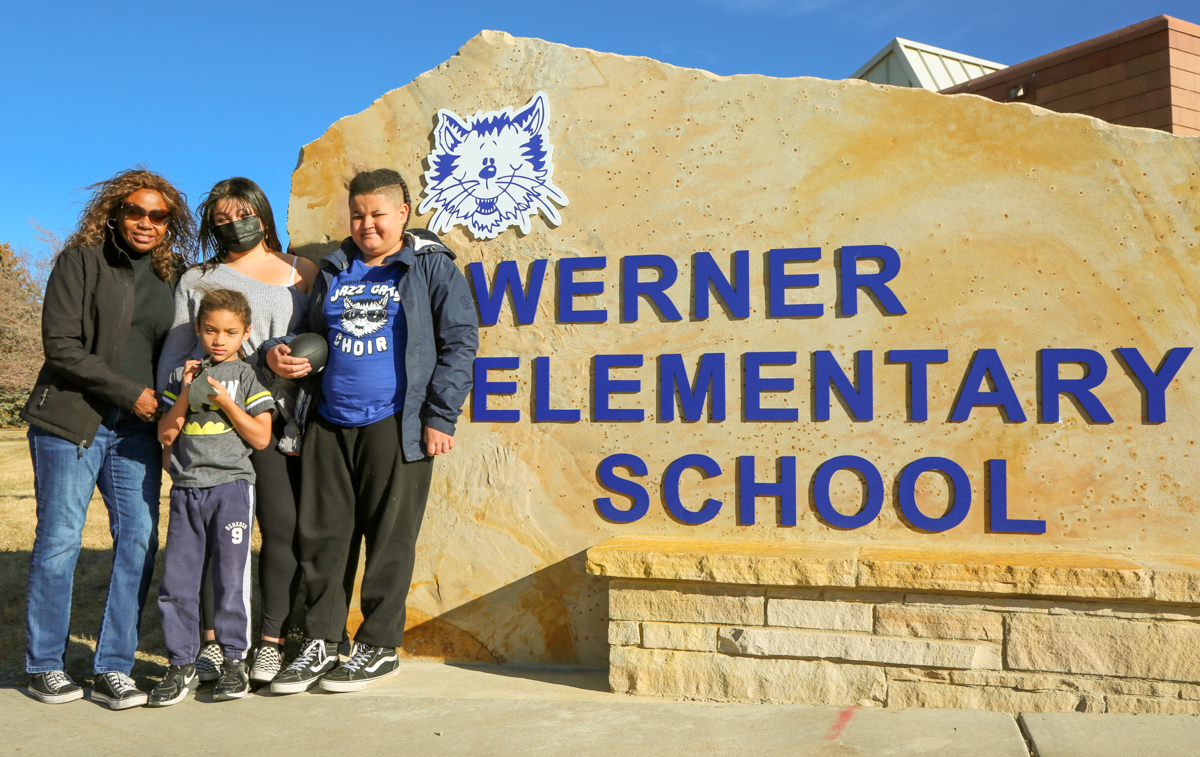 Despite these mounting challenges, Embry said "things just started falling in line," as others chipped in to help the family. A small army of people showed up with new boxes and helped move their damaged belongings out of the house. Gift cards, home-baked bread, meals and other comforts were dropped off right as the family needed them most. Natalya's counselor gifted Embry with bath bombs, or what she calls "heaven in a box." 
"It felt like [it] was such a beautiful safety net provided by our neighborhood," our church and the communities of Werner Elementary and Kinard Middle schools, Embry said. Kaian, Kayden and Natalya nodded in agreement, reminding their mother of the many ways people have shown them empathy and support. These communities often provided things before Embry even anticipated them as a need, such as gift cards that arrived when they realized they needed new bedding and towels. 
Living in their home once again, the family put up a Christmas tree and decorated it with lights and ornaments that were (thankfully) untouched by the fire. They are hopeful that construction will be complete sometime in February. With the ongoing support of their communities, they hope a sense of normalcy will follow.  
"Through it all, we have been truly blessed and appreciate each and every expression of kindness," Embry said. 
The generosity shown to the Embry family is not unique in this community. Kindness is woven into PSD's culture – discussed, practiced and celebrated throughout our school communities now more than ever before. Some schools continue annual traditions where they donate food, clothing and gifts to families in need. In some elementary schools, fifth graders read or teach yoga to their younger classmates. For National World Kindness Day in December, students in Werner Elementary's Kindness Group passed out popsicle sticks bearing kind messages at lunchtime and gave out kindness forms on which their classmates could draw and write how they show kindness. 
Look no further than Olander Elementary School art teacher Diana Fields' classroom, as one such example. 
When they were done creating their Mona Lisas, fourth-grade students were invited to the front of the classroom to share a random act of kindness they did before winter break. Kindness has always had a strong presence at Olander, Fields said, but all staff focused specifically on it as a character trait during the weeks leading up to winter break as part of the school's Character Strong program.  
It's important to teach kindness and other soft skills – think respect, listening and teamwork -- "every chance you can, everywhere you can, so the kids hear it.  
"You just want kindness to be something that happens naturally for students, so it becomes the norm," Fields said. She and others agree that kindness has always existed in PSD but that it is definitely "blossoming and becoming visible." 
Fields is one of many who have created experiences for the school's community to spread kindness in memory of Olander paraprofessional Melissa Hunnell, who died in summer 2021. Proceeds from various events held to honor Hunnell will pay for improvements to Olander's playground. 
 "She was always just so friendly," Fields said of Hunnell. "You could tell who she was by the little interactions. … She was bright and always willing to help." 
Inspired by comments that Hunnell "was like a light," Fields and a colleague brainstormed and decided to get students' help making hundreds of "Be the Light" necklaces. Students were excited to honor their beloved para, and some even spent time during recess tracing lightbulbs onto Shrinky Dink plastic that Fields baked down in her oven to create the lightbulb-shaped charms.  
Fields' daughter and friends, members of Rocky Mountain High School's National Art Honor Society, volunteered time affixing the one-inch lightbulbs to satin cords. Students raised about $300 through their purchase of the necklaces that Fields sees around their necks as they pass her in the halls.  
Back in her classroom, one student said they held the door open for another person, and another said they helped pick up some papers their mom had dropped. With that, class was done, and Fields bid them farewell. "Bye, fourth grade! Thank you for being so kind," she said, as they filed out the door. 
Kindness is PSD culture
Kindness is shown in different ways - through a club, continuing a charitable event or simply treating each other well. Below are a few examples of kindness in PSD schools.  
Lincoln Middle School launched the Kindness Revolution several years ago to promote kindness in many ways, including students giving kindness bracelets to staff, and is organizing a future Kindness March. Watch moving examples in this video.  
Shepardson Elementary School Star Squad is a student-run organization that engages the whole school community to help local organizations. As a part of the Generosity Boomerang Project, fifth graders organize classroom libraries, listen to younger peers read and run soccer clinics for younger kids during recess. 
Cache La Poudre Elementary School fifth graders noticed how many apple sauces were being thrown out and developed a way to collect extra food from each classroom. Older students are also leading yoga with their younger counterparts. 
Poudre High School hosted its annual Feed Our Families Distribution Day in December. The school community collected food donations for five weeks and raised over $12,000 to purchase fresh food, 1,500 boxes of non-perishable food and hygiene products for families. Students Sophia Rose Kirby and Gracyn Fries also started the Operation Smile club, which raises money and awareness for nonprofits. They have picked up trash around campus and volunteered their time at other events. 
Beattie Elementary School second-grade teacher Jill Cripe, a "kindness champion," leaves Acts of Kindness cards in the staff lounge and encourages others to pay it forward. 
Timnath Elementary School teachers Tara Anson and Kenzie Cheuvront lead a student council group that ran a school-wide holiday drive to collect new toys and winter gear to benefit the nonprofit Realities for Children in December.  
Fort Collins High School's Music Department sponsors an annual Holiday Gift Concert where a member of the FCHS community or a Fort Collins organization benefits from funds donated by concert-goers. This year, proceeds went to the family of a FCHS staff member who lost her husband to COVID-19.  
Rocky Mountain High School's community adopted 43 families for the annual school-wide Adopt-A-Family service project. Donations of toys, gifts, food, household supplies and outerwear were distributed to these families during the holiday season. Ryan Woodall, a senior, also started a Random Acts of Kindness club a few years ago that is still going strong. 
Preston Middle School kicked off a kindness campaign in December and named kindness as the No. 1 focus for the third quarter. 
Bauder Elementary School students logged acts of kindness as part of a kindness campaign.
Linton Elementary School's daily pledge highlights acts of kindness.  
Boltz Middle School staff and students share stories about acts of kindness at school on a display board in the hallway. 
To highlight how your class or school is celebrating kindness, email Executive Director of Communications Madeline Noblett at mnoblett@psdschools.org.