PSD teachers and staff have invested countless hours to train and prepare to give students the best education while PSD is in remote education at the start of the 2020-21 school year (through at least Oct. 16). Teachers have and will continue to utilize best practices for remote teaching and learning to support all students as they learn online. Additionally, schools will follow district-level expectations for remote education so families, students and staff alike have a clear understanding of how they will work together this year. 
 
Here's what you can expect from the District:
Technology support will be available for students and families to help them navigate software applications and troubleshoot technical issues. 
Health and safety prevention measures will be implemented and continuously monitored at all PSD schools and sites (when open) to ensure safe environments for everyone throughout the school year. 

Here's what you can expect from schools and teachers: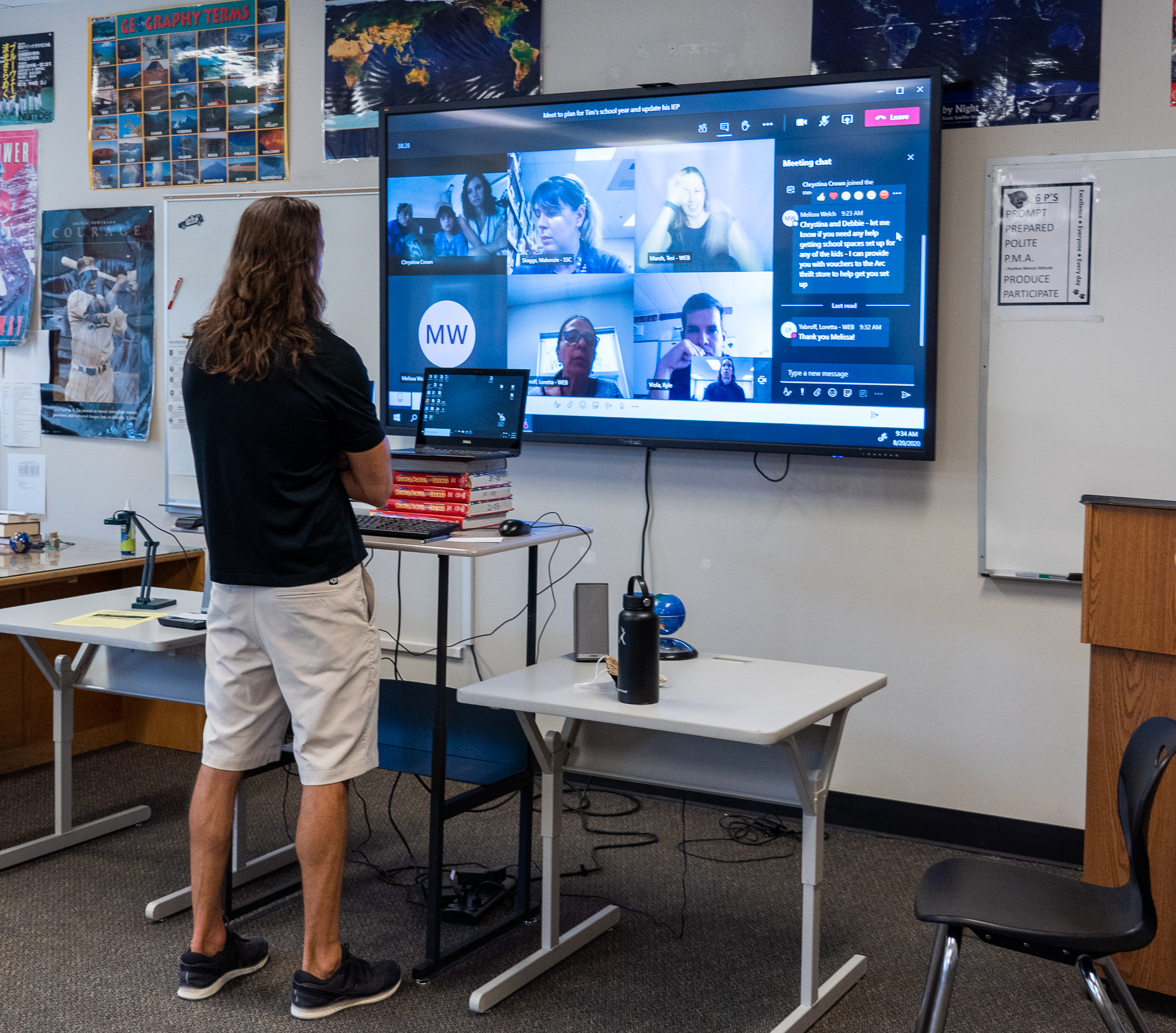 Teacher communication
Teachers will communicate their routines to students and families on a regular basis. 
Teachers and/or departments will have Teacher Learning Pages for students and families. These pages will include information like:  

Messages from teachers
Links to online learning platforms and course content
Information about assignments and more as needed
Teachers will communicate their grading practices and expectations. 
Students will receive timely and relevant feedback on their learning during school hours. Student work will be evaluated and graded.
Attendance will be taken each day.  

Lessons
Lessons will be managed in a consistent learning management system (Google Classroom, Microsoft Teams, SeeSaw, etc.) and follow a consistent routine each day to avoid confusion.

Students and families will have access to help guides and technology assistance to learn how to navigate the primary applications to support their students (Google Classroom, Microsoft Teams, etc.). 
Teachers will support student learning through a blending of three models: 

Synchronous (real-time) learning: Online learning in which teachers and students participate at the same time, but not in the same place. Synchronous learning is delivered through a virtual meeting platform.

Asynchronous (any-time) Learning: Online learning in which students learn at different times and locations. Asynchronous learning is often supported by posted media materials.

Activities that support student learning. Independent practice may include reading assignments, general practice, homework, and projects. 

All lessons will be based on essential standards and provide meaningful work. Over the course of the year, all essential standards will be covered in core subject areas and courses. 
Elementary remote school schedule (through at least Oct. 16)
The elementary student day will be 6 hours, including a 45-minute lunch.
Times listed below are minimums.
Monday through Thursday
Morning Check-In/Class Meeting: 15 minutes live. 
Literacy: 60-minute lesson with minimum 30 minutes synchronous, including lesson delivery and small group and individual support.
Mathematics: 60-minute lesson with minimum 30 minutes synchronous, including lesson delivery and small group and individual support.
Science/Social Studies: 30-minute lesson with minimum 15 minutes minutes synchronous, including lesson delivery and small group and individual support.
Specials: 30-minute lesson with live interaction
Lunch: 45 minutes
 Independent practice, small group, and assignment completion: 120 minutes
Fridays
Morning Check-In/Class Meeting: 15 minutes live. 
The rest of Friday, students complete independent and asynchronous work.
Teachers will have office hours. Parents can arrange for additional meetings for their student.
Outside of office hours, teachers collaboratively plan and prepare for the next week.
Middle and high schools remote daily learning (at least through Oct. 16)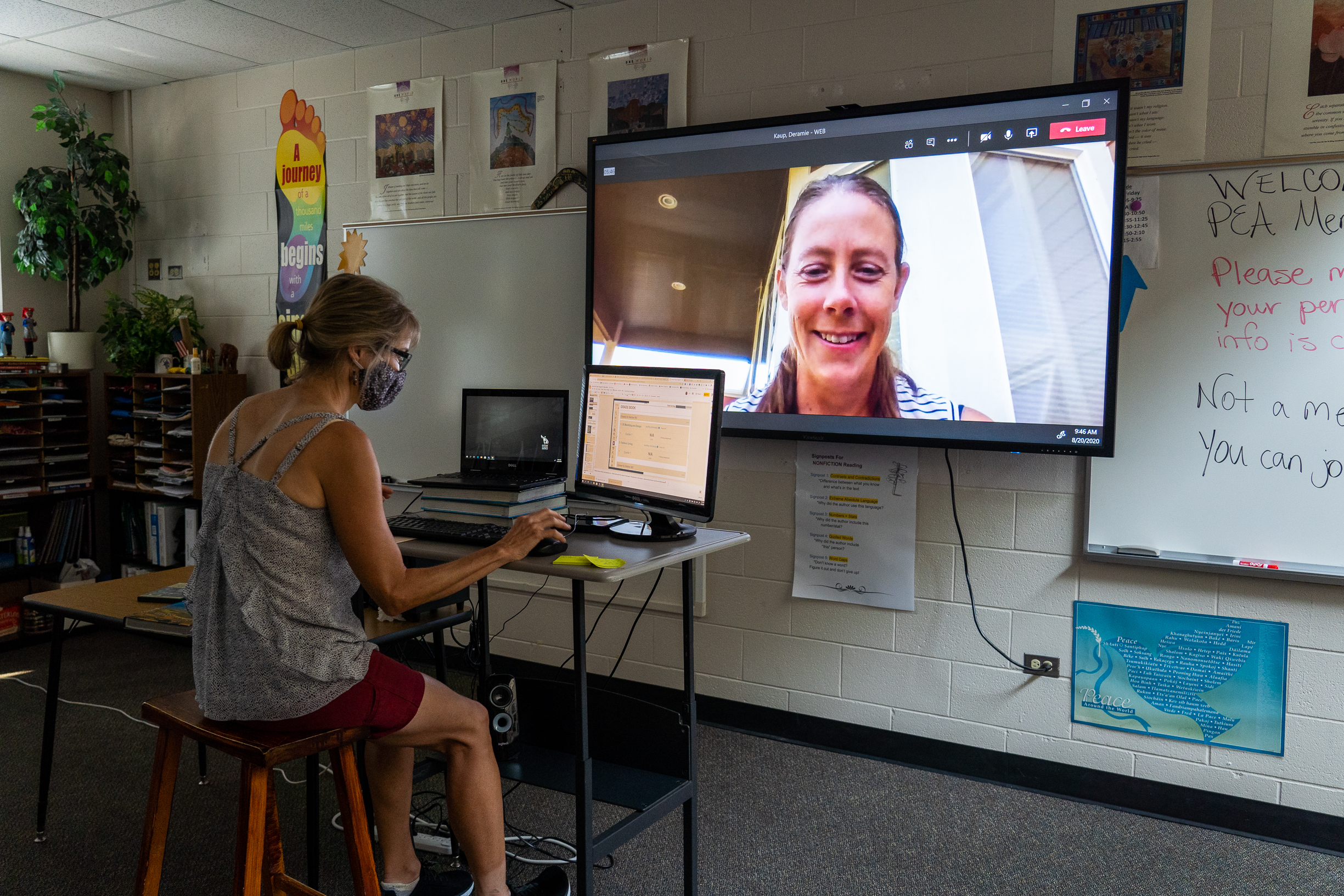 Monday through Thursday
Students should expect to follow their daily class schedule (provided by the school), which will include real-time learning (synchronous), any-time learning (asynchronous), and independent work.
Real-time instruction may include all students or subgroups of students. Real-time will be approximately 50% of the class time. 
Some teachers may record real-time (synchronous) learning to allow students to re-watch content and for those who are absent to view.
During remaining class time, teachers will check for student understanding, provide quality feedback to students, reteach, and perform other tasks to support student learning.
Instructional materials will be distributed on a scheduled basis.
Interventionists and other special service providers will meet with students outside normal classroom structures.
Fridays
Students are expected to complete independent and asynchronous (any-time) work. 
Scheduled teacher office hours: Teachers are available for students or parents to schedule additional virtual academic support, answer parent or student questions, or schedule time with school counselors and other school staff. School staff will communicate how students and parents can sign up for individual needs during Office Hours.
Fall assessments in a remote environment
PSD will remotely administer fall assessments. Schools will communicate assessment information to families. Results will be used by teachers to determine student learning needs and inform teaching this school year. 
PSAT and SAT status: PSD is working with CollegeBoard to determine if the PSAT and SAT will be offered this fall. 
PSD teacher and staff preparation for remote education
Since spring, teachers and staff have collectively participated in 20,090 hours (or 169 classes) of remote learning professional development.  
During training in early August, 65 classes focused upon building connections with students and were designed to help educators increase their proficiency and comfort with remote learning. 
PSD's Professional Learning and other departments will continue to support teachers and staff with training.