Summer brings joy for many students as they play outside, participate in camps and activities and travel to exciting places. For others, summer can be difficult, as daily interaction with peers, teachers, and counselors is paused. 
Poudre School District values mental health and belonging year-round, and provides information about mental health resources as a community service; making it publicly available does not constitute an endorsement of any business, organization, or resource. 
Please see below for mental health resources. You can find information about activities, free meals, student health center hours, summer learning and more community resources in this Summer Opportunities news item. 
Summer Mental Wellness Series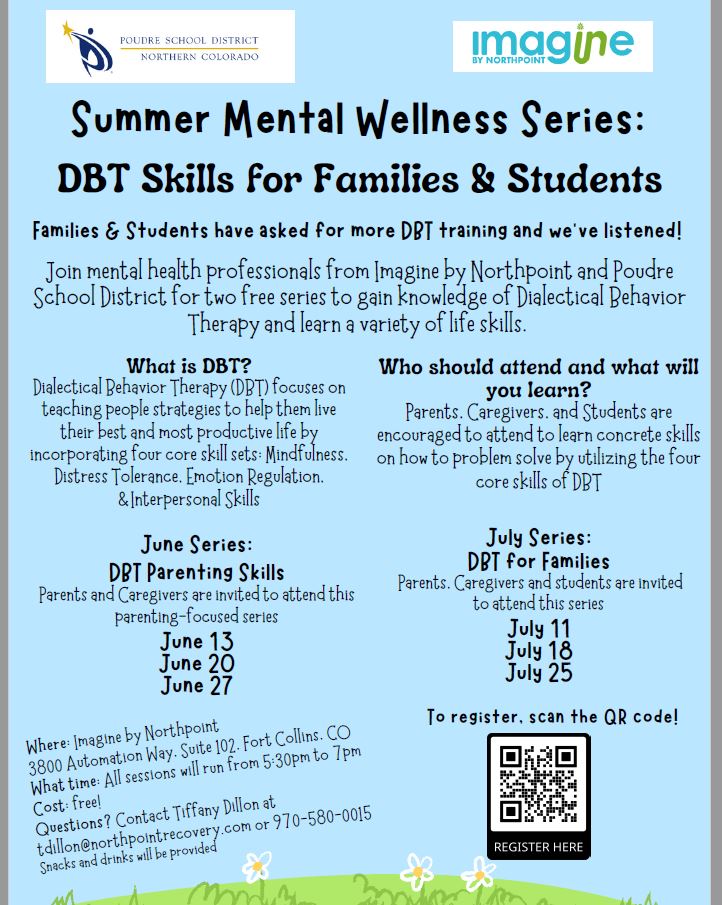 Free DBT Skills Trainings for Families and Students
Mental health professionals from PSD and Imagine by Northpoint are offering two series of trainings for parents, students and families about life skills and strategies that they can incorporate to live their best lives.
Dialectical Behavior Therapy trainings focus on four core skill sets: mindfulness, distress tolerance, emotion regulation and interpersonal skills. Those who attend will learn concrete skills on how to problem solve by utilizing the four core skills of DBT.
The June Series on parenting skills will be held June 13, 20 and 27.
July Series for families will be held July 11, 18 and 25.
The free trainings will be held 5:30 to 7 p.m. at Imagine by Northpoint, 3800 Automation Way, Suite 102, in Fort Collins. Snacks and drinks will be provided. 
For questions, contact Tiffany Dillon at tdillon@northpointrecovery.com or 970-t580-0015. 
Resources, Spaces of Belonging and Ways to Connect
Crisis Services