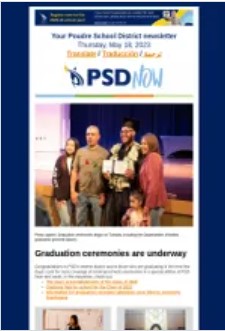 Highlights of the May 18 PSD Now edition:
Graduation Ceremonies!
PCA Grad Finds Hope After Loss
Project SEARCH Grad Forges Internship Path with Fort Collins Police Services
Board Seeking Students for Advisory Council
Translations: Español May 18 PSD Now  |  عربي  May 18 PSD Now
Sign up for PSD Now! Get PSD Now community updates delivered to your inbox (about every two weeks). You can unsubscribe at any time. For previous newsletter editions, see the archive.