Congratulations to the following staff on their amazing accomplishments!
Articles and Books
Erin Austin, Poudre High School teacher, wrote an article and a book:Article:  "Teacher Pay: Five Reasons to Factor in National Board Certification" for the Albert Shanker Institute last May. Her second book with Routledge: "Going Global in the World Language Classroom: Ideas, Strategies, and Resources for Teaching and Learning with the World" will be released Wednesday, Sept. 20. Six PSD staff members - Dr. Cori Hixon, Mary Beth Johnson, Shauna Anderson, Nico Henry, Matt Benson, and Joe Fontana - and Colorado State University staff member Frédérique Grim contributed teacher spotlights. Former student and PHS graduate Sam Russel contributed a student spotlight.
Tamara Wolff, Timnath Middle-High School teacher, will have a short story she wrote published in the book "My Baseball Story," which is set to be released at the same time the World Series is held. 
Awards and Recognitions
Michelle Baum, Harris Elementary School paraprofessional, has been selected the Paraeducator of the Year by the Colorado Association of Bilingual Education Co-CABE.
Bethke Elementary School is now recognized as a Model Professional Learning Community at Work School through Solution Tree for their commitment to ongoing staff collaboration and focus on improving student results.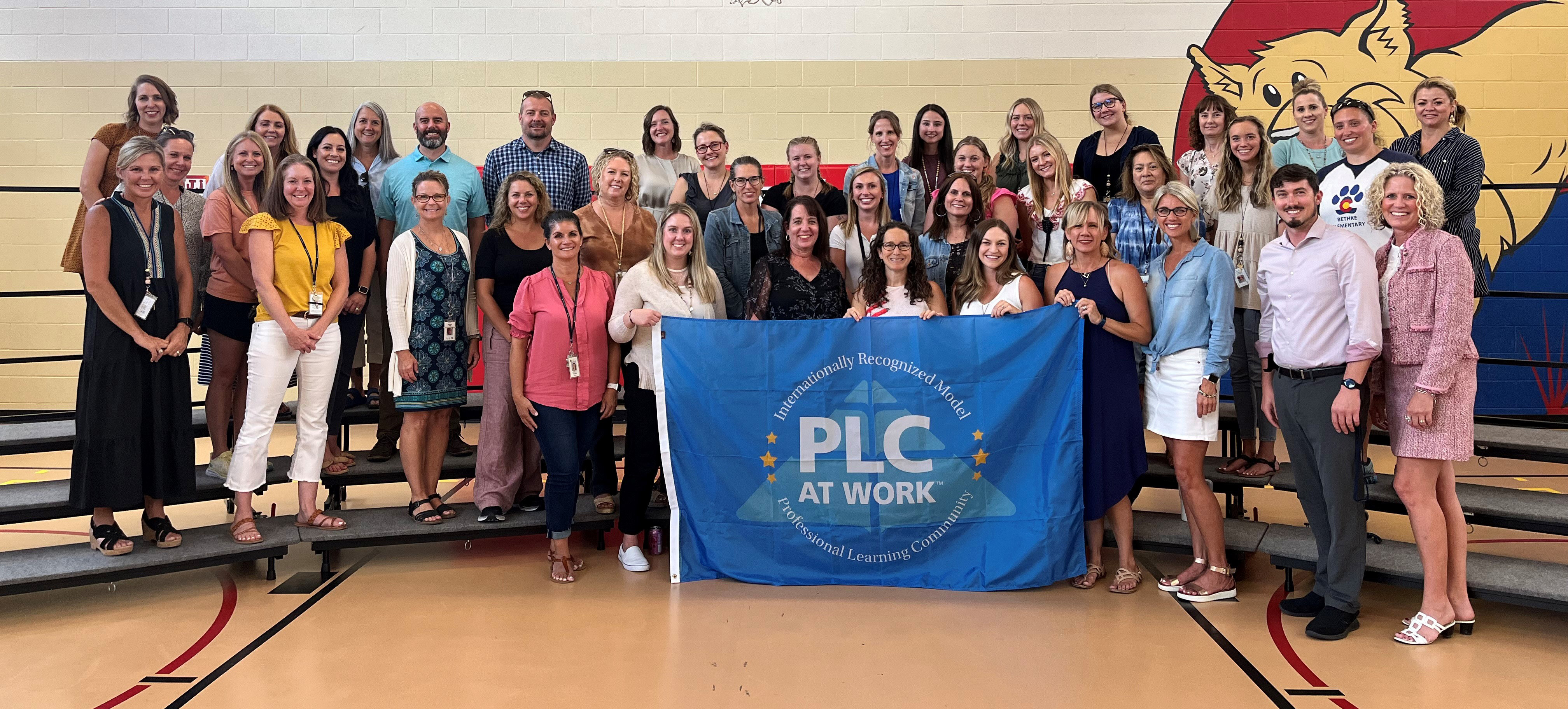 Kate Sherrill, Fort Collins High School counselor, was selected as a Yale Educator Award winner. She was nominated by Bryn Erickson, FCHS graduate attending Yale University, and selected out of 385 nominees. 
2023 SHAPE (Society of Health and Physical Educators) awards go to three PSD teachers!
These teachers will be recognized at a banquet on Monday, Oct. 9, during the state Health and Physical Education convention Oct. 8-10.  More about SHAPE awards >>
Jacob Benson, Kinard Middle School teacher, was selected Middle School P.E. Teacher of the Year by SHAPE. The P.E. Teacher of the Year Award recognizes individuals who have demonstrated continuous dedication to the advocacy and enhancement of student learning in P.E. in Colorado. They are also recognized as conducting a quality Physical Education program as reflected in the national and state standards and guidelines for K-12 physical education programs.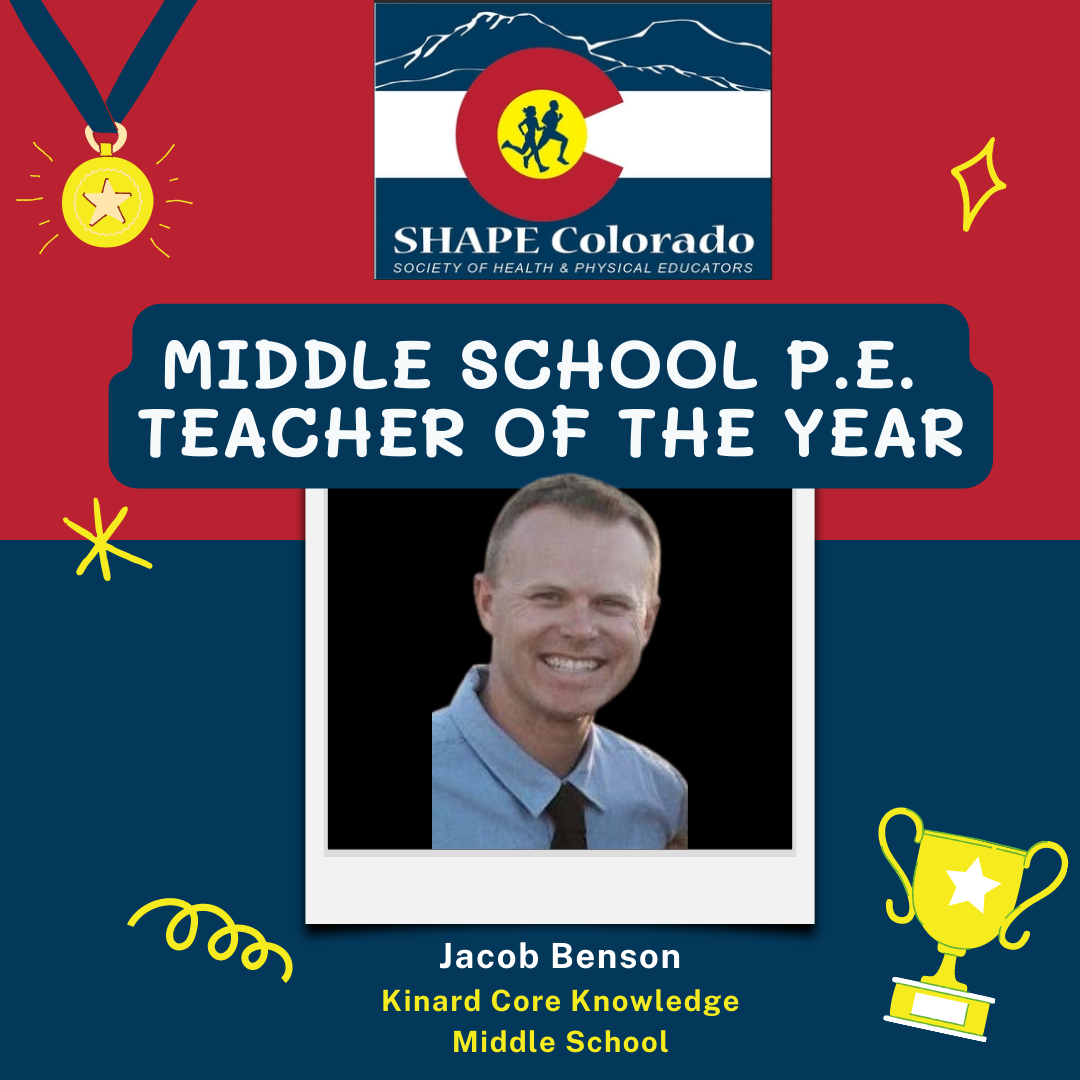 Riley Hubbard, Timnath Elementary School teacher, was selected for the Young Professional Award by SHAPE. This awarded to a SHAPE Colorado member who has demonstrated outstanding potential in teaching, scholarships, and service, and have demonstrated excellent potential in the area of teaching, research, coaching, leadership, performance, clinics and/or administration which are consistent with the promotion of the Health, Physical Education, Recreation and Dance professions.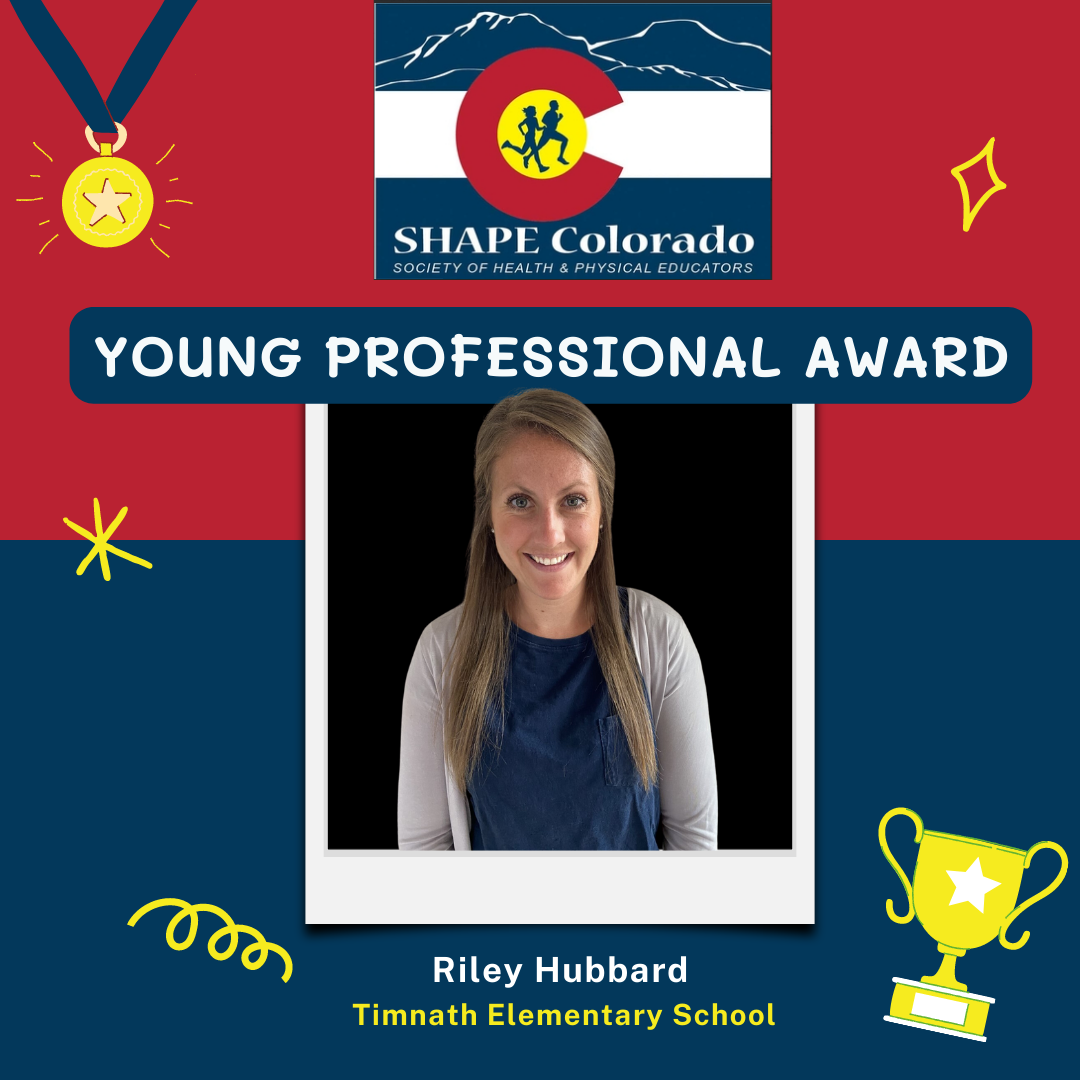 Jeanne Morgan, Poudre High School teacher, was selected for the Distinguished Service Award for SHAPE. This is awarded to an individual who has made a major contribution to the profession in the development of programs, publicity, public relations, advocacy efforts and/or support for the mission of SHAPE Colorado and who consistently provides leadership and support for Health, Physical Education, and Dance goals and activities in the workplace and/or community at large. This person also provides significant contributions in the areas of employee wellness, physical activities, health maintenance, and health.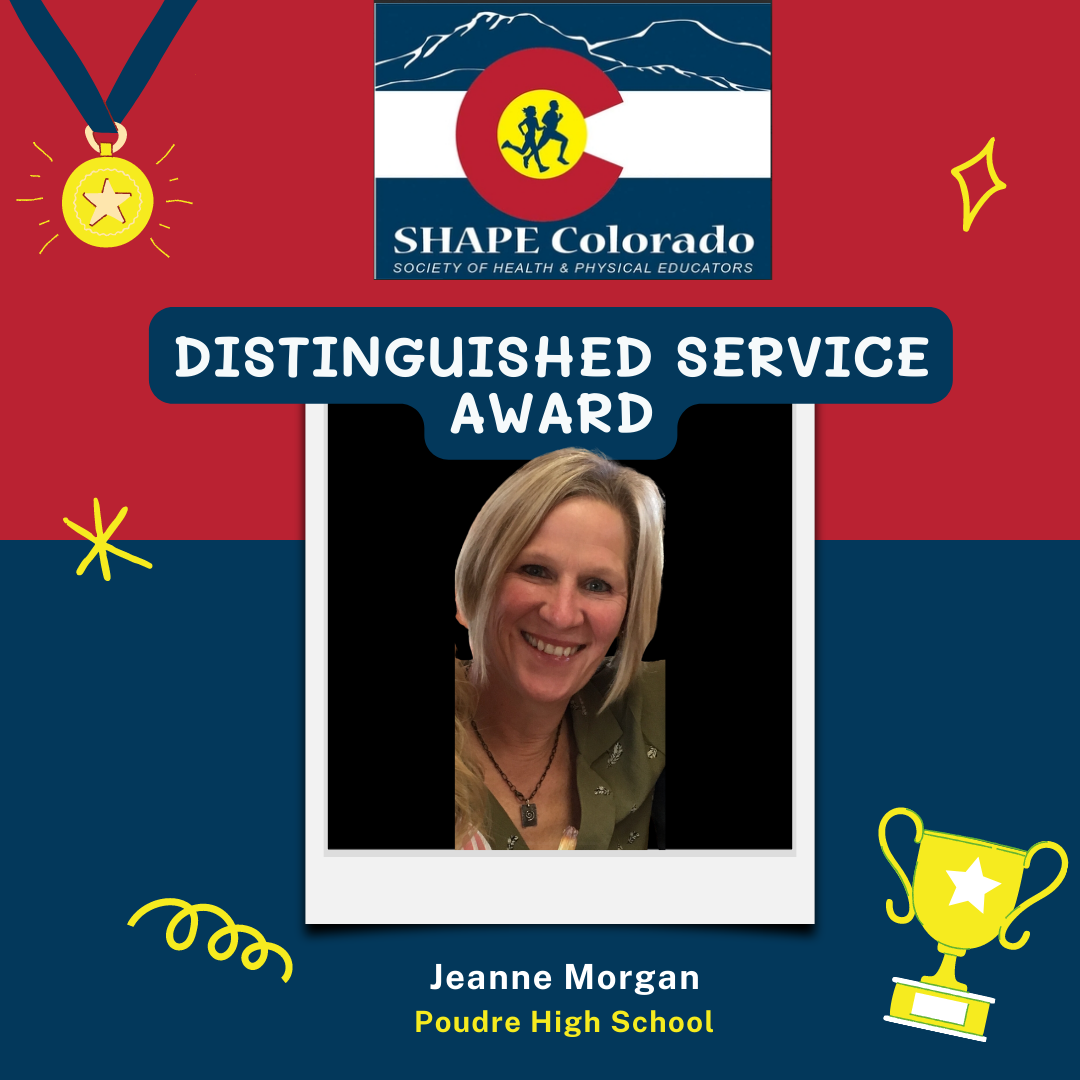 Conferences, Presentations and Service
Andrew Dutch, Fort Collins High Schol teacher, presented at the International Society for the Philosophy of Music Education 2023 Conference in June at Oslo, Norway.  He'll present at the Washington Music Educators Conference and at the American Association of Colleges for Teacher Education Conference in February 2024. 
Dr. Sonja Gedde, Fossil Ridge High School interim assistant principal, was selected to be a reviewer of submissions to the American Educational Research Association's 2024 national conference. She will review and determine conference sessions, presentations, and research articles to be presented in the "Critical Peace Education" special interest group.
Chelsea Pennock, Rice Elementary School music specialist, was selected by her peers to serve as the general music representative for District 3 (covering the 10 most northeast counties in the state and St. Vrain schools) for the Colorado Music Educators Association (CMEA). Representing 128 elementary schools, she communicates with elementary music teachers about the support, training and learning they need to be successful , which helps the general music council plan for presenters at the annual CMEA state conference in January.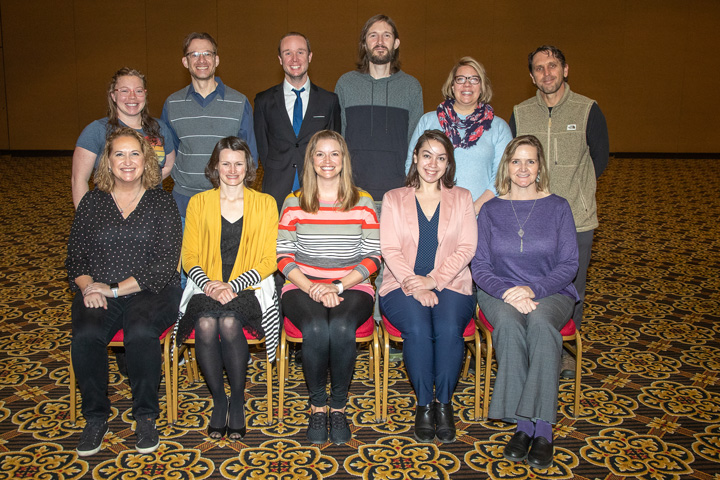 Education - Degrees and Certifications
Sara Daveline, O'Dea Elementary School health technician, graduated in July with a bachelor's degree in health information management. 
Shannon Dunlap, Fort Collins High School college and career coordinator, earned a master's certification in conflict resolution (mediation) from Boise State University in December 2022. She now serves as a volunteer mediator with the City of Fort Collins. 
Andrew Dutch, Fort Collins High School teacher, graduated with a master's degree in  music education from Eastern Washington University this past summer. He has begun doctoral work at the University of Colorado Denver with a PhD in Education and Human Development (Critical Studies Concentration) and an EdD in Leadership for Education Equity (Executive Leadership Concentration). 
Personal Achievements
Hank Kirwin, Cache La Poudre Middle School teacher, is the 2023 Professional Disc Golf Association Masters World Champion (MP55)!
Staff and School Shout-Outs!
From Joe Zappa,Blevins Middle School principal: Blevins Middle School is dedicated to the academic success of our students and our own continuous improvement as a school.  A significant measure of progress comes each spring during CMAS testing (Colorado Measures of Academic Success). The results show our students achieved and grew at incredible levels! Some of our successes:

Students increased or maintained their achievement levels in all grades of Language Arts.

Overall, our students increased their achievement levels in Math by 3%.

Our achievement was higher than state average in 8th Grade
 Language Arts and all three grades in Math.

 In 8th grade Science, our achievement was higher than pre-pandemic levels and higher than state average.

Students with IEPs and Gifted& Talented students grew at rates exceeding district averages in Math and Language Arts.

Last school year Blevins was given a Colorado performance framework rating of "Priority Improvement" for CMAS results in spring of '22.  As a school, we assessed ourselves and made further commitments to ensure we are supporting students in the best way we can. We received a new performance framework rating from Colorado - "Performance" - the highest rating! 

From Brian Farkas, Rice Elementary: A shout-out to the 5th grade team at Rice Elementary. We are so grateful to have an amazing team here at Rice. Lindsay, Morgan, Reagan and Sarah have created a wonderful inclusive environment for our fifth-grade students. Students have told me personally how much fun they are already having this year! The team has been great at communication and collaboration with Intergrated Services, always putting student needs first and willing to problem-solve. Our fifth grade team here at Rice has jumped right into our new literacy curriculum with grace and understanding, truly showing the power of high-quality teaching. I am so grateful to get to work with the 5th grade team at Rice each day!
From Ruth Miller, Rice Elementary: I want to acknowledge Laura Stamper (Human Resources) for her amazing work in supporting teachers with getting their lane changes. She is working during the school day and well after hours to help with this process. When I personally reached out to her she took time after work to meet me on a Zoom meeting from her living room to go over my credits and how the lane change process works. She gave me suggestions and also shared some of her wisdom having been working on these lane changes for many years. Along the way, she communicated with me and got back to me about where I was in the process. Thanks to her in part, I was able to get the " bump" I was looking for this fall. Laura, you are appreciated by teachers!
Student Pride
The Fort Collins High School Band Program is looking forward to future collaborations with Colorado State University this coming spring as well as in the greater Fort Collins community.  
The FCHS Saxophone Quartet and String Quartet performed at the New Teacher Orientation on Aug. 7, 2023.