In Poudre School District, we want our students, staff and their families to feel as safe as possible. We care deeply about this. No school district or emergency services agency can guarantee that emergencies won't happen, but we can continue to build our capacity to strengthen our shared culture of safety. 
Our district's emergency management approach is rooted in culturally-responsive, age-appropriate and emergency services best practices to prepare for, respond to and recover from natural and human-made emergencies. Here's how we approach safety and security in PSD.  


People
PSD has its own Security Department, which prepares for and responds to emergencies in the district. Campus security officers (CSOs) train and prepare for emergencies with school resource officers. Security technicians work on installation/maintenance of security cameras, intrusion alarms and door-access control systems. 
Every school has a dedicated crisis response team, supported by the district's crisis response team. These teams respond to crisis events at or involving the school

School teams are made up of administrators and key staff such as the office manager, custodian, teachers, etc. 
The district's team has representatives from multiple departments, including but not limited to Security, Mental Health, Employee Assistance Services and Communications. 
PSD has strong relationships with Fort Collins Police Services, Larimer County Sheriff's Office and Timnath Police Department, whose school resource officers (SROs) serve all schools.  
Many outstanding regional emergency services agencies also serve our communities and work closely with our district.  

Training  
School and district crisis response teams attend the district's Crisis Response Conference to refresh skills, update response plans, learn best practices, and collaborate with regional first responders. 
School crisis response teams participate in the scenario-based training "Seconds Count," to learn critical steps to responding to school violence (person with a weapon, etc.). These teams also do tabletop exercises to help prepare for a variety of emergencies (medical, natural disasters, wildlife on campus, etc.).  
"Run, Hide, Fight" training for staff so they are as prepared as possible to respond to an active shooter.
Students and staff are trained in nationally recognized Standard Response Protocols (hold, secure status, lockdown, evacuation, shelter).  
English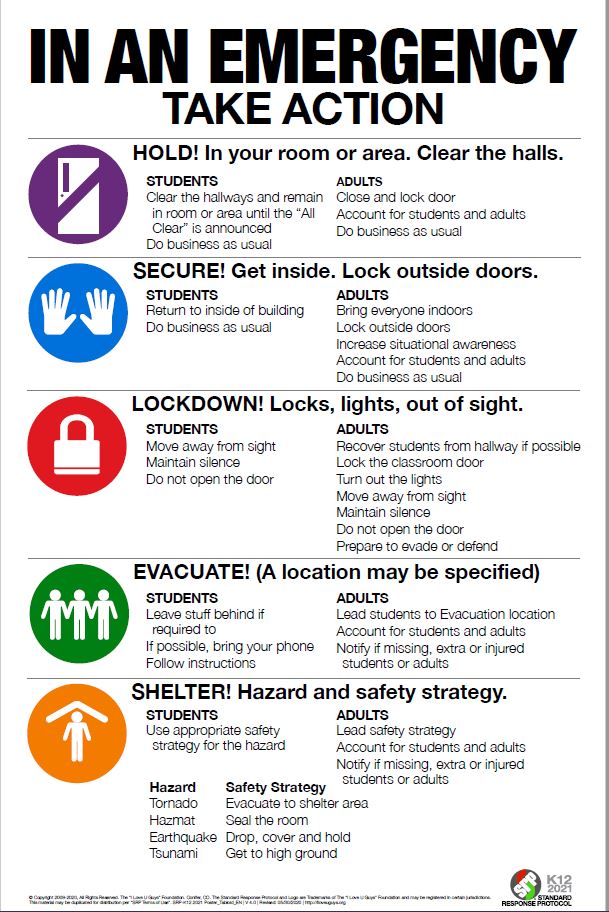 Every summer, all Fort Collins Police Services officers participate in active shooter response training. In-service trainings are held throughout the year, but this annual exercise, held in different facilities around the city, ensures that every peace officer is prepared to take action. Learn more about FCPS' active shooter response training in this video.