Help Guide the Board of Education - Serve on the DAC!
PSD's District Accountability Committee (DAC) has several representative seats open for the 2018-19 school year. The DAC is made up of parent and school representatives who work together to offer recommendations about the district's spending priorities, improvement plan, and charter schools to the PSD Board of Education.
The DAC is looking for:
•    An Instructional Paraprofessional working in PSD
•    A parent of a high school student
•    A person who can represent the diversity within PSD
•    A parent of a child supported by Integrated Services
•    A parent of an English language learner student in the district
The committee meets once per month, typically on the third Wednesday, from 6:30 to 8:30 p.m., in the board room at the Johannsen Support Services Center, 2407 LaPorte Ave.
People interested in serving on the DAC should contact PSD Curriculum Director Robert Beauchamp at 970-490-3667 or rbeaucha@psdschools.org or visit the DAC web page.
---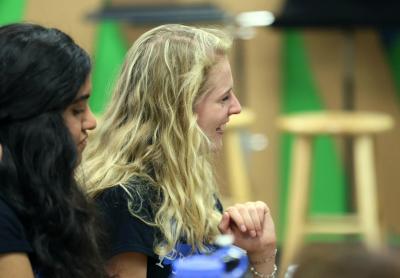 Share thoughts about school start times - attend a community forum
Poudre School District continues to explore the possibility of changing school start times, and has scheduled community forums in September to give parents, staff and anyone interested the opportunity to share their input. A community survey will also be available through September for people to provide feedback.

The forums, which will be streamed live, are open to anyone who would like to learn more about the school start time study process and possible changes. Opportunities to ask questions and and give personal feedback will be available.
Forums will be held (click on links below for the live stream) :
Submit questions beforehand by emailing them to info@psdschools.org.

Start Time Survey available through September
A  survey, emailed to parents, staff, high school students and community members, will be available throughout September. Survey questions will address the four proposed start time scenarios and provide  areas for general comments regarding start times.
If you plan to attend a community forum, you may want to consider waiting until after the event to fill out the survey. This will allow you to provide PSD with the most informed answers.
For an overview of the PSD study and year-long process:
English -  visit the School Start Time Study web page. 
Español - Hora de inicio del día escolar:
---
ParentVue  Contact
If you're having difficulty logging on to ParentVue, please contact your child's school. You can also find more information on the ParentVue "Accessing Grades" web page. 
---
Accessibility: PSD is committed to ensuring information on the website and through other communication tools is accessible to everyone. If you have difficulty accessing information from the PSD website or would like information in an alternative format, please email info@psdschools.org.