Class of 2022 Grads at a Glance
We rarely accomplish our goals alone. That is true for Poudre School District's Class of 2022, comprised of students who have worked so hard in their journeys to graduation. As you explore this year's Grads at a Glance series, you will learn about some of our students through the voices of those who have cheered them along the way.
See their stories on the PSD Grads at a Glance website.
For details about graduation ceremonies, visit the Graduation 2022 web page. 
Abdulaziz Yusufjanov, Rocky senior has passion, drive and is an all-around amazing person.
 
Ryan Woodall, Rocky, radiates kindness, recognized as one who gives back to everyone.
Madison Gill-Twitt, PGA, is an early graduate described as tenacious, compassionate, bubbly and more. 
 
Julia Warnock, PGA , uses music to express herself and views mistakes as a chance to grow. 
Supporters of Lucas Pedemonte, Fossil Ridge, say he is curious, smart and aware.

 
Neha Srikanth, Fossil Ridge, is an advocate for equity, trying to change experiences for others.
Fueling up kids with free summer meals!
Summer vacation is right around the corner.  Even though kids may not be in class, they can still power their minds and bodies with a nutritious meal.  
Poudre School District Child Nutrition is feeding kids this summer…for free!  Any child, age 18 or younger, in Larimer County can receive free meals this summer from May 31 – July 29.  There will be no meal service on July 4.
Meals will be available at: 
Linton Elementary, 4100 Caribou Dr., Fort Collins,  11:30 a.m. – 12:30 p.m.
Putnam Elementary, 1400 Maple St., Fort Collins,  12 p.m. – 12:30 p.m.
Meals are the same for all children regardless of race, color, national origin, sex, age or disability.
I Matter -  Youth are eligible for three free therapy sessions
Colorado youth and their parents can visit the I Matter platform to take a confidential online survey about their mental health and schedule sessions with a licensed behavioral health clinician, primarily online over telehealth. State law allows youth ages 12 and up to use the platform independently; youth ages 11 and younger will need their parent or guardian's consent to sign up. Learn more on the I Matter website.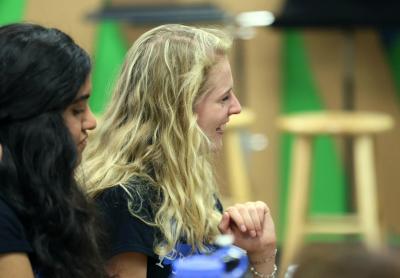 ParentVUE - Student Information System
Find information about accessing grades, schedules, attendance and more on the ParentVue web page. If you're having difficulty logging on to ParentVue, please contact your child's school.
PSD retention guidelines
Some teachers or parents/guardians may want to hold a student back a grade for a variety of reasons. PSD considers these requests following these guidelines.
---
Accessibility: PSD is committed to ensuring information on the website and through other communication tools is accessible to everyone. If you have difficulty accessing information from the PSD website or would like information in an alternative format, please email info@psdschools.org.