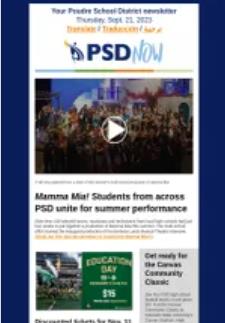 Highlights of the PSD Now Sept. 21 edition:
Mamma Mia! Mini-Documentary
Canvas Community Classic Oct. 6 and Education Day Nov. 11
Apply to Speak at TEDx
Transition Day Connections
Board Recognitions
Translations: Español Sept. 21 PSD Now  |  عربي  Sept. 21 PSD Now
Sign up for PSD Now! Get PSD Now community updates delivered to your inbox (about every two weeks). You can unsubscribe at any time. For previous newsletter editions, see the archive.