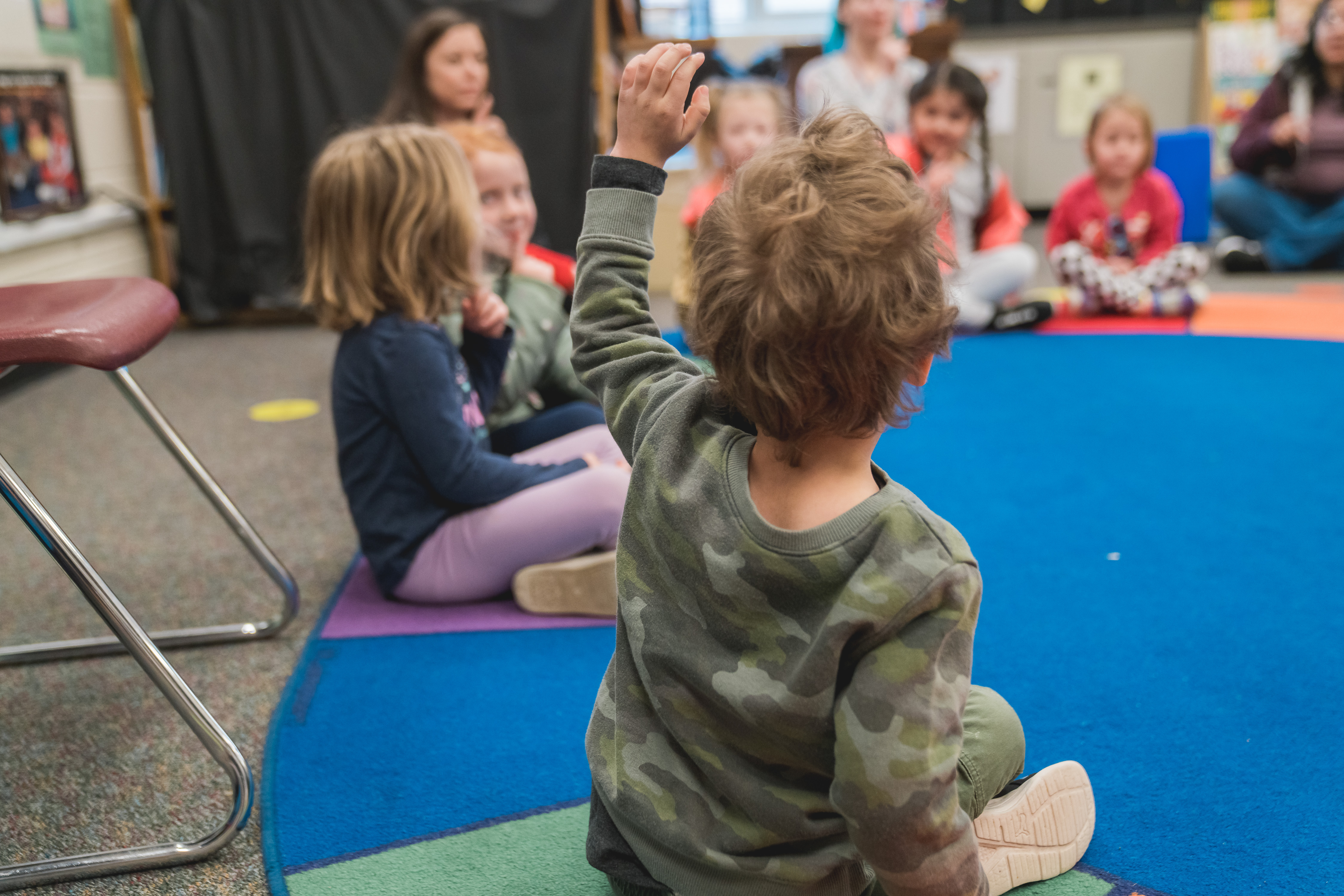 Kindergarten - a Magical Experience!
"There is nothing better than seeing a child learn. It is magical! It is also so special to establish connections with families. Kindergarten is their first experience in school and is so vitally important to have a positive start!"  PSD kindergarten teacher, 2020-21 school year

Below are some of the most common questions we get about kindergarten in Poudre School District. If you don't find answers to all your questions here, please email info@psdschools.org. You can also contact the school you're interested in with specific questions about their program. 
Frequently asked questions
What is a typical day like in kindergarten? A PSD kindergarten teacher talks about what kindergarten is like for a young student. 
Un día típico en kínder (YouTube)
 
When can my child go to kindergarten in PSD?
Children must be 5 years old on or before Oct. 1 of the respective school year to register for kindergarten.
How do I register for kindergarten?
Kindergarten online registration is available. Families can also register in-person at their neighborhood school – hours vary by school; check online or call the school directly for a schedule.  
Even if you register online, the following documents must be received by your neighborhood school to complete the registration process.  
Verification of child's birth date (birth certificate, passport, baptismal certificate, military ID, original or certified copies acceptable).  
Immunization records or signed State of Colorado Exemption Certificate. 
Proof of residency (example: ID or utility bill).  
Paper student enrollment forms are available through the PSD website or at school sites. 
You can find complete information about how to register on the Kindergarten Registration web page.
Is there a cost to attend kindergarten?
No. All-day kindergarten is free to families in Poudre School District. Before the 2019-20 school year, PSD families paid tuition for all-day kindergarten because state funding did not cover all the costs for full-day kindergarten programs. With the passage of House Bill 1262, Colorado now funds students enrolled in full-day kindergarten at the same amount as students enrolled full-time in other grades. This allows Colorado school districts to offer free all-day kindergarten.  
What school options do I have in PSD?
There are 33 elementary schools in PSD, as of the 2021-22 school year. All families must register at their neighborhood school, even if they have also applied to attend their school of choice. Learn more about School Choice in PSD >> 
Each offers different instructional program options, including Core Knowledge; International Baccalaureate; Expeditionary Learning; Bilingual/Dual Immersion; Science, Technology, Engineering & Math (STEM); Gifted & Talented; Arts and Technology; Leader in Me; and more.  
If we want to attend a school other than our neighborhood school, what is the process?
To apply to attend a school other than your neighborhood school, you must complete an online school choice application. Applications will be processed after they are received, and you will be notified by email of your status. This process can take up to two weeks. 
If you are applying to send your child to another school through school choice, you should still register at your neighborhood school. This ensures your student is registered and accounted for should your school choice option not be available.  
NOTE: Charter schools DO NOT follow the PSD school choice procedures. Please contact the charter school directly for application procedures. 
What are the benefits of kindergarten?
Kindergarten is the foundation for a student's academic career. In addition to learning how to be a student, children:  

Learn how to be a student and establish a love of learning
Gain independence 
Build early literacy skills and problem-solving skills 
Learn social skills like getting along with others; playing and sharing; making connections; and growing friendships 
Experience a "whole child" education where they grow academically, socially and emotionally.
Are half-day programs still an option for families?
Yes, some schools do offer free, half-day kindergarten. If you are interested in this option, please contact your neighborhood school to find out if they offer it or call 970-490-3203 for more information about the schools with half-day programs. 
How do I know if my child is ready for kindergarten? My child is not reading yet. Can they still go to kindergarten? 
Children do not have to be reading yet to attend kindergarten. In PSD, students learn critical early literacy skills that support them in all learning in kindergarten and beyond. Deciding to send your child to kindergarten can be a difficult decision if you aren't sure if your child is ready. The articles linked below cover school readiness and developmental milestones that help children be more successful in kindergarten. You can also talk with a PSD kindergarten teacher about your child's readiness by contacting the school you plan to attend.