Amy Russo-Segelhorst is on top of the world, breaking new ground in the community. 
Adopted at age 7, she was quiet and all smiles. She was also fascinated by the world of law enforcement as a child.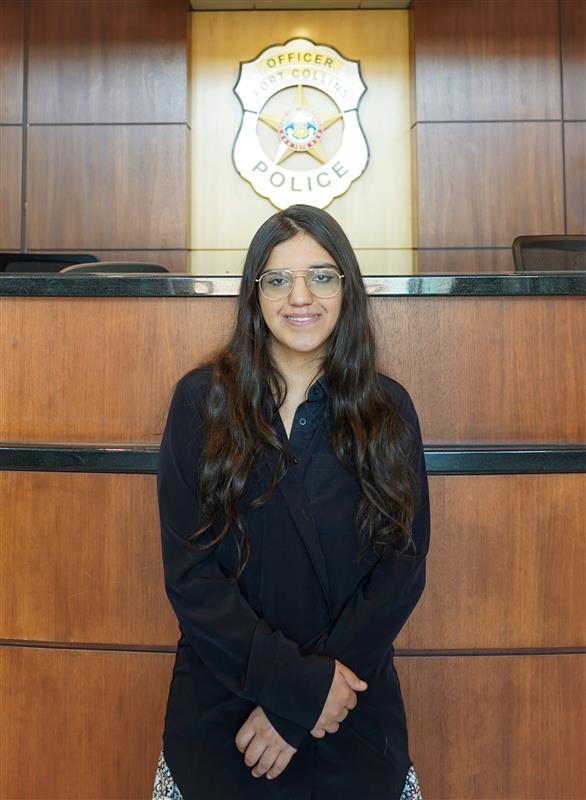 Fast forward, past her favorite forensics class in school and graduation from Poudre High School, and Russo-Segelhorst is about to live her dream.  
This spring, the now-21-year-old graduated from Poudre School District's Project SEARCH. This program enables young adults with disabilities to explore careers and get on-the-job training. Through internships with the likes of Columbine Health Systems and Banner Health, students, ages 18-21, practice skills, get a feel for what they are good at and, importantly, what they don't like to do. Working at a desk all day wasn't a fan-favorite among this year's seven Project SEARCH graduates. 
During the 2022-23 school year, Russo-Segelhorst interned with Columbine's Poudre Infusion Therapy as an administrative assistant. Then, thanks to School Resource Officer Dexter Rowe and his colleagues, her eyes were opened to a never-before-offered opportunity at Fort Collins Police Services (FCPS).  
As part of the first-ever FCPS-Project SEARCH internship, Russo-Segelhorst experienced the calm-and-dimly lit intensity of the 911 dispatch center. She watched businesses with liquor licenses be evaluated for compliance, scanned and checked police records for accuracy, and learned how things are organized in the evidence room. "It's bigger than I thought," she said.  
Asked what the FCPS team was like, she said: "People at the police department are nice and welcoming," very helpful. Her face framed by long dark hair and her eyes by gold-rimmed glasses, Russo-Segelhorst smiled at this thought. 

"To me, Amy's kind of a trailblazer," said Aaron Vogt, assistant director of PSD's Integrated Services Department, the umbrella over Project SEARCH.  
Vogt, Rowe and Project SEARCH Coordinator Lora Kitchens sat with Amy in a room at police headquarters in Fort Collins one day in April. They talked about her success – in life and work – and celebrated the new partnership that Amy and Rowe forged together, creating opportunity for future Project SEARCH students. 
Always humble, Rowe was quick to credit a PSD parent and advocate for students with disabilities with the idea of starting internships at public safety agencies.  
Project SEARCH works with businesses to provide job-related learning experiences and internships. The list of partners has grown over time, expanding opportunities for and inclusion of people with disabilities in the community. 
"The ability to find the right organizational culture, it's a testament," to Rowe and FCPS, Vogt said. 
Rowe's dream is to grow the internship program beyond the police department to include other law enforcement, fire and emergency medical services agencies, and even to city and county departments.  
Asked what advice they had for families and students unsure of whether Project SEARCH and internships in the community are the right fit, Kitchens said: "Be willing to give it a chance." It can be scary, but you'll learn new skills. Rowe added: "Be open, be sociable, ask questions." Companies that work with students of all abilities "want to see your interest and that you're willing to jump in."  
Vogt said internships like those at FCPS, Columbine and Banner help remove barriers so people with disabilities can advocate for themselves. This, he said of Russo-Segelhorst's internship, "is an illustration of how advocacy really works."  
On May 17, the seven Project SEARCH graduates were celebrated at an intimate ceremony, surrounded by family, PSD staff, and community partners. Along with her fellow graduates, Russo-Segelhorst presented a showcase of her learning. She said she plans to continue working at Panhandler's Pizza and being a "cat mom" to Tofu, her beloved white-and-gray feline friend. "I joke that she sits like a grandpa," she said, showing off a photo and laughing.  
And that part about her living her childhood dream?  

Rowe said FCPS has taken steps to create a permanent position for Russo-Segelhorst, possibly in Records or Evidence.  
Since starting at FCPS this spring, Thomas Segelhorst, Amy's father, said her confidence has jumped. "She's on top of the world."  
Asked what he hoped for her daughter, since she came into the family's lives, he said: "She always gave the world joy, and we just hoped it would come back to her."  
And now it has.