When a child misbehaves, we often assume they are acting this way because they want to; however, it's often because they haven't learned the tools needed to process their feelings and manage their reactions. 
As parents and caretakers, we can support them in fostering healthy emotional regulation strategies. 
May is Mental Health Awareness Month. This article is from Sarah Mowder-Wilkins, PSD mental health coordinator, and Liz Davis, PSD student services director.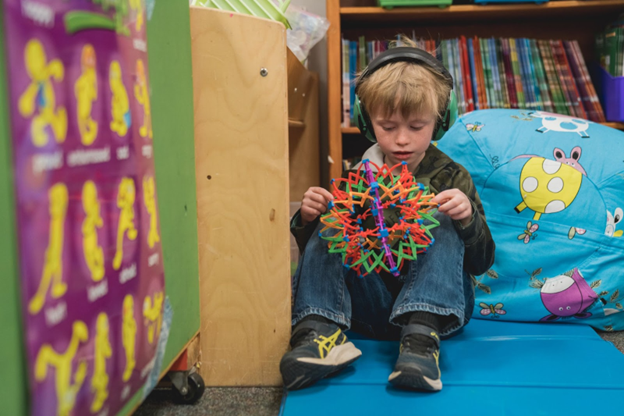 Calming stations offer space for children to process feelings
Instead of a time out, try setting up a calming station in your home. This is a designated spot for children when they need some time and space to calm down their bodies and process their big feelings. Rather than punishment and negative reinforcement, a calming station is meant to be positive as it stimulates emotional regulation, structure, and security. 
Calming stations are not just for young children; tweens, teens, and young adults benefit from them too. Several Poudre School District schools have designated calming rooms for any student to use throughout the day.
"Wellness rooms and areas allow kids to practice and take charge of regulating their emotions," shared Kelly Glick, PSD Mental Health Education and Connection Specialist. "Having these dedicated spaces builds children's capacity to practice lifelong coping skills in a safe place. Instead of us telling kids to regulate, we need to use less language, while also decreasing sensory input. This allows them to recalibrate, so to speak."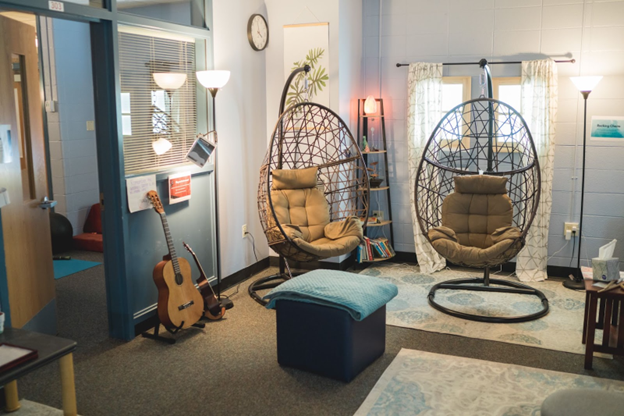 Setting Up a Calming Station in Your Home
You do not have to have a big space or budget to set up a calming space at home. Work with your child to figure out what they'd like in the space. Some ideas:
Bean bag, yoga mat, and/or fun pillows
Soft blankets or weighted blankets for older children
Signs or cards with positive affirmations
Journals and writing tools
Fidget toys
Books
Art supplies
Puzzles
Feelings posters and/or conflict resolution sheets
Headphones with calming music
Together, find a spot for your calming station that doesn't need to be taken down or put away. If possible, the space shouldn't be completely isolated - children shouldn't be forced to figure out their emotions alone.
Tip: Practice using the calming space as part of a pre-bedtime routine or show your child how you also use the space as a quiet spot to go to when you need to work through your own feelings.