MTSS is a framework within which our learning community ensures student success and growth by meeting their academic, social emotional, and behavioral needs.
The Colorado RtI Framework has and is now ecompassed within the MTSS model.
PSD follows a layered approach to support: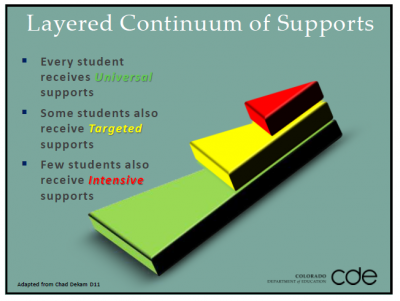 There are no lines separating the tiers because we know that movement between tiers should be fluid; there are no "hoops" for children to jump through in order to receive more or less intensive interventions. The "flywheel" of the multi-tiered model is the Problem-Solving process. This process is how decisions are made regarding intensity and type of intervention students need.  
Essential Components of MTSS Framework