2018-19 Enrollment
PSD student count increases to 30,463
Poudre School District's total student count for the 2018-19 school year increased to 30,463, marking a roughly 1.5 percent increase over the previous school year. 
PSD's growth outpaced statewide enrollment, which increased 0.1 percent, according to state data released Jan. 24, 2019. The district's total count in the 2017-18 school year was 30,019. 
The student count is captured each year in October as part of a point-in-time metric set by Colorado to measure public school enrollment. 
PSD's total figure includes all K-12 students, Early Childhood Education students, students enrolled in PSD-authorized charter schools, and other students enrolled district programs. Charter schools authorized by PSD include Ridgeview Classical Schools, Liberty Common School, Mountain Sage Community School, Fort Collins Montessori School and Compass Community Collaborative School. 
The student count doesn't include students enrolled in state-authorized charter schools, parochial schools, and those that fall into various other state categories.
The 30,463 count cements PSD once again as the ninth-largest Colorado school district, in terms of student enrollment.To see a list of Colorado school districts and their enrollment, visit the CDE website. 

2018 October Count Data 
Information will be posted when available.
October Count (K-12)
Race and Ethnicity
English Language Learner Data
Free and Reduced Data
Gifted and Talented

2018 December Count 
Information will be posted when available.
Integrated Services December Count
Integrated Services December Count (by disability)
PSD Demographics and Data 
Information is from the 2017-18 school year unless noted.
Student Demographics
Asian: 2.97%
Black/African American: 1.22%
Hispanic/Latino: 18.45%
Native American: 0.51%
Native Hawaiian/Pacific Islander: 0.15%
White: 73.02%
Two or More: 3.66%

Student Profile
Participating in Free/Reduced Lunch: 30.60%
Special Education Programs: 7.41% (2016-17 data)
Gifted and Talented Programs: 13.17%
English Language Learner Programs: 7.26%

Staff Profile 
Certified: 2,036
Classified: 1,598
Administrators: 150
Total teachers: 1,525
Average teaching experience in PSD: 12 years
Enrollment History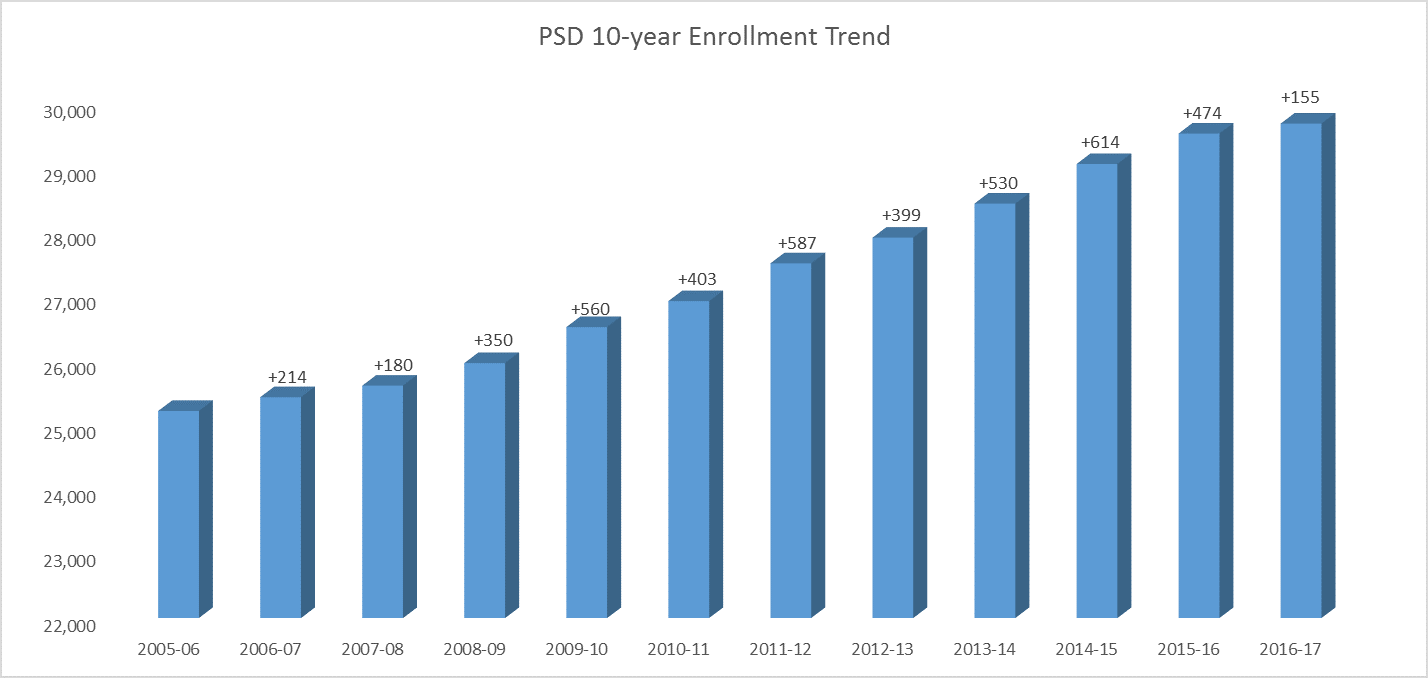 Past School Years
2017-18 School Year
2016-17 School Year
2015-16 School Year
2014-15 School Year