Thank you for your interest in student teaching/interning in Poudre School District. To be considered for a student teaching/internship placement in one of our schools you should:
be entering your final semester/year of a teacher/education preparation program (i.e. school counseling)
complete the PSD Student Teacher/Intern Application
pass a criminal background check, including submitting a complete set of fingerprints with PSD (detailed instructions will be emailed to the student teacher/intern once their application is completed and a successful student teaching/intern placement has been confirmed)
be enrolled in a college/university that has a signed student teaching/internship agreement with PSD
Placements will be completed with the following criteria:
availability of qualified staff/educator(s) in requested areas
willingness of schools/staff to take a student teacher/intern
outcome of student teacher/intern interview between principal, mentor teacher/supervisor, and prospective student teacher/intern
Every effort will be made to place student teachers/interns at their requested location or with the requested mentor teacher/supervisor who will provide proper guidance and supervision. However, if the request cannot be met, Human Resources will forward the request to all remaining schools that are accepting student teachers in the subject/level, unless requested otherwise.
College/university program coordinators and supervisors are encouraged to make contact with individual principals and teachers once student teacher placements have been confirmed to answer any specific program questions or to schedule cooperating teacher training sessions.
Student teachers/interns or representatives of the requesting programs should NOT contact teachers or principals directly.
Poudre School District does not place student teachers/interns in paid placements.
Guidelines and Application Process 
Student teacher and intern candidates are required to submit a PSD student teacher/intern application in Recruit & Hire prior to placement consideration.
Student teachers/interns in PSD are only accepted from a sponsoring university/college. Candidates should not contact individual teachers or building administrators to obtain information for a student teaching placement.
Once an application is complete and submitted, PSD coordinates with the student's university and PSD schools to determine specific placement. Note: Successful completion of the student teacher/intern application does not guarantee placement.
Applicants please:
DO NOT contact schools, principals, or teachers about student teaching/interning
Respond promptly to communication from the district
Always keep your email contact information current
Upcoming Events
Are you interested in being a student teacher or intern in Poudre School District? Join us for an upcoming informal VIRTUAL AMA (ask me anything) session to:
- Gain a better understand on our application and placement process
- Learn about important deadlines and steps needed to be a student teacher/intern in PSD
- Ask specific questions regarding our District
Register today: https://teams.microsoft.com/registration/bIRtDd3qbEuwPvFc1Lfpzw,Rcjj8vWl5kGOb-G1P7cfnw,tEYWtJy9MkmrmciYNXWIQg,Nkn5ns5FMEehpr68rR5IDA,svw0dgFg20Ws2CQ9i2XEhw,Pz7Juc3XiEaMCIRmCKLVEg?mode=read&tenantId=0d6d846c-eadd-4b6c-b03e-f15cd4b7e9cf 
Thursday, 4/14/2022: 12pm-1pm (MST)
This session is completely optional and will not have impact on whether or not your receive a placement in PSD.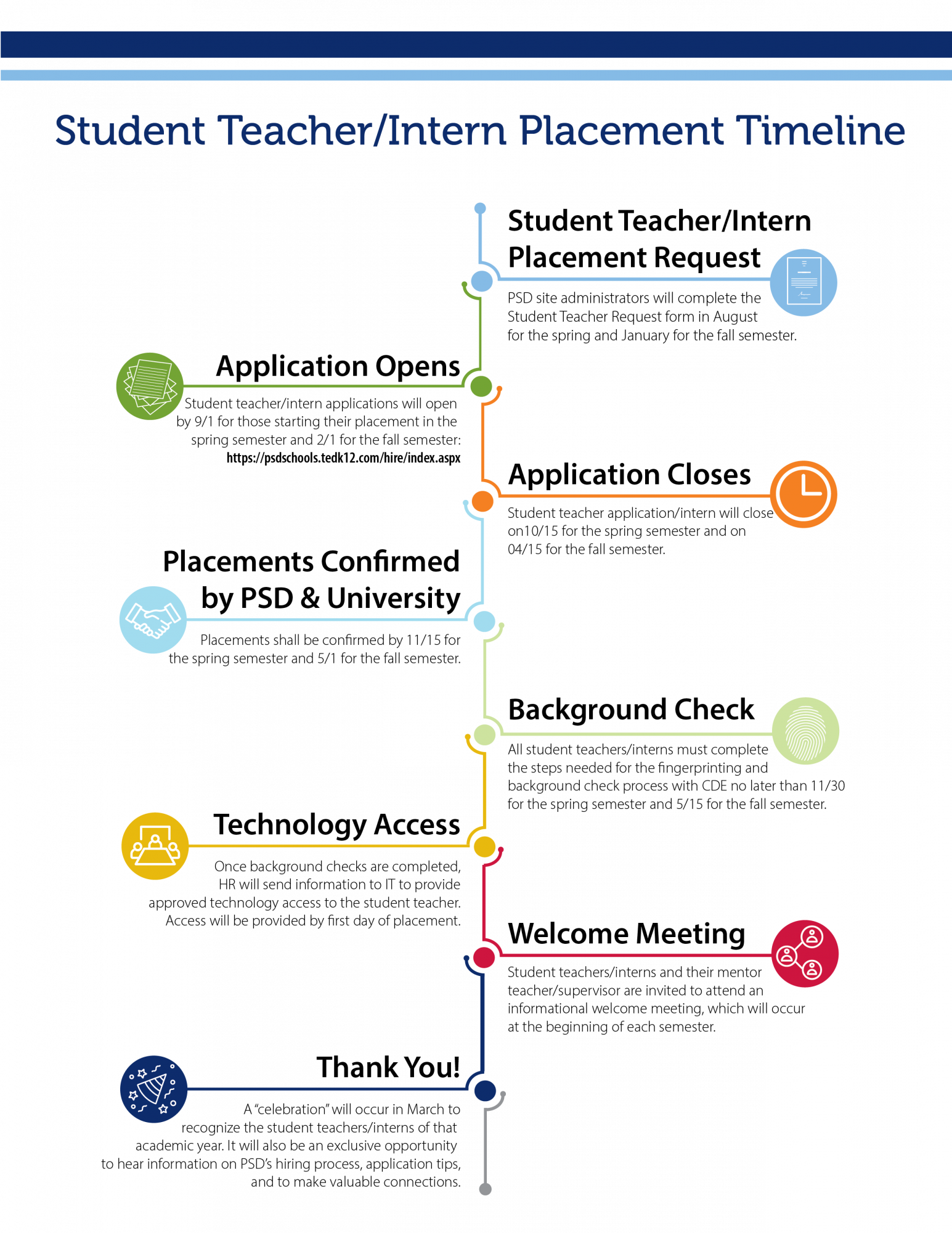 Resources