French Field District Stadium is located on the Rocky Mountain High School campus (1500 W. Swallow) in Fort Collins.  All four high schools (Fort Collins HS, Fossil Ridge HS, Poudre HS, and Rocky Mountain HS) schedule football, soccer, lacrosse and track & field events at French Field.  In addition, the PSD Middle School Football District Championships and the PSD Elementary Track meet are held at the stadium.  Concessions are open and available during high school football games and track & field meets. 
 
| ADMISSION PRICES | STUDENT (K-12th) | ADULT | SENIOR (60+) |
| --- | --- | --- | --- |
| FOOTBALL (regular season) | $4.00 | $6.00 | $4.00 |
| SOCCER, LACROSSE, TRACK & FIELD (regular season) | FREE | FREE | FREE |
| CHSAA District, Regional and State Playoff competitions | TBD | TBD | TBD |

*PSD Family Athletic Passes are available for purchase at the four high schools athletic offices.  Passes are $75 for 20 punches.
Residents 60 years of age and older may contact the District Athletics Office, 490-3332, to request an Activities Admission Pass.  Passes are good for one school year.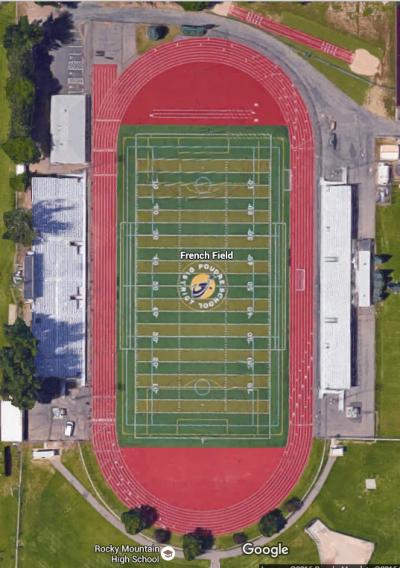 PSD announces implementation of clear-bag policy at French Field.
Along with pride and excitement, PSD high school sports enthusiasts should plan to start bringing their game-day necessities in a clear bag when going to French Field.
Starting immediately for the 2019-2020 school year, PSD's Athletics Department, in partnership with the Security Department, are adopting a clear-bag policy. The purpose is to provide a safer environment for the public and expedite fan entry into the historic Fort Collins stadium at Rocky Mountain High School. 
"We want to make sure people feel safe coming to the games and enjoy their experience," said Russ McKinstry, director of Athletics for Poudre School District.  
PSD thanks families and athletes in advance for their patience and understanding, as PSD adjusts to this safety-centric change.
Families who have attended games at Colorado State University's Moby Arena or on-campus stadium in recent years are likely familiar with the Rams' clear-bag policy.
PSD Athletics encourages fans not to bring any bags; however, the following will be permitted for those entering French Field:
One clear bag no larger than 12" x 12" x 6" OR a one-gallon clear freezer bag (Ziploc brand or similar). Bags should be made of plastic, vinyl, or PVC. 
• In addition, fans may carry a small clutch bag/purse no larger than 4.5" x 6.5", with or without a handle/strap.
• Each ticket holder, including children, may carry an approved clear bag and a clutch bag/purse.
• All other bags are prohibited when entering French Field. These include backpacks, camera cases, and purses larger than 4.5" x 6.5".
• Soft and flexible seat cushions are permitted.
• Disposable, crushable bottles, empty and without a cap, are permitted.
• Diapers and wipes may be carried in a clear bag; however, diaper bags are not permitted.
• Additional clothing, etc., are permitted if carried loosely or in an approved clear bag.
• Small cameras, binoculars and cell phones may be carried in loosely or in an approved clear bag.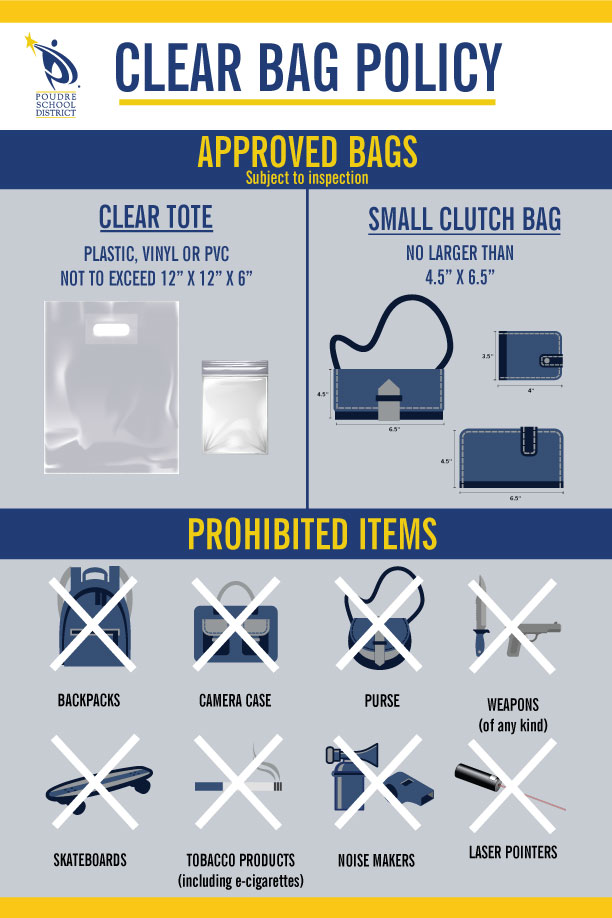 PSD Athletics supports a safe and fan friendly environment at French Field. The following items are not allowed into French Field:
Outside food of any kind
Coolers, ice chests, bottles (other than factory sealed water bottles), cans, cups or containers of any kind
Backpacks
Fireworks, projectiles or explosives
Artificial noise makers
Pets (except for service animals)
Weapons of any kind
Balls, Frisbees or other items that may be thrown
Bicycles, roller blades or skateboards
Additional reminders:
All of the school property in and around French Field including sidewalks and parking areas are alcohol and tobacco free areas.
No re-entry of students is allowed.
Spectators must wear shirts and shoes at all times.
Once spectators enter the stadium through a specific gate, they may not walk through to other side.
The practice of throwing baby powder (or any other powder substance) up in the air at outdoor or indoor contests is strictly prohibited. This causes bleachers (and nearby playing areas in indoor venues) to be extremely slick. Further this practice is banned across the country due to the inhalation risk to asthmatic spectators.
Students are not to jump up on or against the fences in front of the bleachers after or during games. It is both a safety concern and it causes damage to our facility.
Spectators are not permitted to enter field area before, during or after contests unless access is approved in advance by District Athletic Director or Stadium Manager.