Poudre School District students may enroll in and have access to comprehensive medical and mental health services at two locations in PSD schools. Everyday Child Pediatrics, a nonprofit healthcare provider, offers students services ranging from health needs assessments, well-child exams and sports physicals, to care for chronic and acute medical and mental health issues. 
Student health and wellness services are offered at:
The Health and Wellness Center          Telehealth Virtual Care Services                         
Centennial High School                            Lincoln Middle School
330 E. Laurel Street                                 1600 Lancer Drive
Fort Collins, CO  80524                            Fort Collins, CO  80521
Scroll down the page for information about how telehealth virtual care services work.
Students must be enrolled with the Health and Wellness Center to receive care. Forms are available in a PDF fillable format on the Health and Wellness Center website, by calling 970-488-4950, or emailing hwcenter@everychildpediatrics.org. 

Services offered:
Prevention services, such as annual well-child exams and sports physicals
Treatment of acute medical issues, such as colds, flu, acute illness and infections
Management of chronic health conditions, such as asthma and diabetes
Validated health needs assessments including screenings for depression and anxiety
Counseling  for mental health issues and resiliency building
Health and wellness planning for adolescents
Reproductive health care  
Prescriptions 
Health education and awareness campaigns
Referrals to other medical and mental health professionals
Vaccines/ immunizations (in collaboration with the Larimer County Department of Health and Environment)
Dental screenings and services (in collaboration with community providers)
Assistance with Medicaid/CHP+ enrollment (Centers are a Certified Application and Assistance Site or CAAS provider)

Appointments
Appointments are available Monday through Thursday during the school year. Summer hours are available, but vary week to week. Please call 970-488-4950 or check the Health and Wellness Center website for details. Walk-ins can rarely be accommodated, so please schedule an appointment.

Costs based on ability to pay 
The Health and Wellness Center accepts most private and public insurances, including Medicaid and CHP+. The center offers fee-for-service and a sliding-fee-scale based on federal poverty guidelines. No student enrolled is ever turned away for inability to pay for services provided by the school-based health center.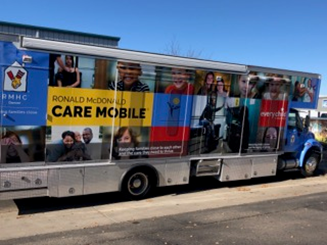 About Telehealth 'Virtual Care' Medical and Mental Health Services at Lincoln Middle School 
The Health and Wellness Center launched telehealth 'virtual care' medical and mental health services at Lincoln Middle School in February 2019. Students access the telehealth virtual care services within a Ronald McDonald Care Mobile, located outside of the school at 1600 Lancer Drive. The healthcare mobile is granted to Every Child Pediatrics and the Health and Wellness Center by Ronald McDonald House Charities.

*How do telehealth virtual care services work?
Telehealth services are not different than in-person medical and mental health services; they are simply delivered using technology. Using a HIPAA-compliant video/audio, the physician assistant sees, hears and talks with the student-patient and conducts the exam using modified medical instruments such as a stethoscope and otoscope to hear the student-patient's heartbeat and "visualize" their eyes, ears, nose and throat. The physician assistant performs remote, but real-time, medical exams, diagnoses and treatments. The licensed clinical social worker provides mental health counseling services, utilizing the HIPPA-compliant video/audio platform.

About the Health and Wellness Center at Centennial High School 
Since 1993, licensed clinical professionals at the Health and Wellness Center at Centennial High School, located at 330 E. Laurel Street, have provided integrated and comprehensive medical and mental health services to PSD students. The school-based health center is part of a nationally-recognized model and among 2,900 sites located throughout the U.S. 
---

Minors and Healthcare Services
As of the end of the 2019 Colorado legislative session, per Colorado Revised Statute  12-43-201 (9)(a) "a minor who is 12 years of age or older, with or without the consent of the minor's parent or legal guardian," may consent to receive psychotherapy services "if the mental health professional determines that:  (a) the minor is knowingly and voluntarily seeking such services, (b) the provision of psychotherapy services is clinically indicated and necessary to the minor's well-being."  
Per Colorado Revised Statute 13-22-105, minors can self-refer/consent to the following services: contraceptive services, sexually transmitted infection services, prenatal care and general medical care for the minor's child. Parental consent is not required in any medical facility in the State of Colorado for these services.   
As part of its many services, the Health and Wellness Center does provide fact-based reproductive health/contraception information and counseling, contraception, sexually-transmitted infection counseling and testing and prenatal care. Research shows that teens are much more likely to share important health-related information with trusted adults, including student-based health center staff. The Health and Wellness Center staff strongly encourage adolescents to engage in an open dialogue with their parents/guardians about all aspects of their health care.