PSD mental health service professionals (counselors, mental health specialists, social workers, and psychologists) provide prevention services in schools and intervention as early as possible to help students in immediate crisis. The PSD Mental Health team routinely trains staff and students in the QPR Suicide Prevention Training method to help school communities identify and help people who may be at risk for suicide.  
Students in Immediate Crisis
If a mental health service professional is contacted about a student expressing suicidal thoughts or experiencing another immediate crisis that involves their safety, parents are contacted and included while a plan and team of support are organized for the student.
Warning signs that may signal an issue:
Uncharacteristic behavior
Changes in friendships or isolation
Drop in academic performance
Loss of interest in activities
Personality change
Excessive sleeping

How to help your child or teen if they're talking about depression or suicide. Immediate steps you should take:
Never leave a suicidal individual alone.
Acknowledge that you are taking them seriously.
Let them know that you are accessing resources to help keep them safe.
Assure them that you will be with them through the process.
Utilize these resources:

Community Crisis Center - Call 494-4200 for crisis concerns, including suicide assessments. Mobile crisis counselors in Larimer County available 24/7/365.
UCHealth Crisis Assessment Center - Emergency Department of PVH/UCH, Lemay campus, Call 970-495-8090 with crisis concerns and for suicide assessments.
Alliance for Suicide Prevention of Larimer County - This is not a crisis service. This alliance offers information about suicide, including facts, warning signs, community resources, grief support groups and more.
For information about how the Mental Health team works with students, visit the PSD Mental Health Team Services page.

A personal experience with suicide: "It's okay to not be okay:" Kim Granger shares her story about suicide to reduce stigma, build resiliency
QPR Suicide Prevention Trainings
PSD's Mental Health team routinely train staff and students on the QPR Suicide Prevention method, which teaches participants how to identify and help someone at risk for suicide. The 1 1/2 hour training teaches participants the warning signs for suicide and the three-step QPR (Question, Persuade and Refer) method.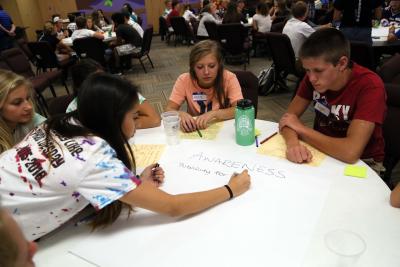 The training teaches:
how to recognize and assist someone at risk for suicide
how to identify at least three warning signs of suicide
how to listen and ask someone about their potential suicide intent
intervention skills
referral resources within PSD and the Fort Collins community.
QPR trainings for parents and community members are available here: