Discover your path!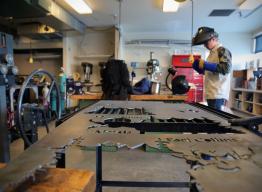 Career and Technical Education (CTE) provides students with the academic knowledge and technical skills they need to gain entry into high-skill, high-wage, and high-demand industries. 
 
CTE offers work-based learning experiences with hands-on learning with real-world scenarios to prepare students for the workforce or college.
CTE Programs and Pathways
Each pathway provides students the ability to earn college credit, industry credentials, and gain experience through work-based learning. Learn more about the CTE programs below here.
ACE (Alternative Cooperation Education)
Agriculture
Architecture and Construction
Aviation
Automotive Technology
Business & Marketing
Computer Science
Culinary and Hospitality
Design and Multimedia Arts
Digital Media and Communications
Education and Training
Engineering (STEM)
Healthcare
Interior and Fashion Design
Networking and Cybersecurity
Manufacturing
Work-Based Learning -  Go Beyond!
Internships
Apprenticeships
Job Shadows
Paid work
Volunteerism
Monitored chat rooms
Xello gives high school students a chance to explore careers and industries by connecting them with local employers and community members.
Students: Login to Xello to see work-based learning opportunities.
Industry Partners: Find out here how you can engage with students and offer work-based learning opportunities.
 
Apply for student internships and apprenticeships
Sophomores and juniors can apply for internships, which take place during
the students' junior or senior year. Students may earn five to 10 elective credits.

PSD videos - see work-based learning in action!
Career Pathways Program though FRCC
High school students may enroll in career and technical education programs at Front Range Community College through Career Pathways, a program funded by PSD and Thompson Valley School District. Students earn high school credit with the option to earn college credit.
Tuition is paid by PSD, but students pay their own program fees. Most classes are held at FRCC. Transportation is provided.
Classes offered:
Automotive Technology & Service
Medical Careers Exploration
Welding & Metal Fabrication
Find more information on the FRCC Career Pathways Program web page.