Keeping students learning while absent from school
Poudre School District's focus is to have all students participate in in-person learning at schools as much as possible. However, some students may miss being in school because of illness, quarantine, an emergency or other circumstances. PSD wants to ensure students can continue learning remotely when they can't be at school regardless of the reason for the absence. Teachers and staff will do their best to support students who are learning online.
 
Here's what you can expect with remote learning: 
Students may receive instruction through one of more of the following:

Abridged video lectures
Slideshows
External or pre-recorded created videos (Envisions lessons, Khan Academy, other curriculum) on teacher learning pages or another platform (eg. Google Classroom, SeeSaw, MS Teams).
Synchronous, or real-time, learning opportunities on a platform like like Microsoft Teams.
At elementary schools, the teacher will initiate communication and coordinate remote learning with parents/guardians.  

At secondary schools, a remote learning contact will be designated to whom parents/guardians may direct questions.  
Students will engage in lessons and instruction asynchronously (any time learning) -  individually connecting with content at any time in any location to learn and do their assignments. They do not need to be online all day.

Key materials, presentations, concepts and all lesson materials should be available for students for all classes.
Students will receive feedback on their learning. Based on the assignment, the teacher will meet with a student on Microsoft Teams or after the student returns to school to review their work, address errors or misconceptions.
Late or make up work due to absences: Students will receive support to make up missed work. District policy JH
Early Childhood Education - Visit the ECE web page for information. 
Remote learning during quarantine
Schools will send a shift to remote because of quarantine letter 
Families will receive a letter from school about the student's shift to remote learning because of quarantine, usually within 24-48 hours. To support continuity of learning and supplemental services during a student's short term absence, the school will provide materials, tech tools, and touchpoints for the student. Additionally, breakfast and lunch can also be made available for pick-up during quarantine. 
Responsibilities and roles 
Schools will: 
Communicate with parents about their learning support they during quarantine
Check with parents/students about possible barriers they may have to picking up work or accessing technology
Ask parents/students if they need breakfast/lunches from school during quarantine
Have laptops and mifi's available for check out and make sure learning resources are accessible to families
Ensure teachers have learning pages up to date with assigned resources
Ensure each teacher has and follows a robust plan for student learning while quarantined. 
Teachers will: 
Contact the student or parent within two school days when a student is quarantined.
Explain where learning materials can be found, logins and how the student will receive help, support and feedback on work submitted. 
Clarify the asynchronous and/or synchronous methods for learning
Make regular contact with the students and parents to clarify assignments, provide additional instruction or answer questions
Provide additional time for student to submit work beyond what is provided in district policy JH (make-up work).
Parents/students will: 
Reach out to the teacher/school for clarity of learning support if they have not been contacted within two school days of being quarantined
Complete as many assignments as possible while quarantined. Parents/students should contact the teacher to clarify misconceptions or other assignment requirements
Teacher learning pages connect students to classwork
Classroom teachers continue to have updated online learning pages available for students and families to get information about their classes and lessons. Most "Learning Pages" are linked on the main home page of the school website. If you have difficulty finding them, please contact your school or teacher.
Learning pages offer information like:  
Information about assignments
Links to course content and online learning platforms. Some teachers may embed abridged video lectures, recorded slideshows, or externally created videos in their learning pages or other delivery platform (eg. Google Classroom, SeeSaw, Microsoft Teams).
Messages from teachers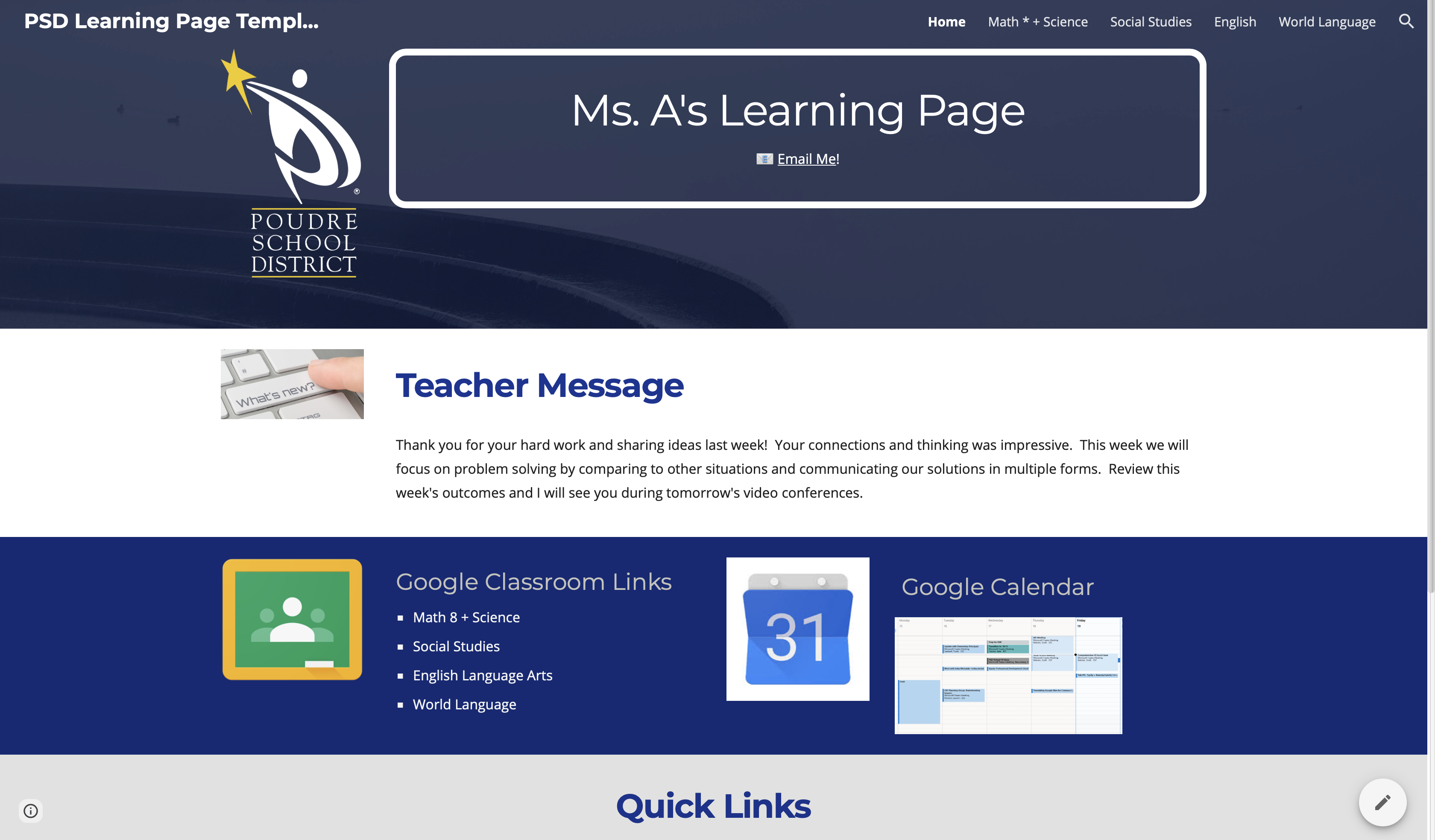 While in-person at school, students should have opportunities to learn how to use the teacher learning pages, resources and any tools they'll use during asynchronous learning. If you have questions about learning pages, contact your teacher. 
PSD technical support and internet access
Students and families have access to help guides and technology assistance to learn how to navigate the primary applications to support their students (Google Classroom, Microsoft Teams, etc.). 
For technical assistance, visit:
Internet access: Every school has an inventory of MiFis for families. For help accessing internet services, visit the Internet Access web page for resources.
Devices: If your student is in need of a device, please work with your teacher or the school's technical staff. 

Frequently Asked Questions
For remote learning, do we pick up classwork like we do with a typical extended absence?
Yes. The work will be available for pick-up in the office within 24-48 hours. In addition to having work available for pick-up, resources will be available on the teacher learning pages.
What is the transition period for providing work if we go fully remote?
If an entire classroom shifts to remote and devices and work cannot be sent home with students that day, then you will be able to pick up devices and materials the next day. Teaching and learning will begin the day after the materials pick up day.
Is remote learning just for COVID-related absences or absences in general?
Access to learning resources and opportunities for direct instruction should be available to students, regardless of the reason for the absence.  As stated above, staff may instead meet with a student individually to address content that was missed.
Are you doing enhanced contact tracing for preschool and kindergarten that could result in the entire class shifting to remote?
No, we are not using enhanced contact tracing. In most instances, only positive, presumed positive individuals, and close contacts are quarantined. There may be instances where all students in a classroom are shifted to remote education due to the unique circumstances of a situation. For example, if 50% or more of students are out of school with illness symptoms, the decision may be made to shift the entire classroom remote to ensure consistency in how all students are receiving their education and to give everyone time apart so symptoms resolve."
If my student is quarantined, what do I do if I don't hear from my school within 48 hours?
Please contact your school or teacher.