Preparing Students for Life After High School
Whether students are preparing for college or on a path leading directly to a career, PSD Career and Technical Education gives students a curriculum to help them be succ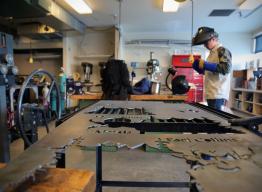 essful in the workplace, higher education and community.
About 50 CTE classes are offered at middle and high schools. Courses are rich with academics, integrating math, physics, writing/composition and computer literacy skills into the curriculum.
CTE also offers:

Several different courses are offered in these broad areas at high schools:

Business & Marketing Classes
Family & Consumer Sciences 
Accounting, Economics, Finance
Engineering, Robotics
Architecture
Computer Applications

Electronics 
 Aerospace
Teacher Cadet
Production Systems
Construction, Building
Entrepreneurship
High school students may enroll in career and technical education programs at Front Range Community College through Career Pathways, a program funded by PSD and Thompson Valley School District. Students earn high school credit with the option to earn college credit.
Tuition cost is paid by PSD, but students pay their own program fees. Most classes are held at FRCC. Transportation is provided.
Classes are offered in:
Automotive Technology & Service
Medical Careers Exploration
Welding & Metal Fabrication