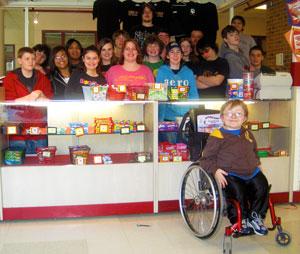 Alternative Cooperative Education (ACE) is available at all PSD high schools. ACE provides work experience, related classroom  instruction and vocational transition planning for high school students with special needs. Students develop personal and career skills preparing them to live and work independently as vital, contributing members of their community.
Eligibility: this program is for students on an Individual Education Plan (IEP) who demonstrate a need for transition services.
Services: classroom instruction and experiential learning opportunities to assist the student in developing personal and career skills. Can include: internships, paid work experience, mentoring and career tours.
Application: speak with your site based ACE coordinator to inquire about the program, eligibility and enrollment.

Klyde's Closet is a consignment store at Fort Collins High School that is run by students in the ACE program. The students learn real-world job skills like working with customers, counting money and selling goods.

ACE Supported Employment Introduction Video
ACE Supported Employment  provides job coaches and other supports for students with significant challenges and transition needs as they develop vocational and related skills through job trials, internships, paid and unpaid work and other hands on community work experiences.
Coffee Project: The latest ACE supported employment opportunity for PSD students.