"Child Find" Student Evaluation Process
PSD trained and certified professionals evaluate children when significant concerns are indicated for the child's early development or educational progress. This service is referred to as "Child Find."
Evaluations address the areas of concern for each child. Evaluations are provided in several areas, including but not limited to the following:
early concepts (birth-5)
educational skills (PreK-12)
cognitive functioning
speech-language skills
physical development
social-emotional functioning
vision and hearing screening

Evaluations are conducted at no cost to parents, with parent consent and participation. After the evaluation is completed, a meeting is held with parents to determine eligibility for services. If a child is eligible for services, an Individual Education Plan (IEP) or Individual Family Service Plan (IFSP) is written.
Referrals to Child Find
Birth through age 2: Foothills Gateway, Inc (970-226-2345).

Ages 3 through 5 (Preschool): PSD Child Find Specialist (970-490-3040) or PSD Early Childhood Program (970-490-3204).

Kindergarten through age 21:  PSD Parent Liaison (970-490-2335).
Child Find Team
Amy Hafer, Child Find Specialist 
I am here to assist families with navigating Special Education services within Poudre School District. I am dedicated to support you in better understanding all the pieces involved as your little one starts Preschool. I am a big believer in educating and supporting parents and caregivers of these youngsters – for you have the greatest impact on their learning.
About Me
I earned my Masters in Social Work at Colorado State University and have worked with children with disabilities and their families for the past 10 years. I began working for Poudre School District in 2013 and Early Childhood is where my heart lies. I am originally from the Northwest and found myself in Colorado to spend my free time in the sun-filled Rocky Mountains volunteering, climbing, and backpacking. In Fort Collins, you'll find me growing vegetables in my backyard garden, busting dance moves in Old Town Square, downward dogging at Yoga class, and bike cruising along the Poudre River Trail.
Stephanie Hahn, Early Childhood Disability Specialist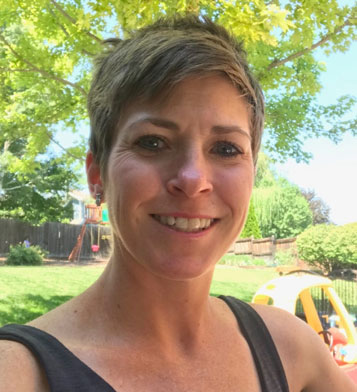 Transdisciplinary Play-based Assessment
Usually our time together lasts for an hour to an hour-and-a-half.
You are encouraged to make yourself at home and help your child feel comfortable with toys in the room 
We will discuss the options while your child plays freely
We will get your written permission to evaluate your child
You may play with your child if he/she is shy and an evaluator will fade in as comfort allows
You will be interviewed about your child's skills at home
After we finish, we will share the skills we saw your child demonstrate
We can answer any additional questions you might have at the end of the session
We determine if your child is eligible for early intervention supports or special education services in the school setting
If your child is under age 3 and is eligible for early intervention support, then an Individual Family Service Plan will be created at another meeting with in-home providers
If your child is age 3 or older and is eligible, we will set up a meeting to develop your child's Individual Education Plan for preschool services