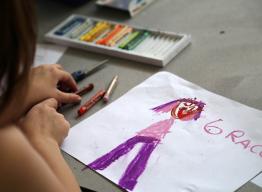 Poudre School District recognizes that students need a well-rounded education to be successful in a global world. The district is committed to offering comprehensive art education at all levels. With site-based management, each school determines how art will be offered to students. For site specific information, contact your school principal. 
Art program and standards
"We need less trivia and more in-depth learning about the things that matter the most in our world: order, integrity, thinking skills, a sense of wonder. truth, flexibility, fairness, dignity, contribution, justice, creativity and cooperation . . . the arts can do all that."  Eric Jensen, author of Arts with the Brain in Mind.
The Whole Child program includes: the Musical Arts, the Movement Arts and the Visual Arts. The Whole Child Program supports the holistic education of every student by adding value, relevance and rigor through music, movement, wellness and visual artistic endeavors. Though these three programs can stand on their own as major disciplines, they also enhance student learning throughout other curricular areas.
Connects learners to the world of discovery and ignites the love of learning in the most resistant student
Opens up the gifts of nature, beauty and interaction with the environment
Allows for freedom of expression through efficient movement
Provides opportunities for both creative and critical thinking
Provides avenues for students to connect to each other in non competitive ways
Meets students at their level of expertise and sparks pride in personal accomplishments, bolstering self confidence
Promotes appreciating the beauty of the different, learning to acknowledge diversity

Elementary Art Standards

Middle and High School Standards