Taking care of ourselves and each other makes life better. We all struggle from time to time and taking that first step to do something about it can be hard. Here are some resources to help you along the way.
Getting support now
If you are in immediate crisis, help is available now by calling or texting 988 or chat 988lifeline.org. 
If you need help but are not in crisis, connect with an adult like one of your parents, a teacher, school counselor, coach or another trusted adult. You can also contact one of the community support services listed below. 
Know that whether you are in or out of school, you are never alone. There is help.
In school and struggling? 
Connect with a trusted adult
Services available in school:
Not at school and struggling? 
Connect with a trusted adult.
Call or text 988 or chat 988lifeline.org if you or someone you know needs help.
Call, text or submit a tip to Safe2Tell for safety concerns.
24/7 Crisis Services
You can reach out to the services below any time - day or night. 
If you or someone you know is struggling or in crisis - call or text 988 or chat 988lifeline.org.
Safe2Tell: Anonymously report anything that concerns or threatens you, friends, family or community. Report a safety concern on the Safe2Tell website or call 1-877-542-7233.
Community Mental Health Support Services
UCHealth Crisis Assessment Center - Emergency Department of PVH/UCH, Lemay campus. Call 970-495-8090 with crisis concerns and for suicide assessments
Checking in with yourself
How are you feeling today? We all have days when we feel good about ourselves and harder days when we're struggling and could use a boost. Here are tips on how to feel better when you're feeling anxious and stressed.
Reaching out to friends -talking tips
Sometimes it can be difficult to start a conversation with a friend, especially when they are going through a hard time. Here are some ways to help you start those talks and connect with friends.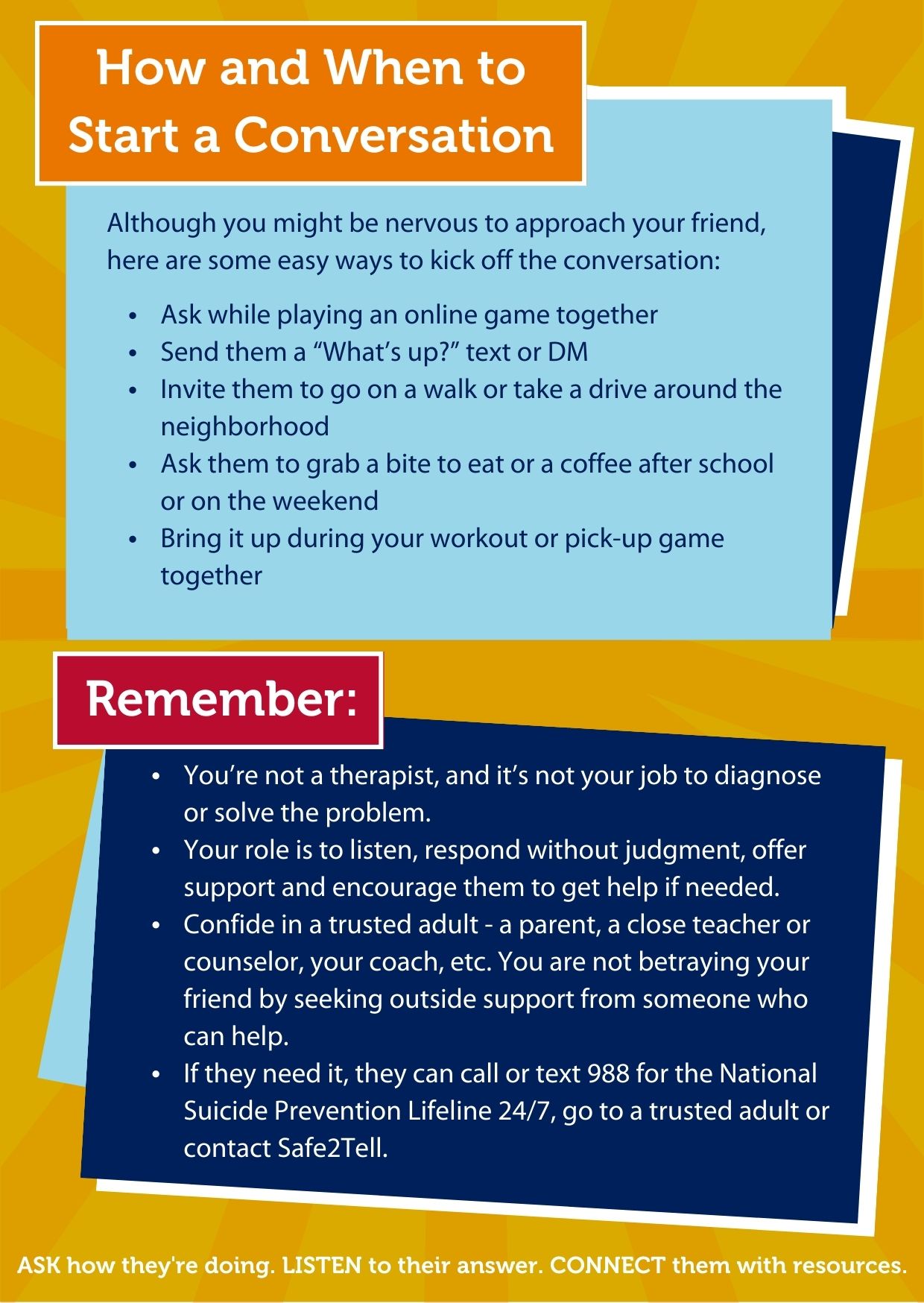 Ask. Listen. Connect. - spread the word!
We Ask, Listen and Connect in our daily lives to check in with ourselves and each other. This means:
Ask people how they are doing. 
Listen actively and pay attention to what they may need or are asking for.
Connect with another person like a trusted adult if you need to or sometimes if we're worried about someone's well being or safety, we'll need to connect them to resources including a trusted adult and/or counselor at school.
Print or download these Ask, Listen, Connect posters to spread the word.

Resources to support you
Free Therapy - "I Matter" Sessions for Youth
The I Matter program provides up to six free mental health sessions with a licensed provider and is open to youth 18 years of age or younger, or 21 years of age or younger if receiving special education services. Per state law, youth 12 and older can consent to therapy. Visit IMatterColorado.org and YoImportoColorado.org to take a confidential online survey and schedule sessions with a licensed behavioral health clinician. Parents of youth 11 and younger need to take the survey and consent to services for their youth. More: I Matter website or YoImportoColorado.org.>>
Grief - Caring for yourself or a friend
NoCo Community Resource Guide to Services
Being well-resourced in basic needs, such as food, clothing and housing, all support mental well-being. The NoCo Community Resource Guide helps you find programs to support basic needs, as well as crisis counseling, substance use and abuse. 
PSD shares this guide as a community service; making it publicly available does not constitute an endorsement of any business, organization, or resource.