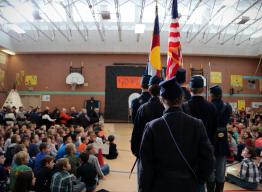 Social Studies Standards
Visit the CDE website here to see specific standards by grade level. 
Social Studies are essential to understanding the complexity of the world. They provide the context and understanding of how humans interact with each other and with the environment over time. They offer the crucial knowledge needed to create a framework for understanding the systems of society. 
PSD's curriculum is based on the Colorado Academic Standards and covers subjects ranging from community and world traditions to Fort Collins and Colorado history and world geography.
Social Studies Education in PSD
The Colorado Academic Standards for Social Studies focus on academic skills. In high school, we provide a number of courses and pathways to teach these skills, however, there are some common elements that all PSD students can expect to encounter in Social Studies. Poudre School District will follow all mandated curricula set forth in approved legislation from the Colorado General Assembly and signed by the Governor. This currently includes HB19-1192 Inclusion of American Minorities In Teaching Civil Government. This was signed into law by Governor Jared Polis in 2020 and mandates instruction in public schools of history and civil government of the United States and Colorado, including but not limited to the history, culture, and social contributions of American Indians, Latinos, African Americans, and Asian Americans; lesbian, gay, bisexual, and transgender individuals within these minority groups; the intersectionality of significant social and cultural features within these communities; and the contributions and persecution of religious minorities.
High School
Each student is required to successfully complete a 10 credits of US History, 5 credits of Economics, and 5 credits of Civics. Students will also complete 10 credits of general Social Studies that may include World History and World Geography. The specific content of these courses are vast and may differ among schools and individual teachers, however, all Social Studies education in Poudre School District is rooted and driven by the Colorado Academic Standards. District adopted materials are available to teachers to help build their curriculum along with school specific and teacher specific materials selected using the professional discretion of our Social Studies Educators.

Middle School
8th Grade: ( United States History) Introduction to History and U.S. Geography; Revolutionary Era; Establishing a National Government; Expansion and Change; Civil War and Reconstruction
6th  - 7th Grade: (World Geography) Studies patterns and interactions of countries in the Western Hemisphere. Students learn about people, places, and environment through geography tools. Students study the effects of the interaction between human and physical systems. Students also determine how economic, political, cultural, and social processes interact to shape patterns of human populations, interdependence, cooperation, and conflict. 
 
Elementary 
Kindergarten: (Community, World, and Traditions) Family, School, Community, Maps, Seasons/Weather, Holidays/Celebrations and Earth Resources
1st Grade: (Community, World, and Traditions) School, Neighborhood, Community at Work, Maps/Geography, Weather/Calendar, Historical Figures, National Symbols, Native Americans, Holidays/Celebrations
2nd Grade: (Fort Collins History) Civic Participation in School, Maps/Geography, Fort Collins and You, Early People, Native Americans, Trappers and Traders, Holidays/Celebrations in Fort Collins and the World, Camp Collins, Early Settlement, Fort Collins Grows Up, Fort Collins Today
3rd Grade: (World Communities) A Tour of the Continents: Geographic Tools, The World's Land and Water, The World's Countries, World Land Use, World Climate, The Continents, Country Case Studies: Japan, Zambia, Brazil, Spain, Australia, The U.S.
4th Grade: (Colorado History) A Land of Great Variety: Geographic Features, Flora and Fauna, Immigrants and Settlers, Famous Coloradoans, National Parks and Monuments, Rural and Urban Colorado, Lifestyles of Coloradoans, Sports, Recreation, and Culture, State Government, Colorado Road Trip, Colorado Rendezvous
5th Grade: (U.S. History) U.S. Geography, Contact and Exploration, Colonization and Conflict, Independence and New Government