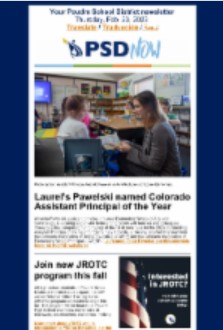 The Feb. 23 PSD Now edition includes:
PSD Assistant Principal Selected for Colorado Award
New Army JROTC Program
Community Session on Mental Health, School Safety
Water Testing in PSD
TEDx Event at PHS March 30
Translations: Español Feb. 23 PSD Now  |  عربي  Feb. 23 PSD Now
Sign up for PSD Now! Get PSD Now community updates delivered to your inbox (about every two weeks). You can unsubscribe at any time. For previous newsletter editions, see the archive.